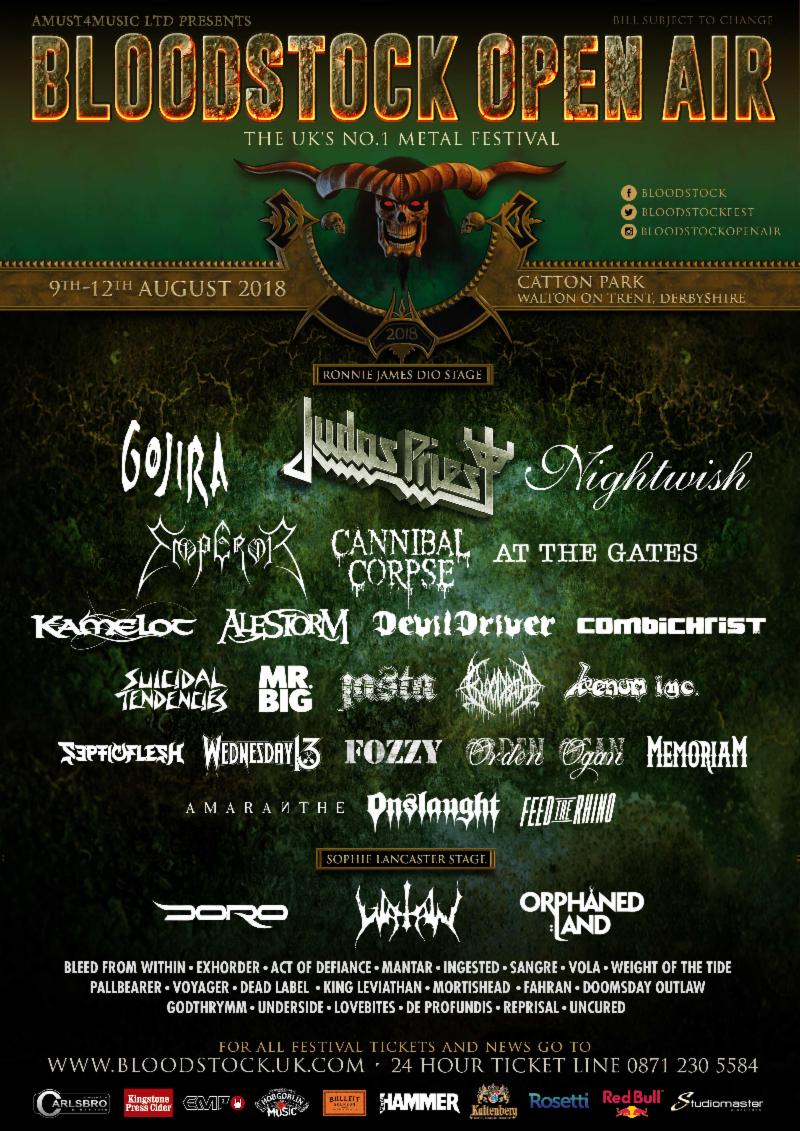 Bloodstock Festival 2018 Preview
12th July 2018
Having run since 2001, Bloodstock acts as a metalhead mecca, a pilgrimage to the pit. Their main stage, named after the iconic Ronnie James Dio, has seen the likes of Twisted Sister, Slayer, Motorhead, Trivium, Opeth and Machine Head, to name very few. This year, headlined by Judas Priest, Gojira and Nightwish, Bloodstock promises to be the biggest it ever has.

Judas Priest are still running on the fuel provided by their 2017 release 'Firepower', while Gojira continue to build into one of the biggest progressive metal bands around and Nightwish's show remains at the top of the symphonic metal scene. Aside from our headliners, we'll see brutal, pit-inducing death metal from the likes of Cannibal Corpse, At The Gates, Bloodbath and Septicflesh, black metal from Emperor and Venom Inc., and thrash from Suicidal Tendencies, Power Trip and Onslaught all take over the main stage. Other highlights on the mainstage include pirate-metallers Alestorm, Chris Jericho's Fozzy and the hardcore side-project of Hatebreed's Jamey Jasta.
The Sophie Lancaster Stage, named in memory of Sophie Lancaster who was killed for her love of metal, supports some of the less dominating names in meta. Highlights will include Saturday's headliners Orphaned Land, known as 'the pioneers of oriental metal', Japanese all-female winners of Metal Hammer's 'Best New Band' award, Love Bites, and of course, the irrepressible black metal icons, Watain. Their full production headline set on Sunday is set to be incredible, filled with fire, blood and goat skulls.
As a metal festival Bloodstock has to be supportive of the underground scene. Both the Hobgoblin New Blood Stage and Jägermeister Stage will be showing off emerging and underappreciated talent. Of course, the festival will also be filled with countless bars, fairground rides, a signing tent and metal markets, as well as an unrivalled camping experience amongst likeminded people.
Bloodstock 2018 will be brutal- don't miss it.