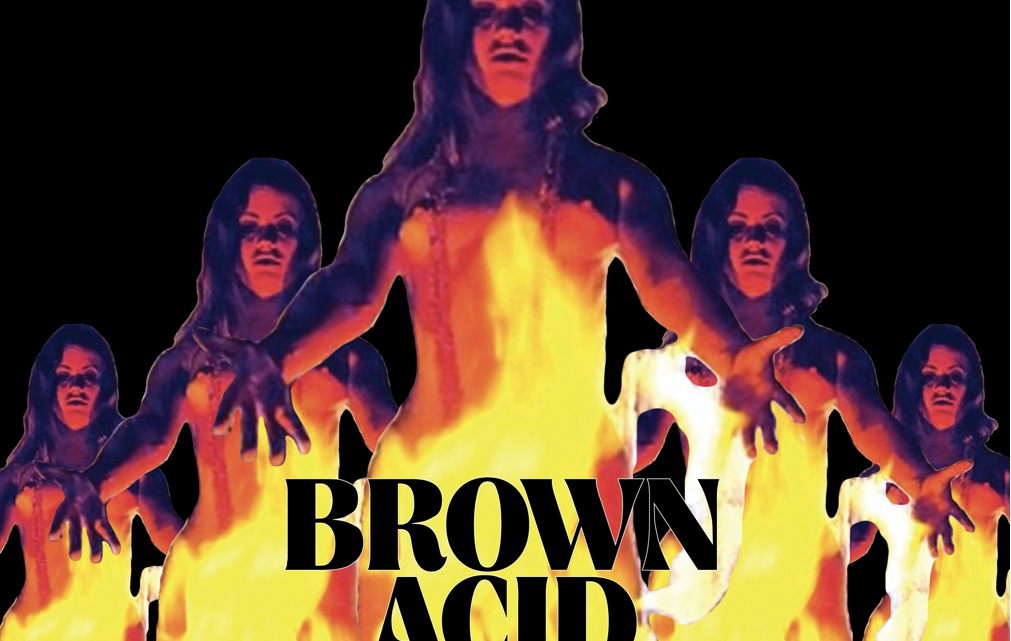 Brown Acid series of rare 60s-70s pre-metal singles returns for Twelfth Trip on April 23, 2021
17th February 2021
"So rare that diehard fuzz junkies say you'd have a better chance of winning the lottery than finding a physical 45 rpm single by one of the bands featured on their latest installment." — Dangerous Minds
"Will do for hard rock, proto-metal and heavy psych what Nuggets did for garage rock, and bring it to a wider audience of collectors and music fans." — The Guardian
"Mining the surprising rich reserves of heavy rock and proto-metal from the '60s and '70s, these collections have been crucial to understanding the history of a subgenre of rock that had far deeper roots than most fans realize." — Paste Magazine
The forthcoming latest edition of the popular compilation series featuring long-lost vintage 60s-70s proto-metal and stoner rock singles, Brown Acid: The Twelfth Trip will be available on April 23, 2021. Today, hear and share the first single, "Mother Samwell" the 1969 rocker by The Waters
https://ridingeasyrecords.bandcamp.com/album/brown-acid-the-twelfth-trip
The Brown Acid series is curated by L.A. label RidingEasy Records and retailer/label Permanent Records. Read interviews with the series curators via Paste Magazine HERE: https://www.pastemagazine.com/music/ridingeasy-records-shares-latest-edition-of-brown/
and LA Weekly HERE: https://www.laweekly.com/brown-acid-series-reveals-the-lost-predecessors-to-todays-stoner-rock/
About The Twelfth Trip:
The Waters start this Trip off right with swampy fuzz- and phaser-soaked dueling guitars oozing from the grooves of their 1969 single "Mother Samwell." The Louisville, KY trio somehow failed to make much of a splash however, only issuing two 45s, one in '68 and this rocker the following year, before eventually evaporating in '72. The bassist went on to play in Hank Williams Jr.'s band for a couple of decades, so the band's fortunes weren't entirely sunken.
Hamilton, Ontario launched the Village S.T.O.P.'s freak-out heavy psych marauding, but it was after frequent trips to NYC that the Canadian band really learned to let their freak flag fly. Sometimes the band played with their faces painted black & white, other times draped in fluorescent ink & blacklight, with strobe lights and the whole nine yards of theatrics… occasionally even adding a few extra inches of male nudity. Musically, their 1969 track "Vibration" is a bopping number nodding to Frank Zappa, Hendrix and some really brown acid doses. 
White Lightning's blazing double-kick drum, sizzling melodic riffs and Jim Dandy howls on "1930" is a power metal rocker from 1969 that perfectly epitomizes the raison d'être of this series. The Minneapolis, MN band formed by guitarist Tom "Zippy" Caplan after he left garage psych heroes The Litter, later shortened its name to Lightning. The group only issued one proper album before disbanding in 1971. However, with the late 1990's reissues and revival of The Litter, Lightning's bevy of unreleased recordings also surfaced as a self-titled LP and Strikes Twice 1986-1969 CD compilation. 
The blues runs deep in the veins of "Woman (Don't You Go)" by Bay Area rockers Shane. The biracial group may have borrowed its heavy syncopated groove and lead singer/organist aesthetic from locals Sly & The Family Stone, but their troglodyte fuzz riffs and beastly drums owe just as much to blazing proto-metal hellfire. Sadly, they only released this 1968 single before these men decided to go. 
Ace Song Service probably thought they were pretty clever with their risqué acronym name, but it's their B-side "Persuasion" that really kicks A.S.S. Rollicking, relentless drums, walking bass, staggering guitars and shimmering Hammond organ shake the foundations while crooning blue-eyed soul vocals remind you that this is still the late-60s. The Dallas, TX band only issued this lone (star) 2-song single before crawling back up from whence they came. 
Opus Est's strange 1974 headbanger "Bed" has a bit of "Hocus Pocus" by Focus style mania — and we mean that in the best lunacy inducing way. However, it's the Belgian trio's heavy panting and squealing vocals in the amorous breakdown that nods to a particular whole lotta nub that gives this song its, um, thrust. After just two singles, Opus Est came and went. 
The Mopptops' heavy riff of "Our Lives" starts of sounding like Greg Ginn's frantic guitar work on Black Flag's Nervous Breakdown, before wah-wah and high harmony vocals turn it into more of a Blues Magoos-meets-Iron Butterfly tune. This Hawaiian Islands based quartet took its inspiration more from the British Invasion than local traditions and were quite popular for their gritty long-hair R&B but remained isolated from the world at large. They did however release a handful of 45s between 1965 and the early 70s. This 1968 banger on Fantastic Records is, well, fantastic. 
Youngstown, OH artists Artist weren't too creative with their band name, instead saving that energy to create meaty midwestern rock'n'roll like "Every Lady Does It." Harmonized guitar leads and driving cowbell power their hook-filled lone 1977 single. Not much is known about the obscure band, other than singer/guitarist Al Tkach later fronted something he called Reality Rock. 
Rural hard rock bar band Stagefright hailed from Carthage, MO and their 1980 album D-Day is a highly collectible selection of landlocked rippers. Album opener "Comin' Home" is a barnstorming romp led by vocalist/drummer Jim Mills who somehow smoothly sings while simultaneously playing wild Keith Moon style drum rolls. 
Dickens "Sho' Need Love" / "Don't Talk About My Music" 45 is one of those record collector's Holy Grail type of releases. The 1971 single only exists as a demo, printed as a white label promo pressing for Scepter Records. Dickens were, essentially, a mockery of the era's hard rock shenanigans, comprised of NRBQ's road crew and some band members all playing instruments they didn't know how to play. This recording happened essentially by accident when studio time became available after Gomer Pyle actor and balladeer Jim Nabors cancelled a session. The group quickly cut a few songs, which an enthusiastic A&R man had pressed up, before the label president nixed it and fired the VP for allowing such nonsense. It's believed that only about 50 copies survived. It's a shame, since this Flipper-before-Flipper dirge-metal freakout was way ahead of its time.
Artist: Various Artists
Album: Brown Acid: The Twelfth Trip 
Label: RidingEasy Records
Release Date: April 23, 2021
01. The Waters "Mother Samwell" 
02. Village S.T.O.P. "Vibration" 
03. White Lightning "1930"
04. Shane "Woman (Don't You Go)" 
05. Ace Song Service "Persuasion" 
06. Opus Est "Bed" 
07. Mopptops "Our Lives" 
08. Artist "Every Lady Does It"
09. Stagefright "Comin' Home"
10. Dickens "Don't Talk About My Music"
About the Brown Acid series:
Some of the best thrills of the Internet music revolution is the ability to find extremely rare music with great ease. But even with such vast archives to draw from, quite a lot of great songs have gone undiscovered for nearly half a century — particularly in genres that lacked hifalutin arty pretense. Previously, only the most extremely dedicated and passionate record collectors had the stamina and prowess to hunt down long forgotten wonders in dusty record bins — often hoarding them in private collections, or selling at ridiculous collector's prices. Legendary compilations like Nuggets, Pebbles, ad nauseum, have exhausted the mines of early garage rock and proto-punk, keeping alive a large cross-section of underground ephemera. However, few have delved into and expertly archived the wealth of proto-metal, pre-stoner rock tracks collected on Brown Acid. 
Lance Barresi, co-owner of L.A./Chicago retailer Permanent Records has shown incredible persistence in tracking down a stellar collection of rare singles from the 60s and 70s for the growing compilation series. Partnered with Daniel Hall of RidingEasy Records, the two have assembled a selection of songs that's hard to believe have remained unheard for so long. 
"I essentially go through hell and high water just to find these records," Barresi says. "Once I find a record worthy of tracking, I begin the (sometimes) extremely arduous process of contacting the band members and encouraging them to take part. Daniel and I agree that licensing all the tracks we're using for
Brown Acid is best for everyone involved," rather than simply bootlegging the tracks. When all of the bands and labels haven't existed for 30-40 years or more, tracking down the creators gives all of these tunes a real second chance at success. 
"There's a long list of songs that we'd love to include," Barresi says. "But we just can't track the bands down. I like the idea that Brown Acid is getting so much attention, so people might reach out to us."
Brown Acid: The Twelfth Trip will be available everywhere on LP, CD and download on April 20, 2021 via RidingEasy Records.