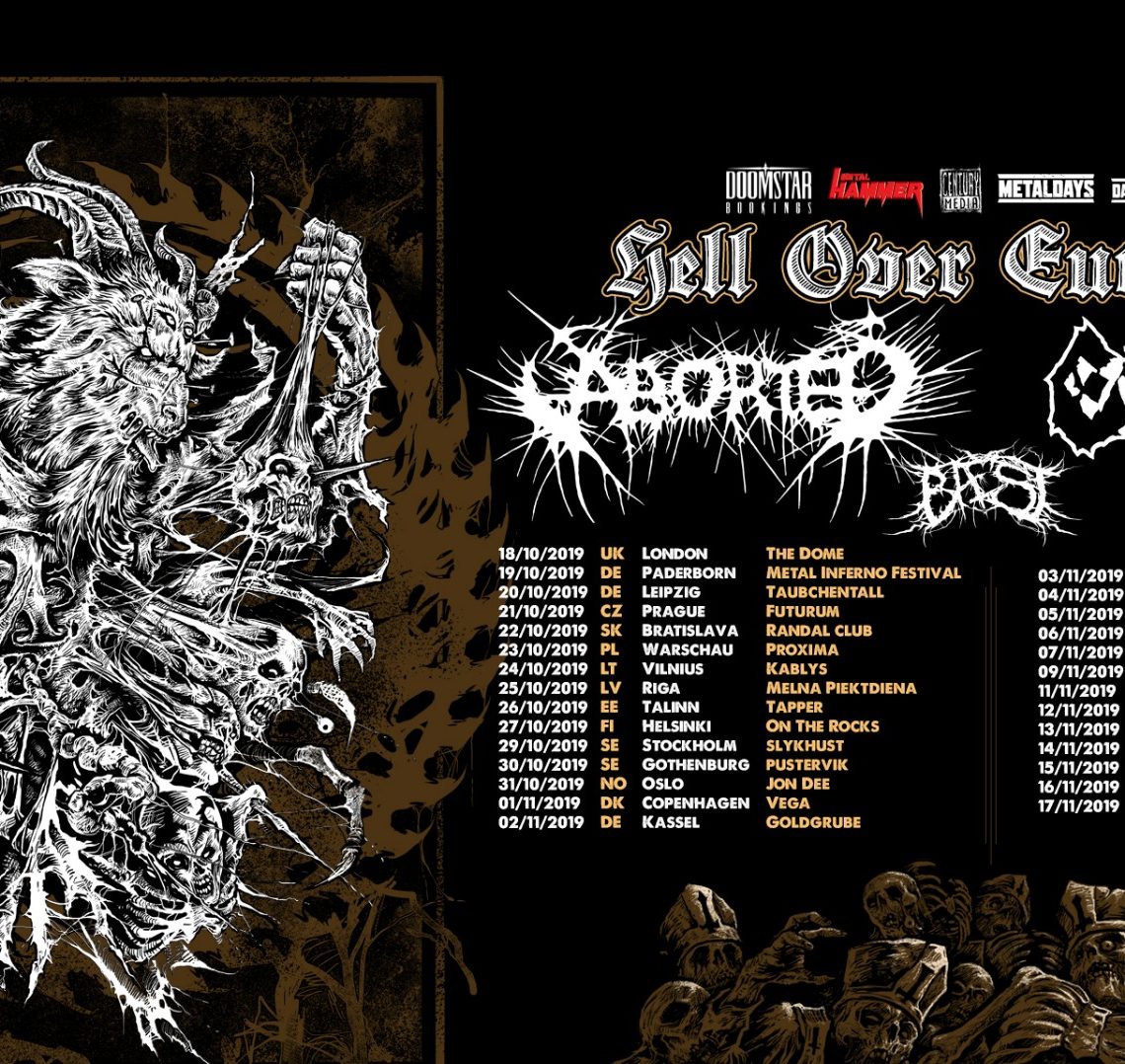 Century Media Records Artists ABORTED, ENTOMBED A.D. and BAEST Team Up For "Hell Over Europe III" Tour
20th May 2019
0
By
John Deaux
ABORTED are touring in support of their much-lauded latest album "TerrorVision" (2018) whereas ENTOMBED A.D. will be releasing a new record entitled "Bowels Of Earth" on 30 August 30, and BAEST follow up with their second offering "Venenum" on 13 September.
ABORTED comment, "We are extremely honoured and stoked to announce this year's Hell over Europe! This time, we get to co-headline with one of the genre defining masters ENTOMBED A.D., a band we all grew up listening to and shaped a great deal of our musical career, no more words needed to explain how big of a deal this is to us. And if that wasn't enough, the mighty BAEST from Denmark will open the hostilities, one of our favourite newcomers of the last years (even if one of their members really just stole Sven's name and added a 'd' to it for god knows what reason) will leave your neck twisted and turned. Come on out to Hell over Europe, the death metal party of the year! Oh, and we might also have a couple of sweet new surprises for you guys…" Sven / ABORTED
ENTOMBED A.D. states, "With a new album in the bag, which is coming out 30 August, we are going on a European tour with our friends in ABORTED and BAEST! See you on the road headbangers!"
BAEST add: "Touring with the greats that developed the genre you say? Nah, fat chance! They're legends. Touring with boundary shattering grind-gods that redefined live shows in the extreme niche? How would that be possible, dear, we are but some Danish newcomers…BOOM, proud to be a part of this bone crushing line-up!" 
The "Hell Over Europe III" tour kicks off 18 October 2019 in London and wraps up 17 November in Hamburg. Tickets are on sale now!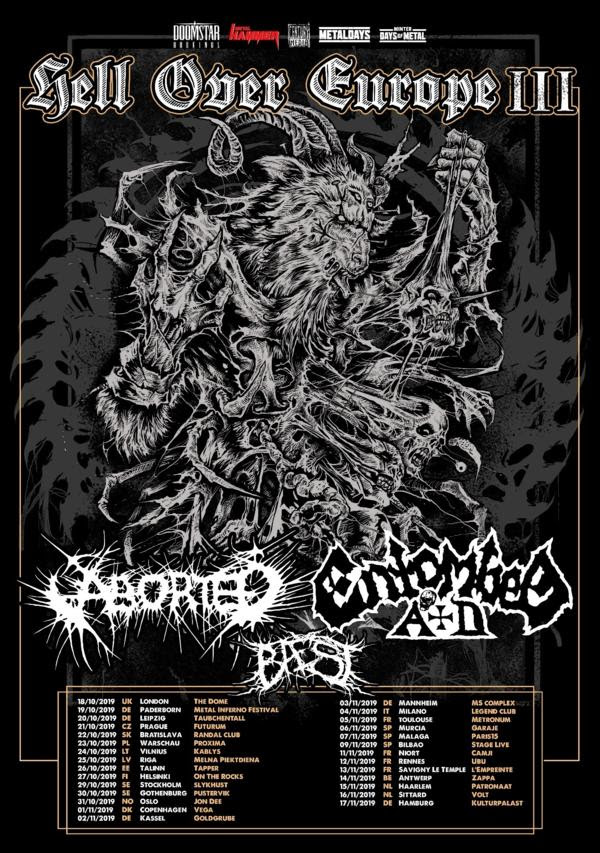 Hell Over Europe III – ABORTED & ENTOMBED A.D., with BAEST
Presented by Metal Hammer
OCTOBER
18/10/2019 UK London – The Dome
19/10/2019 DE Paderborn – Metal Inferno Festival
20/10/2019 DE Leipzig – Taubchentall
21/10/2019 CZ Prague – Futurum
22/10/2019 SK Bratislava – Randal Club
23/10/2019 PL Warschau – Proxima
24/10/2019 LT Vilnius – Kablys
25/10/2019 LV Riga – Melna Piektdiena
26/10/2019 EE Talinn – Tapper
27/10/2019 FI Helsinki – On The Rocks
29/10/2019 SE Stockholm – Slykhust
30/10/2019 SE Gothenburg – Pustervik
31/10/2019 NO Oslo – Jon Dee
NOVEMBER
01/11/2019 DK Copenhagen – Vega
02/11/2019 DE Kassel – Goldgrube
03/11/2019 DE Mannheim – MS Complex
04/11/2019 IT Milano – Legend club
06/11/2019 ES Murcia – Garaje
07/11/2019 ES Malaga – Paris15
09/11/2019 ES Bilbao – Stage Live
10/11/2019 FR Toulouse – Metronum
11/11/2019 FR Niort – Camji
12/11/2019 FR Rennes – Ubu
13/11/2019 FR Savigny Le Temple – L'Empreinte
14/11/2019 BE Antwerp – Zappa
15/11/2019 NL Haarlem – Patronaat
16/11/2019 NL Sittard – Volt
17/11/2019 DE Hamburg – Kulturpalast
Booking: https://www.doomstarbookings.com/
ABORTED "Vespertine Decay"
ENTOMBED A.D. "The Winner Has Lost"
BAEST "Crosswhore"
ABORTED online:
https://www.facebook.com/Abortedofficial/
ENTOMBED A.D. online:
https://www.facebook.com/EntombedAD/
BAEST online:
https://www.facebook.com/baestband/ 
How useful was this post?
Click on a thumb to rate it!
Average rating 0 / 5. Vote count: 0
No votes so far! Be the first to rate this post.
Related
About the author
Some say Yank My Doodle, It's A Dandy! is a biographical movie based on John. Some have even said that his favorite artist is Chesney Hawke! All we really know is he sleeps inside out and his hair tastes like candy floss.