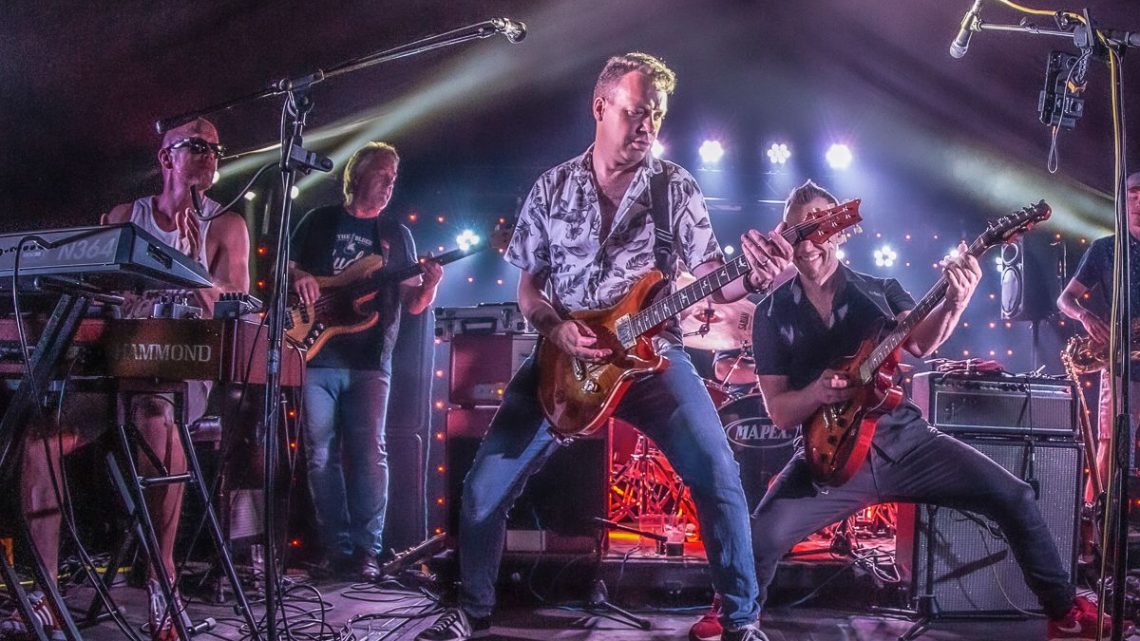 Chris Bevington Organisation Share the Video for 'Sand and Stone'
27th July 2020
Chris Bevington Organisation is proud to release a brand-new video for 'Sand & Stone': the title track from their 11-track of the same name — the fourth album from the band and the best yet!

'Sand and Stone' features eleven original tracks, written and produced by the talented Scott Ralph and Jim Kirkpatrick. It has been launched on all the digital platforms and is also available on the band's own website, where it can be purchased on available on digital, CD and vinyl formats (including special bundle deals).
Chris and the band are delighted with the new release as they feel it's by far the best testament to the skills and musicianship of all the strong, diverse talents and musicianship brought together. Added to the band's usual line-up, there's also a brilliant guest session by Chris Aldridge from the Climax Blues Band on saxophone.
Planning on the album began back in November 2018: the aim was to build on the fantastic success of The CBO's third album 'CUT AND RUN', which had charted at No 1 in the UK IBBA Chart. The driving goal was to fully harness the band's talents as individuals and as a whole, including drawing on the writing skills of Jim Kirkpatrick and Scott Ralph. A further aim was to build and develop on the band's sound, which had proved so successful on 'CUT AND RUN'.
Jim and Scott started the writing phase in December 2018 and finished around May time of 2019, by which time they'd got 10 cracking tunes to a demo stage. "I could clearly see that the songs were very strong, even at that very early stage, so we were all keen to start the recording phase," says eponymous band founder Chris Bevington.
Recording began in June 2019 and finished in May 2020. The band took time and pains to create the album, which was recorded at Coal House Studios drawing on the fantastic production and recording skills of Scott Ralph and also the writing, recording and production skills of Jim Kirkpatrick.
Chris Bevington says that he is absolutely over the Moon with the final result: it's a testament to the musicianship and dedication of the whole band, who have created an album to be very proud of.
In Chris' own words, "I must also say that I am very lucky to work with such a wonderful team of musicians. Everyone has worked so hard preparing their individual parts and giving all their time, love and effort. The collaboration has created a truly unique band album and sound and it's just brilliant! Now, our job is complete and it's time to let you hear the result: we really hope you like it. 
"My personal heartfelt thanks must go to each and every member of the band, and to Scott and Jim for all their hard work and dedication over the last 18 months in producing an album we can all be truly proud of. Really hope you like the album!"
The album line-up of Chris Bevington Organisation includes Chris Bevington himself (on bass); guitar wizard Jim Kirkpatrick (from FM, Bernie Marsden, Rhino Edwards); the fabulous vocal duo of Kate Robertson and Sarah Miller (from Nearly Dan); and the vocal and guitar talents of Scott Ralph. The band also boasts a fantastic brass section comprising of Ben Oakes (sax) and Lewis Topping (trombone), whilst the rock solid drums of Neil McCallum (Climax Blues Band ) and keyboard skills of Dave Edwards complete the strong, cohesive nine-piece line-up.
The video for 'Sand and Stone' can be seen on YouTube. It's dedicated to the miners who lost their lives on New Year's Day in 1942 in the Sneyd Colliery disaster at Burslem in the English city of Stoke-on-Trent. Sparks from wagons underground ignited coal dust, causing an underground explosion. 57 men and boys died in the accident.
'Sand and Stone'  uses classic blues to homage the hardworking, often at risk, colliers of the UK.  It opens and closes with recorded soundbites of actual miners and features archive black and white footage of coal miners (including Chris Bevington's own Grandad!). The song starts with a super-bluesy harmonica, then brings in heartfelt vocals and classic Blues guitarwork, building up with backing vocals to the full CBO sound. You'll also find a great solo from Jim Kirkpatrick —one of the UK's premier e slide guitar masters.
Check out the video for 'Sand and Stone' for a fresh take on British Blues and the full 11-track album of the same name to appreciate the range and power of  Chris Bevington Organisation in their latest, greatest release.
Website: www.chrisbevingtonorganisation.com
https://www.facebook.com/chrisbevingtonmusic/
Twitter: @chrisbevmusic