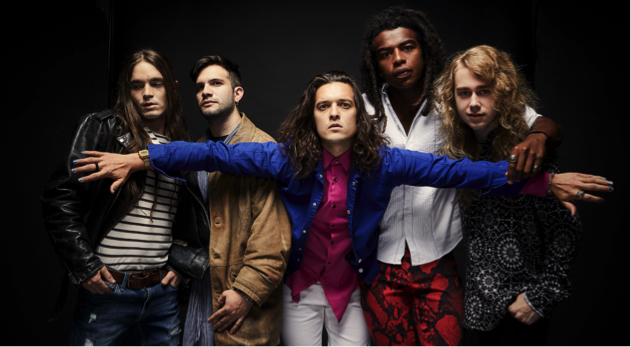 CLASSLESS ACT SET TO OPEN FOR DOROTHY ON THEIR "GIFTS FROM THE HOLY GHOST TOUR,"
21st February 2022
Next-generation rock band Classless Actwill be joining female-led rock act Dorothyon their Gifts From The Holy Ghost Tour this spring. The Los Angeles natives will serve as the opening act for shows beginning in San Diego on March 21 and ending in Anaheim on May 19. The tour will also include stops in Austin, New Orleans, Seattle, and Denver. Classless Act will be performing cuts from their debut album, set for release later this year via Better Noise Music, including the infectious modern hard rock first single "Give It To Me." The track was released to critical acclaim in the summer. For more information on the Gifts From The Holy Ghost Tour, visit https://classlessact.com/#tour. 
 
Thrilled to be joining Dorothy on tour this spring, Classless Act's frontman Derek Day said, "The boys and I think Dorothy really embodies the spirit and vibe of rock 'n' roll.  And we're so happy to do our first US tour with her.  Thanks to her, music fans in 40 cities will get to say 'I was there for the very first Classless Act show!'
 
Following their dates with Dorothy, the band will join legendary rock acts Mötley Crüe,Def Leppard, Poison, and Joan Jett on THE STADIUM TOURthis summer, as previously announced. Tickets and more information are available HERE.
 
GIFTS FROM THE HOLY GHOST TOUR DATES
March 21 – San Diego, Calif. – Music Box
March 22 – Phoenix, Ariz. – Nile Theater
March 24 – Albuquerque, N.M. – Sunshine Theater
March 26 – Austin, Texas – Scoot Inn
March 27 – Dallas, Texas – Granada
March 28 – Houston, Texas – White Oak Downstairs
March 30 – New Orleans, La. – Parish at HOB
April 01 – Pensacola, Fla. – Vinyl Music Hall
April 02 – Huntsville, Ala. – Mars Music Hall
April 03 – Nashville, Tenn. – Basement East
April 05 – Atlanta, Ga. – Masquerade
April 06 – Charlotte, N.C. – Underground
April 08 – Charleston, S.C. – Charleston Music Hall
April 09 – Virginia Beach, Va. – Elevation
April 10 – Philadelphia, Pa. – Brooklyn Bowl
April 12 – Towson, Md. – Recher
April 13 – Harrisburg, Pa. – Mickey's Black Box
April 15 – Montclair, N.J. – Wellmont Theater
April 16 – Syracuse, N.Y. – Lost Horizon
April 20 – Boston, Mass. – Paradise
April 21 – Portland, Maine – Aura
April 23 – Cleveland, Ohio – House of Blues Cleveland
April 24 – Columbus, Ohio – Bluestone
April 26 – Detroit, Mich. – St. Andrews
April 27 – Grand Rapids, Mich. – Elevation
April 28 – Ft. Wayne, Ind. – Piere's
April 30 – Chicago, Ill. – House of Blues
May 01 – Madison, Wis. – Majestic
May 02 – Minneapolis, Minn. – Varsity Theater
May 03 – Omaha, Neb. – Slowdown
May 05 – Kansas City, Mo. – Record Bar
May 06 – Wichita, Kan. – Temple Live
May 08 – Denver, Colo. – Summit
May 10 – Boise, Idaho – Knitting Factory
May 11 – Spokane, Wash. – Knitting Factory
May 13 – Seattle, Wash. – El Corazon
May 14 – Portland, Ore. – Hawthorne
May 15 – Reno, Nev. – Virginia St. Brewing
May 18 – Sacramento, Calif. – Ace of Spades
May 19 – Anaheim, Calif. – Parish at HOB