Corroded – "Bitter"
23rd January 2019
0
By
Gavin Griffiths
When any band starts out, of course they have dreams and ambitions of hitting the big time, or 'making it'; which obviously is subjective, everyone has different goals, naturally. It could be anything from getting to support your heroes on stage, getting to play your dream venue, getting a big push in a popular magazine, all sorts really…but very few bands expect to have their songs picked for a global, mainstream television show! This is what happened for CORRODED…let me explain.
Originally formed in 2004 in Ånge, Sweden, the four-piece (Consisting of vocalist/guitarist Jens Westin, guitarist Tomas Andersson, bassist Bjorne Elvsgard and drummer Per Solang) didn't manage to release their debut album; "Eleven Shades Of Black" until 2009…but slow and steady wins the race my friend. Quickly afterwards, their single "Time And Again" was selected as the theme song for "Survivor" (Also known as "Expedition Robinson")…a reality show on Sweden's TV4, where contestants must survive in the wild on a remote island until there a winner or, 'Sole Survivor' ,is declared. (I make that sound darker than it is, no one dies can I just clarify that?). This propelled Corroded into a more mainstream spotlight and they've been going strong ever since. 2019 sees them set to release their newest album; "Bitter"…let's check it out.
The album opens up with "Bitter – Intro" and while in a titular sense it's pretty self-explanatory, as with most intros, it's pretty much an irrelevant piece of music in the grand scheme of things. While initially a very slow start, it very eventually seeps through your speakers with its quaint, dreamy atmospherics, before picking up with a synth-driven, almost militant vibe. It's like it was ghost-written by Kyle Dixon from "Stranger Things".  Anyway once that's over we get first proper track and lead-single "Breathing" and here we get more of an idea of the band's sound. With a generally methodical approach, it churns out some decent riffs albeit in a plodding manner with a somewhat stop-start style. Jens vocals' though are clean and clear and he carries an enjoyable harmony through the chorus that would appeal to fans of say, THEORY OF A DEADMAN or VOLBEAT.
The album then in all fairness, does gradually improve over the course of the remaining ten tracks. "Cross" incorporates not so subtle but, minimalist industrial tones; adding weight to their own blend of heavy, hard rock. In places not too dissimilar to FIVE FINGER DEATH PUNCH or even latter-day SOIL too really. "Black" stylistically takes on a darker tone, channeling the mood and sinister tones of old-school, dramatic Gothic metal, especially with the switch to Jens' ALMOST baritone drawl vocally. "Testament" then by contrast is far more up-tempo, and delivers a piece of classic-inspired traditional metal, with hints of thrash and melodic power metal to boot.
If it's pacey, hard rock you enjoy though, then look no further than "Destruction"…with its groove-heavy riffs, crushing layers of bass, yet still managing to squeeze in the hooks as well as a slick little guitar solo, it's definitely an album highlight, before closing track "War" closes proceedings with another smooth, solo-driven climax; the cherry on top of this otherwise bitter cake. Corroded by name, but they've remained in relatively good nick over the past decade it has to be said…just like the contestants in that TV show, time and again, no-nonsense hard rock and metal will prove that it has what it takes to survive. Life may have tried to give these Swede's lemons, but they turned them into a fucking record, and it's very much worth the listen.
Score:7/10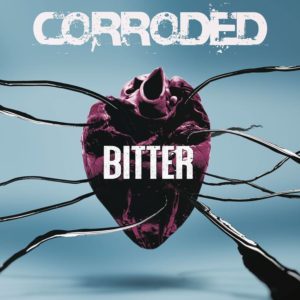 Track Listing:
"Bitter – Intro"
"Breathing"
"Cross"
"Burn"
"Black"
"Testament"
"Scream"
"Cyanide"
"Destruction"
"Time"
"Drown"
"War"
Record Label:
Despotz Records
Release Date:
25/01/19
For all things Corroded, click HERE and to purchase the album, click HERE
How useful was this post?
Click on a thumb to rate it!
Average rating 0 / 5. Vote count: 0
No votes so far! Be the first to rate this post.
Related
About the author
Gavin Griffiths AKA GavTheGothicChav 31 Based In South Wales Favourite Bands: HIM, The 69 Eyes, Paradise Lost, CKY, Rise Against, Alkaline Trio, Type-O-Negative, Turbonegro, Depeche Mode... Enjoys: Pizza, Jack Daniel's, Comedy Roasts, WWE, Horror Movies, Sloths, Panda's, Eurovision Dislikes: The Concept Of Being "Offended", Hype, Instrumental Tracks, Interludes, Overly Long Tracks