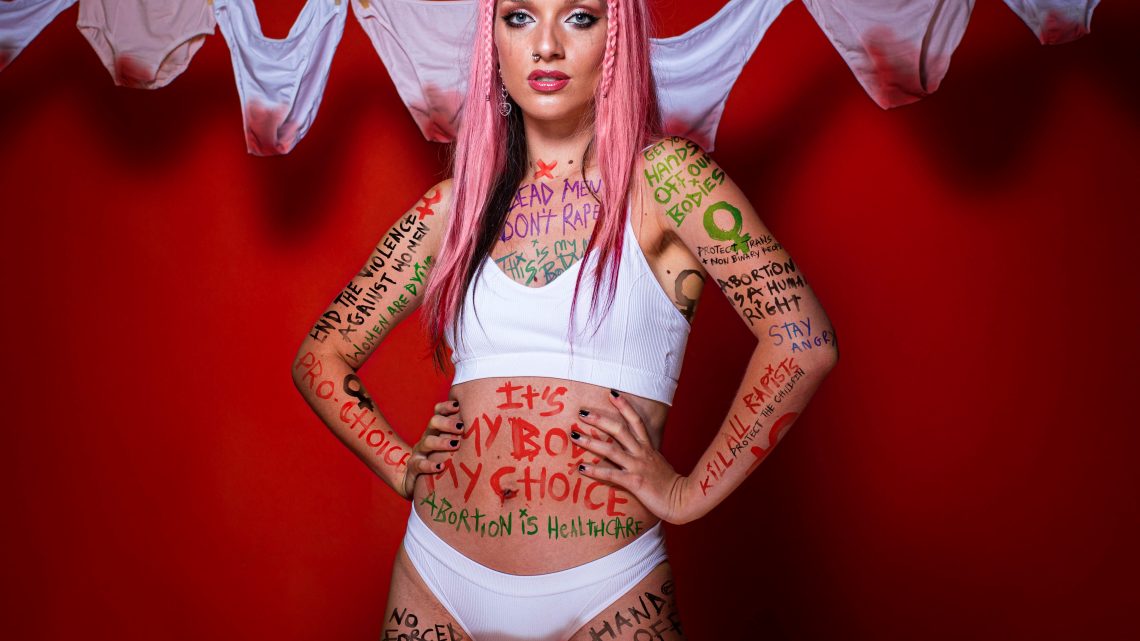 Delilah Bon Drops New Single 'Dead Men Don't Rape'
29th July 2022
0
By
John Deaux
"After Roe vs Wade was overturned in the USA, I saw the very real aftermath on social media. So many women feeling completely helpless knowing their human right to bodily autonomy had been stripped from them. It made me think of how the system was failing women and those with uterus' so badly, especially with such high cases of rape and the majority of those cases not resulting in convictions. Not only are the victims being punished in a system that's meant to protect them, the punishment of illegal abortion in many countries is worse than that of actual rapists. It's heartbreaking to see cases of women and girls killing their rapists in self-defence and spending their life behind bars because the system would not protect them. I wrote, mixed and produced this song in three days after being so deeply hurt by everything that's happening right now." DELILAH BON, JULY 2022
Listen to DEAD MEN DON'T RAPE: www.delilahbon.co.uk/listen
 DELILAH BON (the alter-ego of Lauren Tate from Hands Off Gretel) is angry, like countless others throughout the world, following the recent news coming from the US that sees more women and those with uterus' lose their rights to legal abortion and bodily autonomy. While many of us recoil at the injustice and the horror in silence, Delilah speaks out with an eloquence and a fury.
Built on the firm foundations of female empowerment, Dead Men Don't Rape fuses hip-hop, punk and nu-metal with a ferocious, screamed rap over razor-wire guitar riffs. "My body is mine / Don't belong to the government," Bon screams, commanding full attention. You can almost taste the hurt, the betrayal, the anger.
Dead Men Don't Rape is a song that addresses a system that is failing to protect victims of abuse. With a rise both in violence towards women and worldwide femicide, Delilah is prepared to be a voice for those that do not have one. There are some things that need saying out loud, and sometimes it takes a courageous young woman to say them.
Following her acclaimed debut self-titled album, Delilah previously announced her first UK tour for the autumn of this year, which follows festival appearances at Kendal Calling, Maui Waui, Shambala and Burn It Down, and precedes her appearance at Drown U Out festival alongside the likes of SCARLXRD, ZAND, Bob Vylan, DANA DENTATA and GHØSTKID. Headline dates as follows: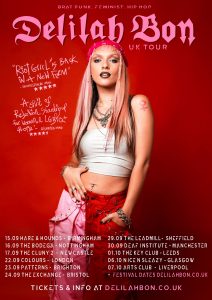 SEPTEMBER
Thu         15           BIRMINGHAM                      Hare & Hounds
Fri           16           NOTTINGHAM                      Bodega
Sat          17           NEWCASTLE                          Cluny
Thu         22           LONDON                               Colours
Fri           23           BRIGHTON                             Patterns
Sat          24           BRISTOL                                 Exchange
Thu         29           SHEFFIELD                             Leadmill
Fri           30           MANCHESTER                       Deaf Institute
OCTOBER
Sat          01           LEEDS                                     Key Club
Thu         06           GLASGOW                             Nice N Sleazy
Fri           07           LIVERPOOL                           Arts Club
Tickets available from: https://www.delilahbon.co.uk/tour
"The Delilah Bon persona unleashes a whole new level of clever, sarcastic, empathetic, and righteously angry lyrics, offering help to those that need it and a firm middle finger to the rest. The living embodiment of the DIY attitude. As Huggy Bear yelled back in the 90s 'this is happening without your permission' …" LOUDER THAN WAR
"We could have dedicated part of this review to all the topics and facets of feminism Delilah tackles on her record but, honestly, what's the point? We'll never do it as powerfully as she does, so instead, here's an instruction: PUT THE ALBUM ON! And know it was made by a boss babe who literally made everything you can see and hear, and know that you're just as much of a boss babe as she is …" BITTERSWEET PRESS
How useful was this post?
Click on a thumb to rate it!
Average rating 0 / 5. Vote count: 0
No votes so far! Be the first to rate this post.
Related