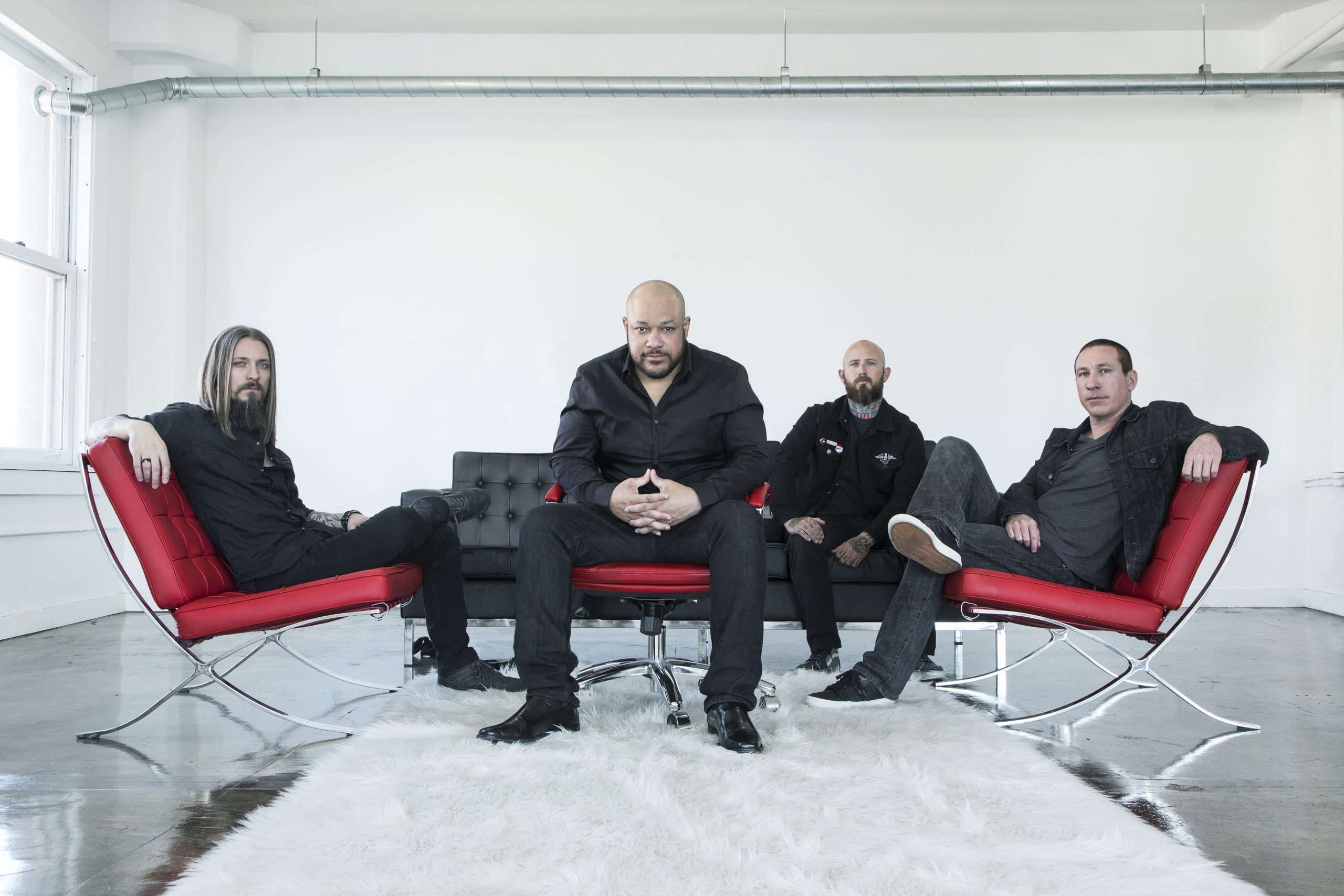 DEVIL YOU KNOW – announce first ever UK Headline Tour!
14th July 2016
DEVIL YOU KNOW Announce UK Headlining Tour 'Third Time's A Charm'
Fan Meet and Greet VIP Packages Available For All Shows
After a few years of being forced to cancel their UK shows, DEVIL YOU KNOW are now exclusively focusing on the UK market with an extensive headlining run starting Jan 10th, 2017 in small clubs to bring a very intimate experience to their fans. The appropriately helmed "Third Time's A Charm" tour features The Westfield Massacre (first UK appearance) and UK based titans, Wearing Scars and Brutai, in the opening slots. 
Francesco Artusato (guitars) states: "This is our very first official headlining UK tour of our band's career and we are looking forward to performing a lot of new material from They Bleed Red, some of which has yet to be ever played live. We can't wait to finally be able to give our amazing UK fans the hour-long, full DYK live experience in an intimate setting and these shows are not to be missed.The supporting bands for these shows are killer from top to bottom and it's something that I am going to watch every night as well. It will also be our first time touring in Russia, which is going to be insane.
We can't wait to meet you all in what will officially mark the last tour of the They Bleed Red touring cycle. We have so much new music that we are going to turn around a new album to get back out summer of 2017. We are also offering VIP ticketing packages at each show, where for only $50 you get a guaranteed group photo with the band, as many autographed items as you like and a free t-shirt of your choice from our merch booth. I am also doing private guitar lessons before each show."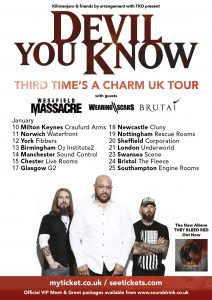 Meet and greets will be at 6PM sharp each day. All VIP packages will be on-sale Friday via the following link:
www.devilyouknow.soundrink.com 
 
Full dates as follows, general tickets on sale this Friday 15th July via ticket links below:
DEVIL YOU KNOW w/The Westfield Massacre, Wearing Scars, Brutai
Jan 10th – Milton Keynes, Crauford Arms 
http://www.seetickets.com/event/devil-you-know-10-01-17-craufurd-arms-mk/the-craufurd-arms/999574
Jan 11th – Norwich, Waterfront Studio
http://thewaterfrontstudio.ticketabc.com/events/devil-you-know/
Jan 12th – York, Fibbers
www.ticketweb.co.uk
Jan 13th – Birmingham, O2 Institute 2
http://www.ticketweb.co.uk/event/zre1401
Jan 14th – Manchester, Sound Control
http://www.seetickets.com/event/devil-you-know/sound-control/999572
Jan 15th – Chester, The Live Rooms
http://www.seetickets.com/event/devil-you-know/the-live-rooms/1000080
Jan 17th – Glasgow (Scotland), G2
http://www.ticketmaster.co.uk/Devil-You-Know-tickets/artist/1957991
Jan 18th – Newcastle, The Cluny
http://www.seetickets.com/event/devil-you-know-featuring-howard-jones-/the-cluny/999579 
Jan 19th – Nottingham, Rescue Rooms
http://www.alt-tickets.co.uk/devil-you-know-tickets
Jan 20th – Sheffield, Corporation
www.corporation.org.uk 
Jan 21st – London, Underworld
myticket.co.uk  
Jan 23rd – Swansea (Wales), The Scene
thesceneclub.co.uk 
Jan 24th – Bristol, The Fleece
http://www.seetickets.com/event/devil-you-know/the-fleece/998351
Jan 25th – Southampton, Engine Rooms
http://www.seetickets.com/event/devil-you-know/engine-rooms/998352 
Check out the video for 'The Way We Die' https://www.youtube.com/watch?v=vG8DzO1gJ4g 
About 'They Bleed Red':
Howard Jones (vocals), Francesco Artusato (guitars) and Ryan Wombacher (bass/backing vocals) deliver a dense monstrosity of technical prowess and angst-ridden passion. A deep interpersonal understanding and an evolving camaraderie set the stage for the unique confidence behind They Bleed Red, the band's ferocious follow-up which extinguishes any so-called "sophomore slump" without mercy. It's the sound of primal bloodlust. Produced by Josh Wilbur (Avenged Sevenfold, Lamb Of God, Killer Be Killed), They Bleed Red is a breakneck paced trip through DEVIL YOU KNOW's broken psyche, struggles with anxiety, and ultimate triumph against adversity, all laid upon a foundation of high-level artistic achievement and vitriolic full throttle heavy metal fury. 
For more info about Devil You Know:
http://www.nuclearblast.com/en/music/band/about/3188618.devil-you-know.html 
https://www.facebook.com/Devilyouknowofficial 
https://twitter.com/devilyouknow
https://www.instagram.com/devilyouknowofficial/