DEVILDRIVER unveil Ghost Riders In The Sky video
11th June 2018
DEVILDRIVER
have unveiled another new track taken from their highly-anticipated full-length album of outlaw country-gone-metal anthems,
Outlaws 'Til The End
.   Check out the video for their take on the classic 
Ghost Riders In The Sky, featuring guest vocal appearances from Randy Blythe from Lamb of God, John Carter Cash and Ana Cristina Cash alongside DEVILDRIVER frontman, Dez Fafara 
here – 
https://youtu.be/hlDPWmwO7SU
. 
Outlaws 'Til The End
is both a startling curveball and a ferocious statement of individuality from a band who have been a constant and effective force in the heavy metal world for the best part of two decades.  From the opening seconds of Hank3's
Country Heroes
, featuring Hank3 himself onwards which you can check out here –
https://youtu.be/lpm9QrPKfWE
,
Outlaws 'Til The End
is simply one of the most invigorating records the band have made.  More importantly, these evocative, irresistible songs have all been wholly rebuilt from the ground up, powered by the classic
DEVILDRIVER
sound and embellished with Fafara's unmistakable feral roar.  
Outlaws 'Til The End
was produced, mixed and recorded with Steve Evetts (Dillinger Escape Plan, Every Time I Die, Sepultura, The Cure), with
DEVILDRIVER
guitarist Mike Spreitzer co-producing.  The album was mastered by renowned engineer, Alan Douches.
Completing the project are a host of metal and country luminaries providing unforgettable cameos.  Full tracklisting and guests below.
Watch two insightful episodes of the Outlaws… video series;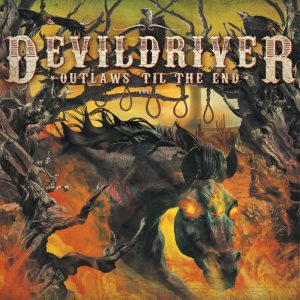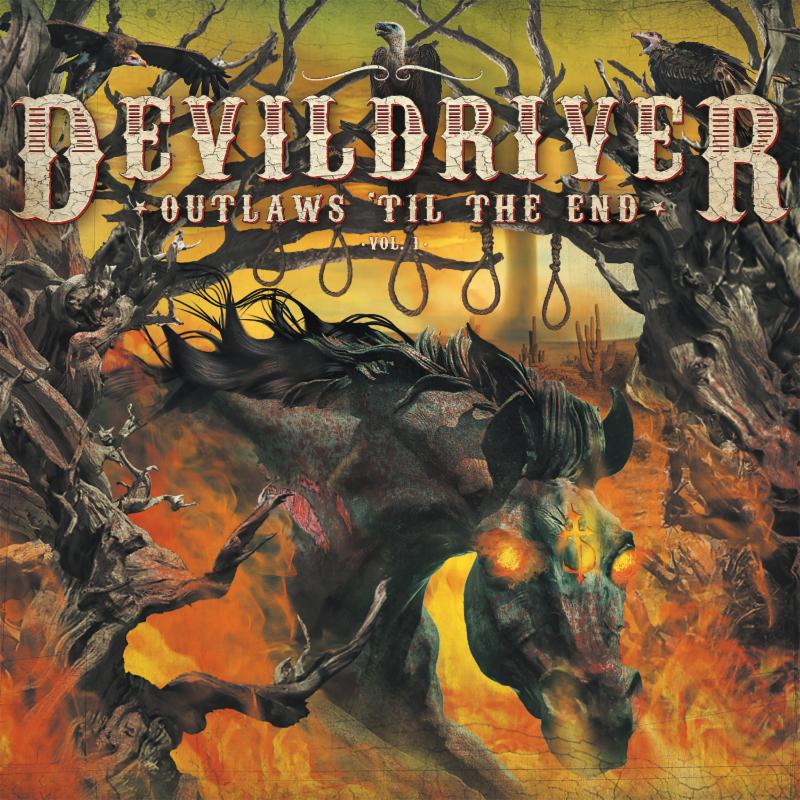 DEVILDRIVER Outlaws 'Til The End track listing:
1. Country Heroes
Written by Hank Williams III
Performed by Hank3 & Dez Fafara
2. Whiskey River
Written by Johnny Bush and Paul Stroud; recorded by Willie Nelson
Performed by Randy Blythe, Mark Morton of Lamb of God & Dez Fafara
3. Outlaw Man
Written by David Blue; recorded by the Eagles
Performed by Dez Fafara & Neal Tiemann of DEVILDRIVER
4. Ghost Riders in the Sky
Written by Stan Jones
Performed by John Carter Cash, Ana Cristina Cash, Randy Blythe & Dez Fafara
5. I'm the Only Hell (Mama Ever Raised)
Written by Bobby Bobby Borchers, Wayne Kemp, Mack Vickery; recorded by Johnny Paycheck
Performed by Dez Fafara & DEVILDRIVER
6. If Drinking Don't Kill Me (Her Memory Will)
Written by Harlan Sanders, Rick Beresford; recorded by George Jones
Performed by Wednesday 13 & Dez Fafara
7. The Man Comes Around
Written by Johnny Cash
Performed by Lee Ving of Fear & Dez Fafara
8. A Thousand Miles From Nowhere
Written by Dwight Yoakam
Performed by Dez Fafara & Neal Tiemann of DEVILDRIVER
9. Copperhead Road
Written by Steve Earle
Performed by Brock Lindow of 36 Crazyfists & Dez Fafara
10. Dad's Gonna Kill Me
Written by Richard Thompson
Performed by Burton C. Bell of Fear Factory & Dez Fafara
11. A Country Boy Can Survive
Written by Hank Williams Jr.
Performed by Dez Fafara & DEVILDRIVER
12. The Ride
Written by J.B. Detterline Jr., Gary Gentry; recorded by David Allan Coe
Performed by Lee Ving of Fear & Dez Fafara
DEVILDRIVER are set to play Derbyshire's BLOODSTOCK FESTIVAL (www.bloodstock.uk.com) on 9th August.  
DEVILDRIVER online:
www.devildriver.com
www.facebook.com/devildriver
www.twitter.com/devildriver
www.instagram.com/devildriver
DEVILDRIVER is:
Dez Fafara – Vocals
Mike Spreitzer – Guitar
Neal Tiemann – Guitar
Diego Ibarra – Bass
Austin D'Amond – Drums
How useful was this post?
Click on a thumb to rate it!
Average rating / 5. Vote count: