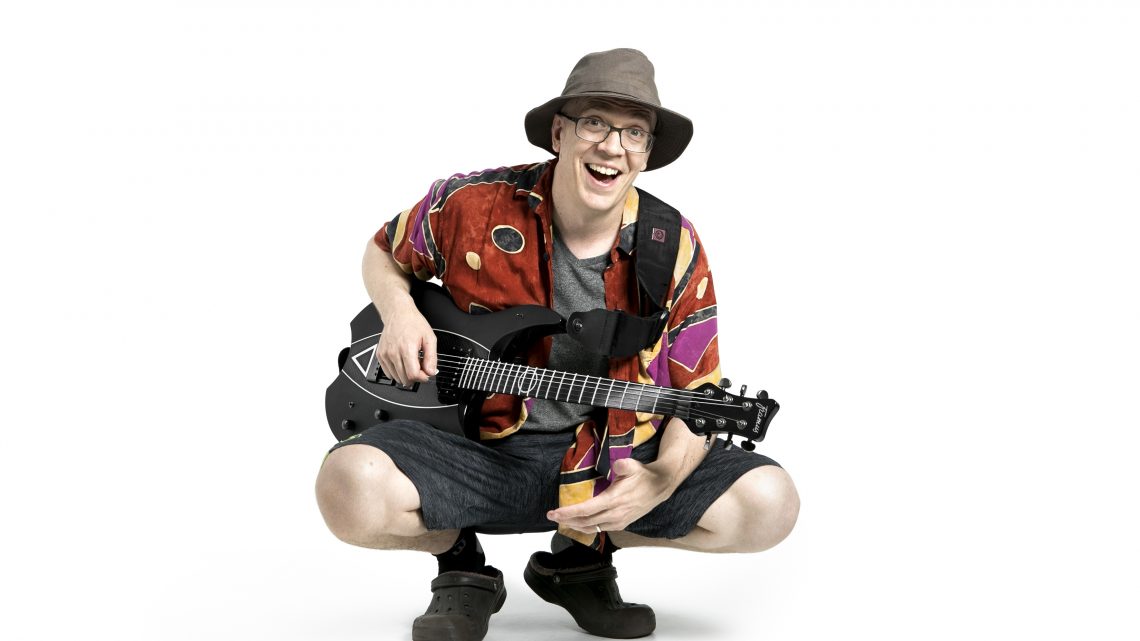 Devin Townsend – Royal Albert Hall – London – 16th April 2022 – Review
19th April 2022
Devin Townsend is a legendary name in the world of heavy music. For more than twenty years, he's been bringing his addictive brand of operatic, experimental extreme, prog-pop-metal to the masses. It's no real surprise that he can have the entire Royal Albert Hall in the palm of his hand for two nights in a row.
The opening night of Devin's The Greatest Sets Of My Life London shows sees Danish prog metallers Vola provide support. Their music sits somewhere between the catchiness of Haken and Leprous and the aggressive polyrhythms of Meshuggah, and acts as the ideal way to warm up the occupants of the 150 year old venue. Their best track, 'Stray The Skies', sounds huge live; especially in comparison to the terribly produced 2016 studio version.
The first thing you notice (aside from his immensely colourful guitar) is how strong Devin's voice is, even as he approaches his fiftieth birthday. Tracks like 'Kingdom' and Strapping Young Lad'  'Aftermath' hold the same aggression and grandeur as they did on the day he first recorded them – that's a serious achievement. He's able to instantly transform his voice from the power of a classic metal vocalist into a high-pitched warble worthy of a classical aria without visible effort. The only issue with being such a prolific artist means that you aren't always going to strike gold.
The four main bands he has been a part of haven't always crafted perfect records, and this inconsistency finds its way into the setlist. Of course, the die-hard fans are delighted throughout, but aside from a couple of great tracks, the show hits a bit of a lull during its slightly meandering middle section.


Some of the best moments of the night, however, come from Devin's 2019 album, Empath. An orchestral epic that sums up just about everything the auteur has ever attempted in one bold, uncompromising (expensive) hour. It's a shame for the audience and Devin himself that he therefore has to rely on backing tracks for 'Why?' and 'Spirits Will Collide', but again, his incredible voice that almost stops you from caring as he strides around the stage playing the leading role in some sort of karaoke opera.

The chaos of his Strapping Young Lad material comes across incredibly well. 'Love?' and 'Detox' initiate waves of headbanging, and his band hit every complex, intense note perfectly. It's hypnotic to watch him playfully jump between a gruesome snarl and a genuine grin of delight as he watches his audience scream every surrealist word back at him.
In most of his self-deprecating, self-aware monologues, Devin mentions his anxiety at this show not quite having the wow-factor of his pantomime-like previous appearance, but just watching him perform is enough. The only real issue is that his wooden, almost robotic guitarist and bassist don't match his wonderful energy in the slightest.
Still, Devin is an entertainer through and through. His mixture of unique tracks performed impeccably and a distinctive, comedic stage presence have earned him almost mythical status in the metal world. And for good reason.
Set List

Equation (Intro ambience)
Failure (Devin Townsend Project song)
Kingdom
Hyperdrive
By Your Command
Life
Aftermath (Strapping Young Lad song)
Regulator
Deadhead (The Devin Townsend Band song)
Deep Peace
Ih-Ah!(Devin Townsend Project song) (Acoustic version)
Why?
March of the Poozers
More! (Devin Townsend Project song)
Juular (Devin Townsend Project song)
Supercrush! (Devin Townsend Project song)
Love? (Strapping Young Lad song)
Encore:
Spirits Will Collide
Vampira (The Devin Townsend Band song)
Detox (Strapping Young Lad song)
Song played from tape
Macarena (Outro music)