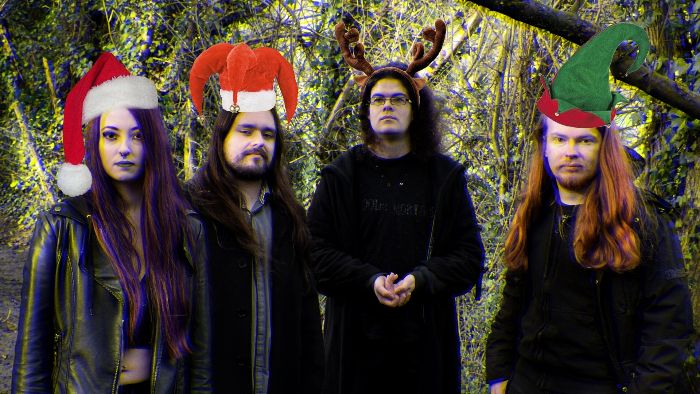 DISCONNECTED SOULS Release Cover of "Merry Xmas (War Is Over)
21st December 2021
DISCONNECTED SOULS are continuing their annual tradition of releasing a Christmas cover. Their most recent cover, John Lennon and Yoko Ono's "Merry Xmas (War Is Over)" receives a dramatic, heavy reimagining. Fusing metalcore sounds with intense electronics, folk instruments and a choir singing in Latin, the genre busting outfit have produced their most dynamic seasonal treat yet.
The band comments:
"This year's Christmas cover was a challenge! We knew that the song could be interpreted in a number of different styles, but we didn't want to release multiple versions and so chose to combine all our ideas into one. Despite the trials of mixing so many ideas into one track, we're thrilled with the result."
Continuously pushing the boundaries, the quartet based out of Chester, England, strive to create a distinctive sound that draws upon the depth of metal, while playing with tones and textures from all musical styles. Following the release of their latest avant-garde single "Petrichor", the new single dives into energetic rhythms, deliciously distorted guitars and electric synthesizers. The cover also sees DISCONNECTED SOULS hark back to their Warring Elements EP featuring a choir of fellow musicians and friends. This time, performing a Latin translation of the chorus to add in an extra layer of experimentation.
 
DISCONNECTED SOULS take immense pleasure in adapting well loved Christmas songs to their own creative arrangement style. The essence of the original track always carries through, just with an extra boost of the theatrics and elevated instrumentation.
Line-Up:
Patrick Lloyd: Vocals / Programming
Holly Royle: Guitars / Vocals / Keys / Programming
Matthew Simon Fletcher (Fletch): Guitars / Keys / Bass / Backing Vocals / Programming
Tim Jenkins: Synths / Keys / Guitars / Programming
Socials:
Bandcamp: https://disconnectedsouls.bandcamp.com/releases 
Twitter: https://twitter.com/DSbandUK
Instagram: https://www.instagram.com/disconnected_souls
Facebook: https://www.facebook.com/pg/disconnectedsouls
YouTube: https://www.youtube.com/c/DisconnectedSouls