Disturbed – Evolution (Deluxe Version)
14th December 2018
0
By
Aaron Emerson
OK, let me start this by saying, I'm a big Disturbed fan, actually a huge fan (so expect some form of bias); I've followed the American Nu-Metal outfit from their meteoric start of The Sickness (2000) and their incredible underrated Believe (2002) to their more recent and heavier material in Asylum (2010) and of course their last instalment, Immortalized (2015), five years later. Disturbed were amongst the front-runners of the Nu Metal scene and during their 18 years, they have refused to compromise of their style and sound. In some respects, this puts them at the top of the genre, granting them iconic status. Well the wait is definitely shorter than the previous gap, much to the grins of fans out there, we have the latest instalment in Evolution. I couldn't wait to delve into this juicy morsel… initially.
The album starts with the promising first single 'Are You Ready?', harking back to their original sound, reminding you of The Sickness and Ten Thousand Fists (2005) albums, the strong heavy anthemic riffs mixed with synth sounds and the charismatic vocals of Draiman really gets the body pumping and preparing you for more; this was delivered in the guise of 'No More' which once again brought ever more signs of previous sounds, almost indistinguishable from tracks of Believe. Things were definitely looking up from the slightly disappointing Immortalized… or so I thought. Enter ballad number 1 in the guise of 'A Reason to Fight'; ok, it's not awful but it has that cringe worthy cheese factor that makes you wince at the lyrics on occasions. The overall arc provided little in the form of surprise, continuing the lacklustre quality of Immortalized in all its glory. It doesn't stop there either, with the more "punchy", and I say that with all the enthusiasm of having your teeth pulled out, "In Another Time" and "Stronger on Your Own"; each giving nothing particularly special to the mix, the typical Disturbed reverb is evident and Draiman's vocals adds to the illusion, but they appear passionless, rushed, almost as if the had no heart in creating the album.
Up next comes one of the more painful acoustic renditions of a song heard for a long time, 'Hold on to Memories' is just pure sap, over the top and mawkish. It's painful to hear how far Disturbed has fallen with this one and yet here we are trying our best to pick out anything half decent; look, the music isn't terrible and as 'Saviour of Nothing' and the vomit inducing 'The Best Ones Lie' take up the next slots which doesn't help the situation. Though both have a small bite to them, but once again they feel forced, laboured and out of sync with the majority of the back catalogue. The standard album comes to an end with the depressing ballad of 'Already Gone'; Draiman once again trying to prove he can sing with clean vocalisations and with harmony. Yes, he can, and the melodies work well, however it's one too many times now and although this is one of the better ballads and can resonate with fans of loss and suffering but it' spoilt by the same self-indulgent nonsense you would expect from Wet-Wet-Wet, I mean come on, humming? There are no words.
In comes the opening bonus track in the guise of Simon and Garfunkel's 'Sound of Silence' live with special guest singer Myles Kennedy (Alter Bridge) but much like Staind in the past the awful "fire up them lighters" had to be said, ouch Draiman, ouch. That being said, the powerful cover still packs a punch much like it did on Immortalized, it still tugs at the heart-strings and with Myles' vocals added, it has more of an impact. Next up is 'This Venom' which feels like a relief from the mediocrity of the album so far and makes you realise that actually Disturbed haven't lost it completely. Ok, we can let them off for the remix version of 'Are You Ready' as it's surprisingly upbeat and has a unique kind of bite to it; the mix by Sam de Jong doesn't butcher the track and actually gives it some additional flavour which doesn't make you brain dribble out of your ears. Unfortunately, they just had to add yet another ballad tagged at the end of the bonus tracks with 'Uninvited Guest'; it was definitely uninvited alright, its at this stage you really give up all together as "ooo-oo-ooo's" are now in play, I was half expecting some kind of warble from Mariah Carey happening next. On the plus side, the orchestral overture was a nice touch but let down by the pretentious lyrics and heavy use of acoustic guitar work.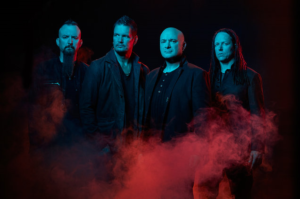 Now, how can I put this politely; Evolution certainly is a change in style, it's a bold move for the band, which isn't always a good thing case in point here. The 14 tracks of the Deluxe version or 10 of the standard versions produces and inordinate amount of self-indulgent ballad-esque tracks that saturate the album with their sappy, and occasionally depressive lyrics. If that was pulled back to a reasonable amount it would have been a nice little addition, much like their previous releases. Instead we have an album that consists of just under half its contents (roughly 45%) being soft ballads that would make Nickelback cringe by the sheer amount and self-absorbed overly stated acoustic overtures of the 6 tracks that exist, yes that's right 6! Now I will say that the cover of Simon and Garfunkel's Sound of Silence is an exception to the list with it being a live track with the incredible Myles but it's inclusion in the deluxe version along with another 2 ballads is just too much to bare. This is not the Evolution we want as fans, it's almost as if they missed the "D" off the beginning. A very disappointing show, with mediocre "filler" tracks and cringe worthy ballads, this could have easily been the B-Sides to Immortalized and should have been.
Score 4/10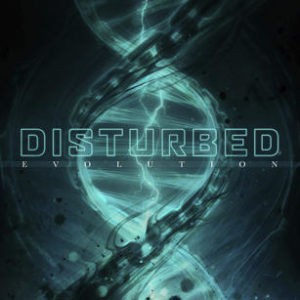 Track list:
1.Are You Ready?
2.No More
3.A Reason to Fight
4.In Another Time
5.Stronger on Your Own
6.Hold on to Memories
7.Saviour of Nothing
8.Watch You Burn
9.The Best Ones Lie
10.Already Gone
11.The Sound of Silence (Live with Myles Kennedy)
12.This Venom
13.Are You Ready? (Sam de Jong Remix)
14.Uninvited Guest
Release Date: Out Now
Record Label: Reprise
For Fans of… Staind, Creed, Wet Wet Wet
Website: http://www.disturbed1.com/
Check out Disturbed on Facebook. You can purchase Evolution here.
How useful was this post?
Click on a thumb to rate it!
Average rating 0 / 5. Vote count: 0
No votes so far! Be the first to rate this post.
Related