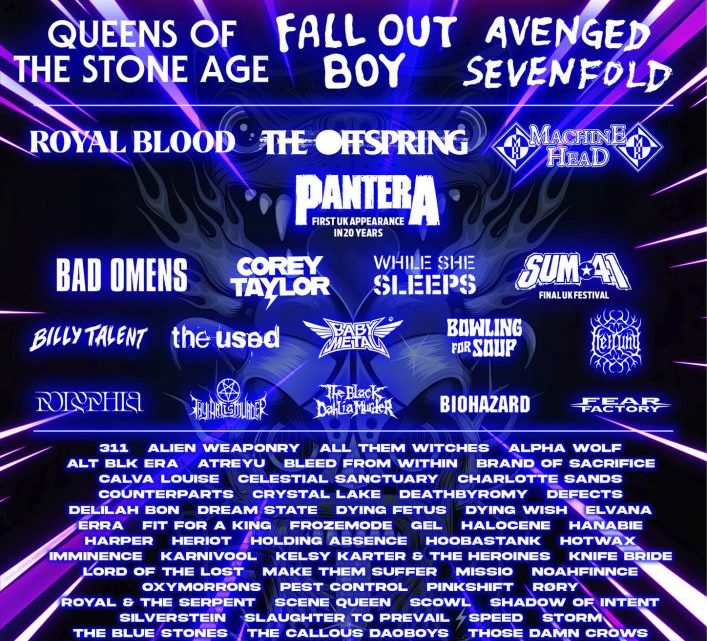 Download Festival 2024 – Line Up Announcement Confirmed!
9th November 2023
0
By
Quinccy
It's happened. It's happened… The line up for Download Festival 2024 has finally been announced and I'm happily surprised however the headliners were not as predictable as people thought they may have been. 
Download festival is a yearly festival that takes place at Donnington Park, Castle Donington, Derby in the United Kingdom. Download Festival 2024 (presented in collaboration with their first ever to date headline partner, Liquid Death) takes place from the14th to the 16th of June 2024.
Headliners have been confirmed for Queens of the Stone age opening the weekend on the Friday evening, Fall Out Boy taking the stage on Saturday and finishing the weekend off is Avenged Sevenfold closing the weekend on the Sunday evening.
Other notable bands that have been confirmed are Royal Blood, The Offspring, Fear Factory, Thy Art Is Murder, The Black Dahlia Murder, Fit For A King, BabyMetal, While She Sleeps, Billy Talent, Bad Omens, RØRY, Silverstein and much much more.
Pantera have also shockingly been announced to perform their first UK performance in over two decades.
Although the announcement has been made for the line up at Download festival 2024, there have been mixed reviews throughout social media in regards to the selection of headliners such as;
"Not that excited about the headliners."
Another person on Facebook posted: 
"Downloaders: "We want new headliners, not Iron Maiden for the 7th time."

Also Downloaders: "New headliners? Where's the good bands?!""
With other comments being all in favour of the selection and line up announcement stating:
"Suck it up cry babies. The Download line-up is fucking awesome and I can't wait to go and have lots of fun whilst you all cry about how some bands are "heavy enough" for you"
And other more positive comments have been made but hoping for more announcements in the future.
"I'm actually reasonably happy with the announcement unlike most of Facebook it appears A few more I'd like added but still another major announcement to be made Jan time probably so we'll see"
What do you think? 
Will you be attending Download festival this year? The countdown is on 217 days till Download.
Ticket information can be found on Download festivals official website here.
For further information and announcements please visit Download Festivals official website Here
QUEENS OF THE STONE AGE
FALL OUT BOY 
AVENGED SEVENFOLD
ALIEN WEAPONRY
ALPHA WOLF
ALL THEM WITCHES
ALT BLK ERA
ATREYU
BABYMETAL
BAD OMENS
BILLY TALENT
BIOHAZARD
BLEED FROM WITHIN
BOWLING FOR SOUP
BRAND OF SACRIFICE
CALVA LOUISE
CELESTIAL SANCTUARY
CHARLOTTE SANDS
COREY TAYLOR
COUNTERPARTS
CRYSTAL LAKE
DEATHBYROMY
DEFECTS
DELILAH BON
DREAM STATE
DYING FETUS
DYING WISH
ELVANA
ERRA
FEAR FACTORY
FIT FOR A KING
FROZEMODE
GEL
HALOCENE
HANABIE
HARPER
HEILUNG
HERIOT
HOLDING ABSENCE
HOOBASTANK
HOTWAX
IMMINENCE
KARNIVOOL
KELSY KARTER & THE HEROINES
KNIFE BRIDE
LORD OF THE LOST
MACHINE HEAD
MAKE THEM SUFFER
MISSIO
NOAHFINNCE
OXYMORRONS
PANTERA
PEST CONTROL
POLYPHIA
PINKSHIFT
RØRY
ROYAL BLOOD
ROYAL & THE SERPENT
SCENE QUEEN
SCOWL
SHADOW OF INTENT
SILVERSTEIN
SLAUGHTER TO PREVAIL
SPEED
STORM
SUM 41
THE BLACK DAHLIA MURDER
THE BLUE STONES
THE CALLOUS DAOBOYS
THE OFFSPRING
THE USED
THOSE DAMN CROWS
THY ART IS MURDER
TIGERCUB
UNDERSIDE
UNTIL I WAKE
URNE
VUKOVI
WARGASM
WHILE SHE SLEEPS
ZULU
311