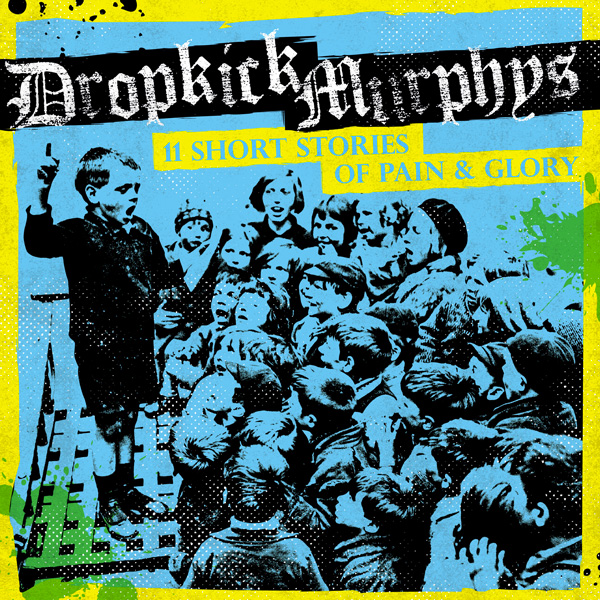 Dropkick Murphys – 11 Short Stories of Pain and Glory
12th January 2017
The first thing to notice from the last Dropkick Murphys offering, is that they never have, and never will sacrifice their distinctive style, which if you like it, is great. Combining bagpipe melodies, catchy chants, that familiar and comforting raspy voice, distorted guitars and uplifting lyrics is always an impressive feat, and they continue to pull it off.
It kicks off with a short intro track, developing into a shouted, sing-along chant. Classic. Then we move to track 2 and a shouted, sing-along chant. Classic. Then to track 3 and a shouted, sing-along chant… classic? By Blood you start to notice a pattern. Blood is definitely the first stand out track on the album (probably the reason they released it as a single back in November 2016), it sounds like something that would play during the credits of a film with a happy ending after a tough time – maybe there was a division between a group of friends but they came together at the end to save the day. Maybe in a pub. But nonetheless it is a good, uplifting song. The only problem is, so is every song on the album. Every single song is catchy, fun and well written, but they are just. The. Same. Song. Track 4, 6, 7, 8 (I'll come back to 5) are all just different combinations that all culminate in either a call and response sing-shout-sing-shout pattern, or a chorus of seemingly drunken men swaying and chanting. After a while, it just gets boring. If you love this style, then it's perfect, but for the casual listener, just limit yourself to a few songs because you'll put yourself off if you try and listen to the whole album through straight away.
So, track 5: First Class Loser. This and Blood would be what I suggest to the casual listeners hearing a few songs. There is just something about this song that I love, it feels funny and light hearted at the same time as making me feel nostalgic somehow. Of course, it has the catchy chant chorus and the accordion melodies etc, but the alternating vocals between lead singer Al Barr and Bassist/singer Ken Casey are impressive, and the chant is my personal favourite of the album. It opens with a melody that sounds almost like it's about to be a rip off of their own song Rose Tattoo but it ends up as the most unique and exciting song on the album.
Dropkick Murphys never have, and never will sacrifice their distinctive style
Dan Peeke
The message of this album, however, is something that goes a lot deeper than the drunken chants. A lot of it based on opiate overdoses, some supporting messages (Like their cover of You'll Never Walk Alone, which you might recognise from the Rogers and Hammerstein musical Carousel or the end of the Pink Floyd song Fearless. Or if you're a Liverpool fan…), or the most hard hitting of them all, their homage to the victims of the Boston marathon bombings. If you know Dropkick Murphys, you'll know their commitment to their hometown, especially in their huge songs such as Shipping up to Boston, so it's no surprise they were hit hard by it and wanted to give tribute. They've done their share in the real world as well, visiting victims in hospital and helping to raise money to support. 4-15-13 is sad, reflective and respectful, but at the same time manages that uplifting sound. They even restrained themselves and chanted slightly quieter. Thanks.
After 4-15-13, is the very self aware (hence the title) end to the album: Until the Next Time. This song sounds like it's been pulled from the end of a musical, you half expect members of the band to come to the front of the stage in pairs, holding hands to bow. It's almost annoyingly catchy, and I'm sure Vera Lyn never expected 'We'll meet again, don't know where, don't know when' to be used in such a polarising way, but it's a nice way to end the album. While there is a lot of good to say about it (mostly in terms of individual tracks), there are times when the album loses its way. Tracks 6-8 seem like filler, a lot of nothing; not bad songs per se, but barely anything to even comment on. Of course it's saved by stand out moments in Blood, First Class Loser and 4-15-13, but overall, the monotony of the chanting, structures and similarity of these songs to each other (and their past material) just means it doesn't strike me as anything special overall. But, I can't say it enough: individually most of the songs are good, and if you're a huge fan, it'll suit you just fine!
Reader album rating: [ratings]
11 SHORT STORIES OF PAIN AND GLORY ALBUM INFO
Tracklist:
The Lonesome Boatman

Rebels With A Cause

Blood

Sandlot

First Class Loser

Paying My Way

I Had A Hat

Kicked To The Curb

You'll Never Walk Alone

4-15-13

Until The Next Time

Release Date:
6th January 2017

Record Label:
Born and Bred Records