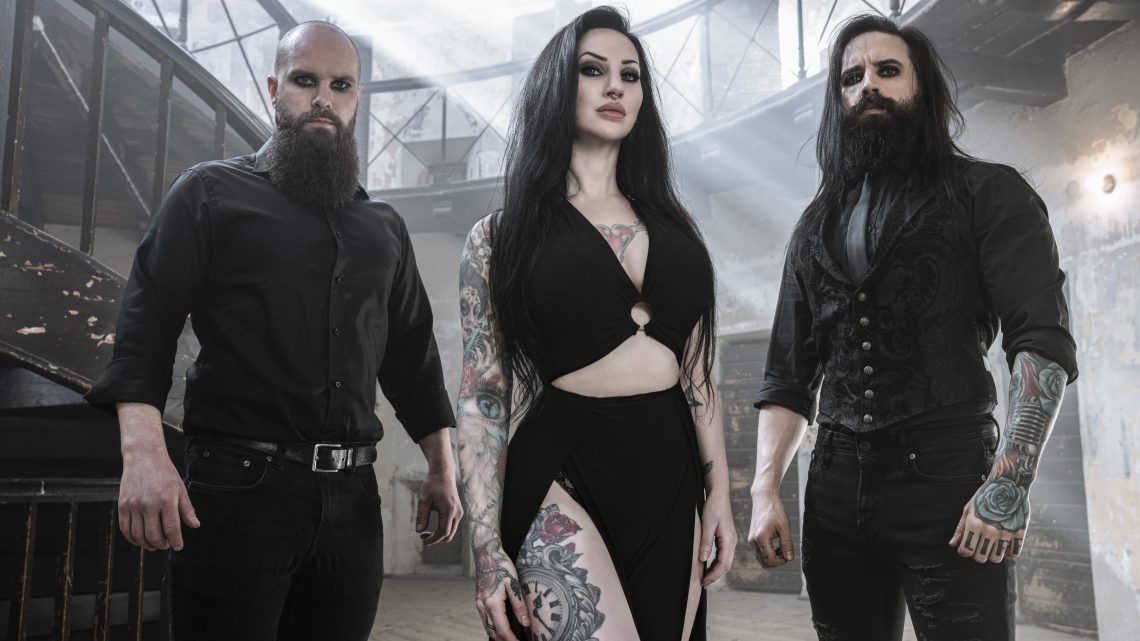 ELEINE – announce new EP "Acoustic In Hell" for October 14th
6th July 2022
0
By
John Deaux
A good song has to work in whatever environment it is staged – be it in a full-blown stadium or intimate acoustic setting. Swedish dark symphonic metal high-flyers ELEINE have internalized this little piece of wisdom and rooted it deep within their artistic integrity. There's no other way to explain their effortless shift between their bombastic side and the deeply spellbinding acoustic guise they present on their brand-new EP "Acoustic in Hell" that will be released on October 14th via Atomic Fire Records – right in time for their anticipated acoustic tour with metal veterans Sonata Arctica.
"We had never done acoustic versions of our music before, so approaching this challenge was something new to us," says Madeleine. "The main thing we had in mind for these versions was to keep the essence of our metal, to keep it raw and authentic. There is weight to our music, and it's important not to make it overproduced and cute when you get this opportunity.", Rikard adds.
Graced by a stunning cover artwork created by Nestor Avalos and Madeleine Liljestam herself, "Acoustic in Hell" sees the Swedish hopefuls take songs from their three lauded full-lengths, "ELEINE" (2015), "Until the End" (2018) and 2020's genre favorite "Dancing in Hell", strip them down and extract their raw, dark essence. "It took a lot re-arranging. We wanted to keep it raw and authentic but still give the acoustic versions their own identity" Rikard says. "Yes, and as I always say to the guys: I have to feel it in my hips!," Madeleine adds. "This applies to the acoustic versions even more."
 
Recorded within only a week in January 2022 in their dear friend Thomas "Plec" Johansson's The Panic Room Studio in Skara, "Acoustic in Hell" gets elevated by a stellar performance courtesy of Madeleine Liljestam who recorded all her vocals in just under three hours. More than anything, this shows the determination and the sheer will power with which things are done in camp ELEINE.
The pre-order for "Acoustic In Hell" – available as digipak, coloured vinyl plus exclusive photo book, and stream/download – will start on July 29th, but you can already pre-save the first single 'All Shall Burn (Acoustic)' that will see the light of day on the same date: https://eleine.afr.link/allshallburnPR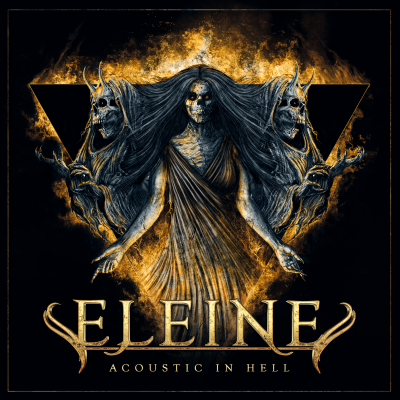 The EP will contain these eight ELEINE classics in a raw new acoustic gown:  
01. Whisper My Child
02. Enemies
03. Memoriam
04. Ava Of Death
05. All Shall Burn
06. Death Incarnate
07. Break Take Live
08. Hell Moon
ELEINE – Live 2022
17.03.2022 SE – Close-Up Båten, Åland
08.04.2022 NO – Oslo Hardrock Festival, Oslo
16.04.2022 SE – Fållan, Stockholm (w/ Dark Funeral)
11.06.2022 SE – Sweden Rock Festival, Norje
17.06.2022 FI – Metal Capital Festival, Oulu
02.07.2022 SE – Sommarhäng I Stadsparken, Motala
06.08.2022 SE – Stenby, Vattholma
15.10.2022 SE – Exclusive Release Show, Landskrona
16.10.2022 ES – Full Metal Holiday
ACOUSTIC TOUR with Sonata Arctica
20.10.2022 SE – Stockholm, Södra Teatern
21.10.2022 SE – Östersund, Gamla Teatern
22.10.2022 NO – Trondheim, Byscenen
23.10.2022 NO – Oslo, Parkteatret
24.10.2022 SE – Gothenburg, Valand (Ordensalen)
25.10.2022 DE – Hamburg, Fabrik
27.10.2022 NL – Tilburg, 013 KZ
28.10.2022 DE – Bochum, Christuskirche
29.10.2022 NL – Utrecht, Pandora
31.10.2022 UK – London, Islington Assembly Hall
02.11.2022 FR – Paris/Vaureal, Le Forum
03.11.2022 FR – Lyon, Le CCO
04.11.2022 ES – Barcelona, Salamandra
05.11.2022 ES – Bilbao, Stage Live
06.11.2022 ES – Madrid, Copérnico
08.11.2022 ES – Sevilla, Custom
09.11.2022 ES – Murcia, Garaje
10.11.2022 ES – Pamplona, Totem
11.11.2022 FR – Toulouse, Le Metronum
12.11.2022 FR – Nantes, Le Ferrailleur
13.11.2022 BE – Sint-Niklaas, De Casino
15.11.2022 DE – Nürnberg, Hirsch
16.11.2022 CH – Pratteln, Z7
17.11.2022 IT – Milan, Live Club
18.11.2022 SL – Ljubljana, Orto Bar
20.11.2022 BG – Sofia, Joy Station
21.11.2022 RO – Bukarest, Quantic Club
22.11.2022 RO – Cluj-Napoca, FORM Space
24.11.2022 AT – Wien, Szene
25.11.2022 HU – Budapest, Akvarium
26.11.2022 CZ – Ostrava, Club Garage
27.11.2022 PL – Warsaw, Proxima
28.11.2022 DE – Berlin, Columbia Theater
29.11.2022 DE – München, Backstage Werk
01.12.2022 DE – Köln, Essigfabrik
02.12.2022 DE – Passau, Zauberberg
03.12.2022 DE – Speyer, Halle 101
—–
ELEINE is:
Madeleine Liljestam – Vocals
Rikard Ekberg – Guitar & Vocals
Jesper Sunnhagen – Drums
ELEINE online:
https://eleine.com/
https://patreon.com/eleine
https://facebook.com/eleineofficial
https://instagram.com/eleineofficial/
https://twitter.com/eleineofficial
https://www.youtube.com/eleineofficial
https://linktr.ee/eleine
How useful was this post?
Click on a thumb to rate it!
Average rating 0 / 5. Vote count: 0
No votes so far! Be the first to rate this post.
Related