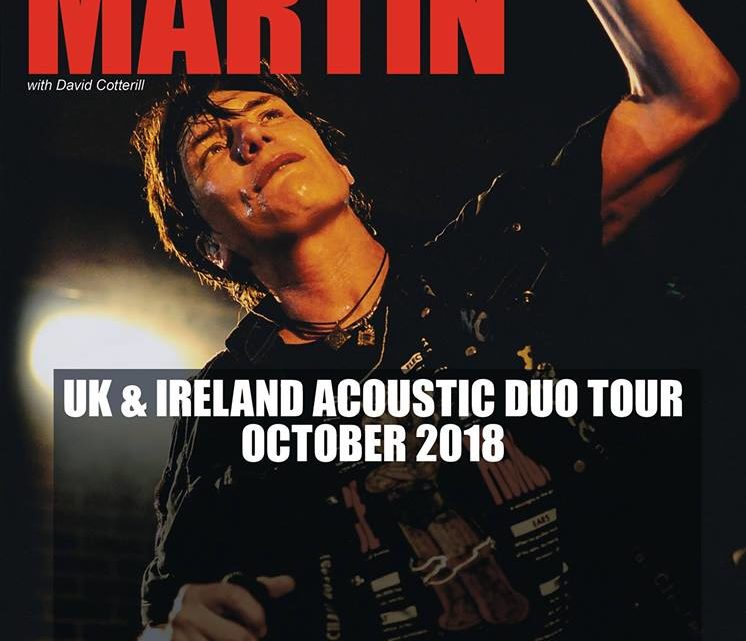 Eric Martin – Bannermans – Edinburgh – 16th October 2018
17th October 2018
0
By
John Deaux
Another trip into Edinburgh to the mighty Bannermans venue for tonight's musical delights in the form of the legendary Eric Martin (Mr. Big) and Dave Cotterill  (Demon) acoustic set.
Over the years I've witnessed many amazing acoustic sets in this venue, including John Corabi (Dead Daisies), Jizzy Pearl (Love/Hate), Knock Out Kaine, Stoney Broke and Mike Tramp (White Lion, Freak Of Nature). What nights like this don't prepare you for are the talents of the acoustic support acts. Tonight's was Richy Neill.
Richy is usually fronting his band The Reinforcements, but tonight he's totally stripped back and bare. Just him, an acoustic and a whole range of effects pedals. Not only was his vocals tremendous and his acoustic rhythm playing second to none, the use of the pedals was outstanding. Rhythm tracks laid down on a continuous loop and then layer upon layer of other sounds that were provided just by the acoustic guitar. Richy was fantastic and  had the audience fully prepared for the main act.
Eric Martin, is a man who needs absolutely no introduction, and if you're a massive fan of NWOBHM, neither does his counterpart on this tour Dave Cotterill.

The set was littered with Mr. Big songs, including a countryfied version of the hit single To Be With You and crowd pleaser Wild World (by Cat Stevens).The onstage banter between Eric and Dave was superb as was it towards the crowd. An intimate acoustic show like this showcased Eric's talent and his natural comedic side perfectly. It when you get a massive talent like this away from a massive rock show, that you discover exactly how talented the man is.
The stories of how different countries react to these kind of shows was a true eye opener. Due to language barriers,  certain audiences would hang onto every word that they couldn't understand, and in some instances Eric could actually hear his own heartbeat.
The highlight for me was a rendition of, Daddy, Brother, Lover, Little Boy (AKA The Drill Song). This had the crowd not only in a frenzy and singing loudly, it was an experience to see that you don't need the flash of the Makitas to make the track. Coterill did an amazing job, making an acoustic version of the solo his own. As he did with every track.
Every track from Electrified (Mr. Big), Wink and a Smile, Untouchable and Back in Blue lent themselves so well to the acoustic treatment that it proved the old adage of, 'a good song, is a good song'. You truly don't need the flash of a full band.
Eric's voice sounded great and Stu (the sound guy) did a bang up job of making the front of house sound huge, despite only having 2 people on the stage.
Despite what happens now with Mr. Big since the tragic death of Pat Torpey (Drummer) back in February 2018, Eric will continue to wow audiences with superb acoustic performances, and who knows, maybe grace us with a full on acoustic album.
Catch Eric Martin on any of the following live dates, you will not be disappointed
Wednesday, October 17 O2 Academy 2, Newcastle Upon Tyne
Sunday, October 21 O2 Academy Birmingham,
Monday, October 22 Rock City, Nottingham
Wednesday, October 24 @ 7:00PM Brudenell Social Club, Leeds
Friday, October 26 The Belfast Empire , Belfast
Saturday, October 27 TIVOLI, Buckley
Sunday, October 28 Muni, Pontypridd
Tuesday, October 30 Eleven, Stoke-on-trent
Thursday, November 1  Arctura Sky Bar, Ostersund
Friday, November 2 Q Bar, Sundsvall
Saturday, November 3 Engelen, Stockholm
Saturday, November 10 Rockfest 80's, Miramar Beach, FL
For all things Eric Martin, click HERE 
How useful was this post?
Click on a thumb to rate it!
Average rating 0 / 5. Vote count: 0
No votes so far! Be the first to rate this post.
Related
About the author
Some say Yank My Doodle, It's A Dandy! is a biographical movie based on John. Some have even said that his favorite artist is Chesney Hawke! All we really know is he sleeps inside out and his hair tastes like candy floss.