Escarnium – Interitus
31st August 2016
Brazilians and Metal they just go together don't they!? Whatever the sub genre from Black Metal to Power I don't think I've ever heard a bad Metal band from Brazil. OK I've not tripped over myself buying every single one I've heard but I've never heard a Metal band from Brazil that actually sucked.
Escarnium follow this tradition brilliantly. On this their second full length the band has brought forward 40 minutes of brutally executed Death Metal.   "While the furnace burns" opens with a furious burst. The album takes the traditional approach in the vein of Bolt Thrower and the murkiness of the early Swedish bands like Dismember and early Entombed.
While not depending on over the top technicality Escarnium solely deliver strong riffs and the occasional haunting melody to add an extra layer of darkness. There is also some fantastic solo work on tracks such as "Starvation Death Process".  Front man Victor Elian's deep growls bring to mind Graig pillard of Incantation and Disma fame. "Radioactive Doom" is a perfect 3 minute specimen on what's on offer here. "Omnis Mortuus Est Interritus" shows brilliantly how the band uses melody to add to the intensity of the songs.
Escarnium are not re-writing the book by any means nor are they trying to. This is simply a strong, well executed take on the genre they obviously love. It's a very what you see is what you get scenario in the best possible way. Good, dirty old school, furious and sinister Death Metal.

7/10
For Fans of: Dismember, Entombed, Bolt Thrower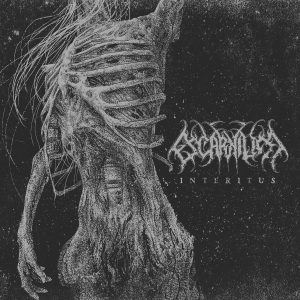 Track list:
1: The horror
2: While The Furnace Burns
3: Starvation Death Process
4: Radioactive Doom
5: Omnis Mortuus Est Interitus
6: Macabre Rites
7: Genocide Ritual
8: the Gray Kingdom
9: 100 Days of Bloodbath
10: Human Waste
Label:
Redefining Darkness Records (N. America)
Testimony Records (Europe)
Release:
October 14 2016