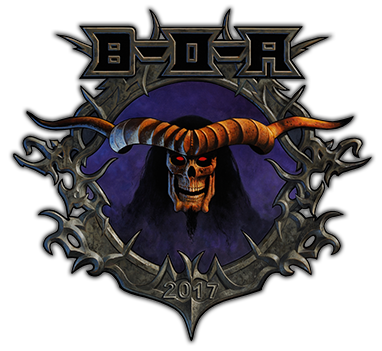 Final bands announced for BLOODSTOCK!
19th July 2017
With three weeks to go til the metal hoards descend on Catton Park for a weekend of heavy merriment, BLOODSTOCK is pleased to reveal the final bands for this year and some extracurricular entertainment!
Joining the Ronnie James Dio main stage on Sunday are hotly tipped five-piece VENOM PRISON (www.facebook.com/venomprison). The Welsh death metallers romped home with the Best New Band gong at the Metal Hammer Golden Gods Awards last month.  
Regrettably, we've two switches as MANTAR have had to withdraw from their slot on the Sophie Lancaster stage on Saturday, but the very capable RED RUM (www.facebook.com/redrummetal) will fill their boots.  Hailing from the Saxon county of Notts, don't miss this folk-metal collection of cut-throat pirates, epic Vikings, and bloodthirsty warriors!
: .  Also due to circumstances beyond our control, SCARAB will no longer be able to appear, so UK thrash heroes, XENTRIX (
www.facebook.com/xentrixmetal
) will make a welcome return debuting their new singer (who they met at BLOODSTOCK last year) and step into their Saturday evening Sophie Stage spot.
BLOODSTOCK can also now announce the final batch of bands from this year's Metal 2 The Masses competition.  Performing on the Hobgoblin New Blood stage Friday will be Hitchin victors RAZE THE VOID (www.facebook.com/RazeTheVoid) with their brand of prog meets melo-death, Oxford metal champions K-LACURA (www.facebook.com/klacura), and tech riffers EMBODIMENT (www.facebook.com/embodimentofficial) who won in Bristol. Saturday welcomes Yorkshire metalheads HOOFKNUCKLE (www.facebook.com/hoofKnuckle), who took first prize in Selby, and Lincs tog dogs HUNDRED YEAR OLD MAN (www.facebook.com/hundredyearoldman). Rounding things out on Sunday are Northants hard rockers SWITCHBLADE CITY (www.facebook.com/SwitchBladeCityUK), London tech progsters SENTIENCE (www.facebook.com/SentienceUK), Birmingham alternative prog victors NETHERHALL (www.facebook.com/NetherhallUK), and electro rockers SEETHING AKIRA (www.facebook.com/seethingakira), who grabbed the top spot in Bournemouth. Also joining the fun on Sunday are Hobgoblin upload winners, BATTALIONS (www.facebook.com/BattalionsSludge), bringing the sludge and grind from their hometown of Hull.
BLOODSTOCK has also managed to squeeze one more band on to the Jagermeister stage on Sunday.  If you like old school thrash, be sure to head over to catch Kettering headbangers UNITRA (www.facebook.com/unitraband).  
Not sure where to visit first or maybe it's your first trip to BLOODSTOCK?  Download the BLOODSTOCK app to view this year's site map or visit www.bloodstock.uk.com/pages/event-info for the map and a wealth of other useful info!
Each night after the bands finish on the Sophie stage, there's plenty of entertainment happening with DJs playing your favourite rock and metal tracks into the early hours.  There'll also be lots of fire as we welcome the return of the PYROHEX ladies on all three nights, and back by popular demand on Friday night is METAL KARAOKE.
If you happened to snap up VIP Serpents Lair tickets, there's a number of exclusive sets for you in the VIP bar.  Friday we welcome everyone's favourite Star Wars-themed outfit, DARTH ELVIS & THE IMPERIALS (www.facebook.com/darthelvis/), Saturday sees slots from UK stoner rockers STEAK (www.facebook.com/steakuk) and doom/punk/blues duo, NOISEPICKER (www.facebook.com/noisepickernoisepicker/), while Sunday will feature classic rock & metal covers squad, BLACK SHOT ROSE (www.facebook.com/BlackShotRose).
Planning your travel to BLOODSTOCK?  Need a ride or driving there and want cash for your empty seats?  BLOODSTOCK have teamed up with GOCARSHARE!  Register where you're travelling to/from, or your route, and then wait for drivers/passengers to get in touch!  GOCARSHARE is integrated with Facebook, so you can check out your possible travel buddies and they encourage travellers to post feedback.  Plus you might even win a pair of tickets for next year!  For full details, head over to http://gocarshare.com/festival/bloodstock.  Prefer to come by coach?  BIG GREEN COACH have 21 departure cities directly to BLOODSTOCK in 2017, from all over the UK.  They'll bring you, all your camping gear and beer supplies, and drop you hassle free right inside the festival grounds.  Visit http://www.biggreencoach.co.uk/events/bloodstock-festival-tickets-coach-travel. For more travel info, look at http://www.bloodstock.uk.com/pages/travel-info.
Already announced for 2017 are our three headliners AMON AMARTH, GHOST, and MEGADETH, plus ARCH ENEMY, KREATOR, BLIND GUARDIAN, HATEBREED, TESTAMENT, OBITUARY, KING 810, BRUJERIA, WHITECHAPEL, SKINDRED, POSSESSED, ANNIHILATOR, MUNICIPAL WASTE, HELL, DECAPITATED, SOILWORK, CHELSEA GRIN, FALLUJAH, HAVOK, MACABRE, INQUISITION, DEVILMENT, SCARAB, WINTERSUN, ONI, DENDERA, KROH, ABHORRENT DECIMATION, PUPPY, FOREVER STILL, THE ONE HUNDRED, BOSSK, WINTERFYLLETH, LIONIZE, BLIND HAZE, ARTHEMIS and many more.  For the full list, visit http://www.bloodstock.uk.com!  Visit BLOODSTOCK's social media at https://www.facebook.com/bloodstock and https://twitter.com/bloodstockfest for the latest news!
BLOODSTOCK will take place at Catton Park, Derbyshire on 10th-13th August 2017.  Pick up weekend or day tickets at http://bloodstock.seetickets.com. Bring your mates or the whole family – if they're under 4 years old, they can come for free!