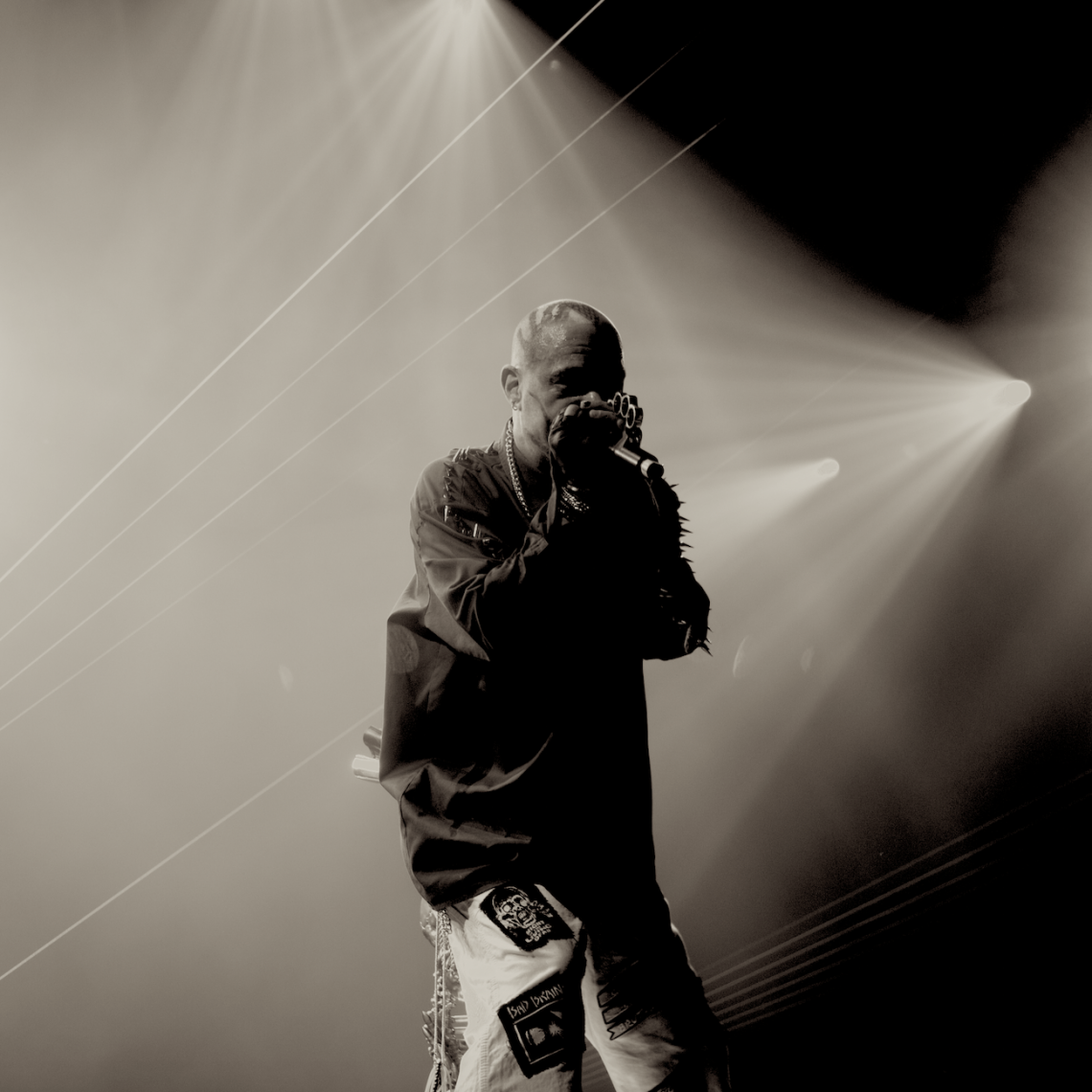 Five Finger Death Punch. Wembley Arena, London. (31/01/20).
3rd February 2020
Five Finger Death Punch have come a long way. They're the only band (I think) that I can truly claim to have known 'before they were cool', so I've watched them grow for over ten years.
Not that Five Finger Death Punch are cool. They've spent the last few years becoming the Nickelback of metal for some reason I don't quite understand. 2007's The Way Of The Fist is an absolute masterpiece of modern metal and they've yet to drop a bad album. The only real problem, I guess, is that I always knew tonight's show at a buzzing Wembley Arena would leave that particular masterpiece in the past since their most recent material has far surpassed its success. They've released six albums since The Way Of The Fist (with an eighth coming at the end of February), and while I genuinely love them all, there is a part of me praying they'll decide to smash through the first three back to back and leave it at that. Didn't happen, though. Obviously.
This is my fifth time seeing Death Punch, and the fourth of those shows to be at Wembley. Why they return to the uncomfortable, sound-destroying venue so often is beyond me, but it is what it is. Bad Wolves kick things off with a powerful set that puts their surprisingly huge cover of 'Zombie' by The Cranberries at the forefront before Megadeth take to the stage. The very fact that Death Punch have landed Megadeth as a support band is the truest demonstration of how far this band have come.
While they're buried under the notoriously poor Wembley sound, Dave Mustaine's vocals are incredibly impressive. Gruff and aggressive, note perfect; you'd be forgiven for forgetting that this man only just recovered from throat cancer. Rather touchingly, Mustaine's explanation that he was "100% free of cancer" got a bigger cheer than any song tonight.
The thrash legends are happy to litter their set with hits, focusing on tracks from Rust In Peace, Countdown To Extinction and Peace Sells… But Who's Buying? while each band member stalks the sparse stage like eager cheetahs. The quadruple suckerpunch of bangers at the end of the set is particularly impressive, lining up 'Symphony Of Destruction', 'Mechanix' 'Peace Sells' and 'Holy Wars… The Punishment Due'back to back like it's nothing. The first of the four in particular is astonishing to hear live. Those half-time breakdowns have a level of funk beyond even Snarky Puppy. I never really got into Megadeth, but this set genuinely won them a new fan. I was absolutely delighted when they became (as far as I can remember) the first support band I've ever seen to come back out for an encore.
With a warmup of that calibre, Five Finger Death Punch really had to deliver with their headline set. And deliver they did. Ivan Moody can barely contain his smile as he sprints from one side of the stage to the other during 'Life Me Up', 'Trouble' and 'Wash It All Away'. Jason Hook breaks out the light-up green guitar very early on in the set, suggesting he has developed an even more impressive set-piece since the last time Death Punch took on Wembley. More on that later…
'Sham Pain' is a funky, pseudo rapped track and arguably the best thing to come from the recent Death Punch catalog, but (despite being a cover) the track that comes next is undoubtedly the most widely loved. Moody likes to create short stories to introduce the title of each track, and whips up a piece about how Death Punch shows transcend politics for 'Bad Company'. Having said that, they don't always work. Towards the end of the set, he seemed to really struggle to get good material, coming up with: "sometimes there are bad days, sometimes there are good, but we've come to the conclusion that that just makes us 'Battle Born'". Very questionable.
Anyway, every single person on stage is on top form. Jeremy Spencer's replacement, Charlie Engen, is a powerhouse on the drum kit, delivering double bass flurries like a delicate trill in the middle of a Chopin waltz just as easily as his Gene Hoglan-esque ability for ferociously fast fills. Moody's voice might be breaking and cracking a little more than usual, but he still possesses one of the most powerful vocals in metal at the moment, alternating between delicate catchiness and aggressive growls like it's nothing. Zoltan Bathory and Chris Kael fill out the rhythm section, each whipping their tentacle-like hair (admittedly from the opposite ends of their heads) like they've got rubber necks. Remember that set-piece I was talking about earlier? Well, towards the end of the set, Jason Hook was suddenly floating off into the sky on a thin, wobbling podium from which he perfected the solo from 'Never Enough'.
While they have an arsenal of heavy bangers to choose from, Death Punch like to cut their set in half with a couple of acoustic tracks. 'Wrong Side Of Heaven' and 'Battle Born' are their choice cuts this time round, with Moody picking out a kid of no older than seven out of the audience and wandering around the stage with them during the latter. Despite Hook and Moody being a match made in heaven when replicating these slower tracks, it always feels like a bit of a waste to slow things down this much when you have a pumped up crowd hungry to mosh in front of you, but that's just personal opinion.
They quickly pick things back up, however, using the immensely heavy 'Burn MF' to start up no less than three circle pits while flames shoot out from behind the skull that hangs menacingly above their stage. A combination of the breakdowns in this track and the pure power behind the anthemic chorus of 'Under And Over It' suggest that either Wembley have sorted themselves out after Megadeth's set, or Death Punch have an incredibly talented sound technician. It all sounds great.
Before 'The Bleeding' brings the set to a close, Moody thanks Megadeth with a heart-warming demonstration of just how far and how quickly Death Punch have come in the last few years. "He knew my name!", he excitedly says when telling 12,000 people that he held the door open for Dave Mustaine. He also explains that he and Chris Kael are now two years sober (getting a cheer almost as deafening as Mustaine's cancer conquering) and personally congratulates those in the audience who are in recovery as well. 'The Bleeding' is a fiery affair, with the damaging riffs circa 2007 crashing wall-to-wall across Wembley as confetti falls from the sky, bringing a mind-bogglingly brilliant display to a close. 'This band could be headlining Download in a few years,' I think to myself.
"Next time you see us, we'll be headlining Download Festival," Moody says as the band take their bows. I don't know if this is a self-announcement for 2021 (Download themselves have said nothing) or the words of a very ambitious frontman, but I can certainly see it happening, and I can certainly see it being one of the best sets the festival ever puts on.
I feel a weird connection to Five Finger Death Punch. First seeing them with Matt Snell on bass and only two albums to call on for live shows, their transformation into one of the biggest arena bands in metal at the moment with no signs of slowing is quite something to behold.
SET LIST
Lift Me Up
Trouble
Wash It All Away
Jekyll and Hyde
Sham Pain
Bad Company(Bad Company cover)
Burn It Down
Got Your Six
The Agony of Regret
Wrong Side of Heaven
Battle Born
Blue on Black(Kenny Wayne Shepherd cover)
Coming Down
Never Enough
Burn MF
Encore:
Inside Out
Under and Over It
The Bleeding
The House of the Rising Sun (Outro Tape)