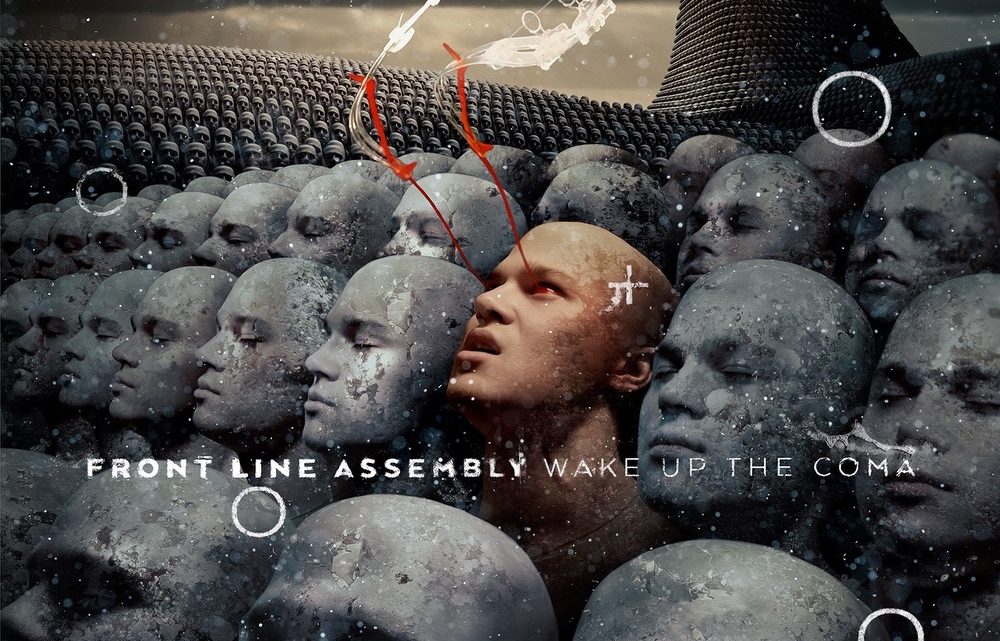 FRONT LINE ASSEMBLY – cover version of 'Rock Me Amadeus' / taken from new album 'Wake Up The Coma' : out 08.02.19
7th February 2019
Front Line Assembly will release their first new album in almost six years in early 2019. 
Having
rejoined the group in 2016 in a touring capacity, 'Wake Up The Coma' also marks 
the 
studio return
to FLA of 
Rhys Fulber, thus reuniting him with founder member Bill Leeb in the duo 
line-up that has
already made so many classic electronic records together.
Musically, 'Wake Up The Coma' sees FLA continue to push the envelope of the electro-industrial
genre that they helped to define. A teaser single from the record entitled 'Eye On You' featured
Robert Görl of DAF (one of Leeb's earliest influences), while the album also includes guest vocal
appearances from Nick Holmes of Paradise Lost on the strident title track, Chris Connelly (Ministry,
Revolting Cocks, Cocksure) on the Bowie-ish 'Spitting Wind' and Mindless Self Indulgence frontman
Jimmy Urine on a surprise cover version of Falco's 1986 no. 1 smash hit 'Rock Me Amadeus'.
A reference to Leeb's own Austrian heritage, perhaps?
A video for 'Rock Me Amadeus' 
is available now. Directed by Jason Alacrity, who himself has roots
in industrial electronic music and has shot clips for the likes of Skinny Puppy and Combichrist, it
features Urine performing half-rapped, half-sneered verses in German over a relentlessly oscillating
bass line and exudes Teutonic cool, albeit in a kitsch 80's way. In red-rimmed shades and skinny pink
tie, Urine appears, Max Headroom-style, on an old Sony CRT TV. There are laser lights, old-school
threads and vintage video effects, plus a rotating bust of Mozart under Miami Vice lighting. Despite
this, the clip feels contemporary and is the ideal accompaniment for a reanimation of a classic pop
number that always gets listeners singing along.
JIMMY URINE / ROCK ME AMADEUS VIDEO STILL photo credit Jason Alacrity
FRONT LINE ASSEMBLY 2018 photo credit Bobby Talamine
FRONT LINE ASSEMBLY
BIOGRAPHY
Bill Leeb began Front Line Assembly in 1986, releasing several albums between 1988-92 that saw
his group acknowledged as electronic/industrial/EBM scene heavyweights alongside Front 242,
Nitzer Ebb and Skinny Puppy (Leeb had been a member of Skinny Puppy prior to forming FLA).
Aided by writing partner Michael Balch, the 4th FLA studio album,
'Gashed Senses & Crossfire'
(1989), 
was promoted with debut European and US tours that saw the duo accompanied on stage
by teenager Rhys Fulber. Balch left the group later that year to join Ministry and Revolting Cocks,
with Fulber stepping up to co-create the classic 'Caustic Grip' and 'Tactical Neural Implant' albums
in 1990 and 1992.
The next two FLA records, 'Millennium' and 'Hard Wired', saw the group flirt with industrial metal 
sounds in tandem with their trademark electronics, while Fulber also became a go-to producer
for many well-known guitar based rock and metal acts. Replaced by Chris Peterson in 1997 for the
next three albums, he rejoined the group in 2003 having in the meantime enjoyed a worldwide hit
single with Leeb via their side-project Delerium. The song 'Silence' (feat. Sarah McLachlan) from
their 1997 album 'Karma' became a huge club record in remixed form, eventually charting at no. 3
in the UK in October 2000. It is widely acknowledged as one of the best dance records of that era.
Fulber left FLA again in 2005 to concentrate on his own Conjure One project in tandem with
production work, 
while Leeb was by now making new music with other collaborators. The group's
most recent album, 'Echogenetic', was released in 2013 and was seen by many as their best since
the early 90's. Incorporating elements of glitch and 
dubstep into their trademark 
cinematic and club
oriented 
sonic DNA, they 
created a potent hybrid that came across as an upgraded version of their
most successful pure electronic releases and blurred the boundary between electronic industrial
and what is generally perceived as modern electronica. A remixed version of the record entitled
'Echoes' was issued in 2014.
FRONT LINE ASSEMBLY 2018 photo credit Bobby Talamine