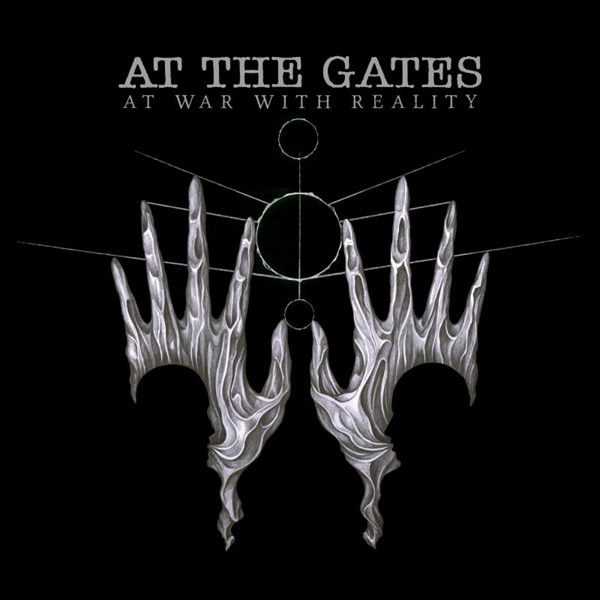 At The Gates – At War With Reality
4th November 2014
If SOTS was At The Gates' Reign in Blood, then At War With Reality is definitely their South of Heaven.
Thomas Haywood Jr
Before I even begin this review I would like to reflect for a few moments. The last time an At the Gates album was released, it was the winter of 1995, about a month away from Christmas. I was 14 years old and begged my mother to buy me an album called Slaughter of the Soul from a now defunct retail outlet, Camelot Music. I was and had been an avid Terrorizer Magazine subscriber at the time and could not escape the rave reviews of the band. I salivated with anticipation all the way home to listen to this already proclaimed masterpiece. I was obviously blown away by the production, the ferocity, the delivery, and feel. Undoubtably, one of the greatest metal albums from beginning to end the genre has ever seen. As a band, how do you follow up a record of such astronomical proportion?
Fast forward to 2014..after a few incredibly successful reunions, the boys decided to give it another go. No one could have been more ecstatic hearing the news than I. Through all the excitement however, the major question of how does one follow up a record like Slaughter of the Soul could not be ignored.
To be honest, I took my time before sitting to write this review. Like most other journalists, I sat with this record for at least 2 weeks prior to the release date, listening over and over trying to absorb the albums full intent and meaning. Until now, I was not ready to write this review. The release date has come and gone, metal news everywhere exploding with news and reviews of At The Gates' triumphant return. My deadline was never met..my words never hitting paper. I think I just needed time to separate my feelings regarding the magnitude of SOTS and the incredible effect it had on me at such a young age compared to who I am now and who At The Gates are now. So here we go…
At War With Reality meets the listener with a familiar sense of melody and style that has been missing from the genre for quite some time. No matter how many bands have tried to imitate At The Gates in the last 19 years, the only band to come close involved most of the same members..the Haunted. At The Gates newest offering definitely sounds like a band rediscovering themselves..their passions, desires, and reclaiming what made this important to all of them in the first place. There is almost a youthful approach or experimentation hidden within that harkens back to The Red in the Sky is Ours and With Fear I Kiss The Burning Darkness. On the other end of that spectrum, the album is much more mature as a whole, even more so than Slaughter of the Soul. If SOTS was At The Gates' Reign in Blood, then At War With Reality is definitely their South of Heaven. The album is a little more thought out, reflective, and soul searching. Obviously the writing of the Björler brothers and company is top notch and leaps and bounds above their peers, but the shadow of SOTS is a heavy one. While upon first listen everything seems restored, there is something missing. Going back to the Slayer reference, there is something urgent, ferocious, and punishing about Reign in Blood that Slaughter of the Soul most certainly shared in it's own way. At War with Reality, while still hard as nails and undoubtably waves the metal flag proudly, is missing the fervor and feel of it's predecessor. There is a bit of gusto notably lost, but maybe that could never be recaptured, just as a moment in time can never be completely replicated. There are definitely moments of the record I hear the coming storm brewing, but it never comes..only the rumblings of one. I am not here to discredit this record whatsoever, and after a little time I am beginning to think this album is more of a grower that I will learn to love more in time. But if I told you it was the instant classic everyone hoped and yearned for I'd be lying too.
At the Gates are back, and I hope they continue to enjoy themselves and keep making records together. They have returned on the back of a very solid release that will make most everyone happy that the prodigal son of metal has returned. Maybe I am more jaded than most, but is it too much to ask for a record that gives me the same feeling I got when I was 14 years old? The hope to relive the excitement, exhilaration, the shear adrenaline those certain few records provided a youthful misfit like myself? Can that ever happen again? I thought if one band could do it, it would be these fine gentleman. Ah well, at least I got to experience it once…  I will continue to follow these chaps if they decide to march on further. For you older At the Gates fans, expect a more mature mid-tempo offering that tantilizes your appetite but never completely satisfies…for you new listeners, enjoy one of the most influential metal bands of this age and bask in their glory.
P.S. Sorry mates, as far as come backs go, Carcass did it better ..