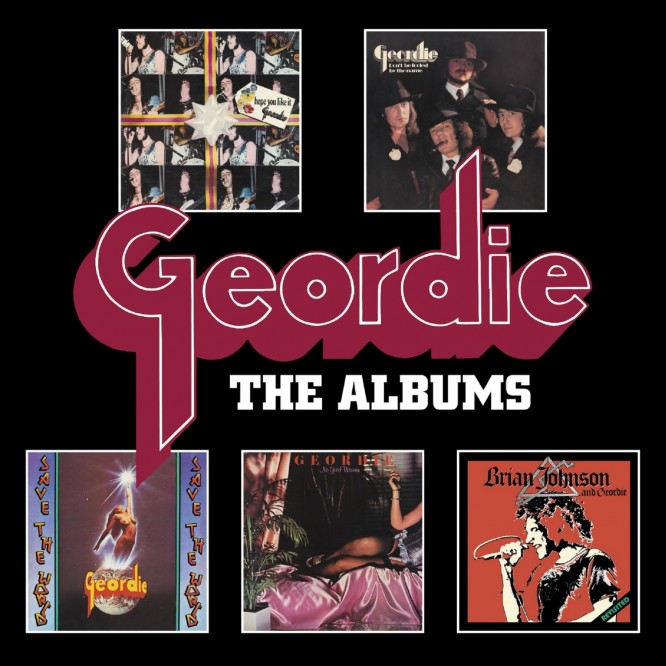 GEORDIE – The Albums – BOXSET Review
12th May 2016
Before Brian Johnson was in (& then out) of AC/DC, there was a little band called Geordie who were lucky enough to employ him before he was catapulted into the stratosphere.

All 5 albums are housed in a clamshell case & each CD cardboard sleeve has faithful artwork of the original album covers.
The full colour booklet has an essay written by Mike Gent, which I have to say is pretty extensive.

This is a must have set & contains some of the best rock 'n' roll from 1973 – 1978.
Released May 20, 2016.
For fans of AC/DC, Creedance Clearwater Revival,
[su_youtube url="https://www.youtube.com/watch?v=MD8wQwNQTmo"][/su_youtube]

Track List:
DISC ONE:
HOPE YOU LIKE IT
1. KEEP ON ROCKIN'
2. GIVE YOU TILL MONDAY
3. HOPE YOU LIKE IT
4. DON'T DO THAT
5. ALL BECAUSE OF YOU
6. OLD TIME ROCKER
7. OH LORD
8. NATURAL BORN LOSER
9. STRANGE MAN
10. AIN'T IT JUST LIKE A WOMAN
11. GEORDIE'S LOST HIS LIGGIE
BONUS TRACKS
12. FRANCIS WAS A ROCKER
13. CAN YOU DO IT
14. RED EYED LADY
15. ELECTRIC LADY
16. GEORDIE STOMP
17. BLACK CAT WOMAN
DISC TWO:
DON'T BE FOOLED BY THE NAME
1. GOIN' DOWN
2. HOUSE OF THE RISING SUN
3. SO WHAT
4. MERCENARY MAN
5. TEN FEET TALL
6. GOT TO KNOW
7. LITTLE BOY
8. LOOK AT ME
DISC THREE:
SAVE THE WORLD
1. MAMAS GONNA TAKE YOU HOME
2. SHE'S A TEASER
3. GOODBYE LOVE
4. I CRIED TODAY
5. YOU DO THIS TO ME
6. SAVE THE WORLD
7. ROCKING HORSE
8. FIRE QUEEN
9. SHE'S A LADY
10. LIGHT IN MY WINDOW
11. RIDE ON BABY
12. WE'RE ALL RIGHT NOW
BONUS TRACKS: BRIAN JOHNSON
13. I CAN'T FORGET YOU NOW
14. I CAN'T GIVE IT UP
15. ROCKIN' WITH THE BOYS TONIGHT
16. TREAT HER LIKE A LADY
DISC FOUR:
NO GOOD WOMAN
1. NO GOOD WOMAN
2. GOING TO THE CITY
3. WONDER SONG
4. ROCK N ROLL FEVER
5. AIN'T IT A SHAME
6. GIVE IT ALL YOU GOT
7. SHOW BUSINESS
8. YOU'VE GOT IT
9. SWEET LITTLE ROCK N ROLLER
10. VICTORIA
BONUS TRACKS
11. DOLLARS DEUTSCHE MARKS SILVER & GOLD
12. I REMEMBER
13. DON'T DO THAT (RE-MIX)
14. KEEP ON ROCKIN' (RE-MIX)
DISC FIVE:
BRIAN JOHNSON
& GEORDIE REVISITED
1. TEN FEET TALL
2. CAN YOU DO IT
3. KEEP ON ROCKIN'
4. FIRE QUEEN
5. HOPE YOU LIKE IT
6. GOIN' DOWN
7. STRANGE MAN
8. NATURAL BORN LOSER
9. GIVE YOU TILL MONDAY
10. AIN'T IT JUST LIKE A WOMAN
11. BLACK CAT WOMAN
Score 10/10