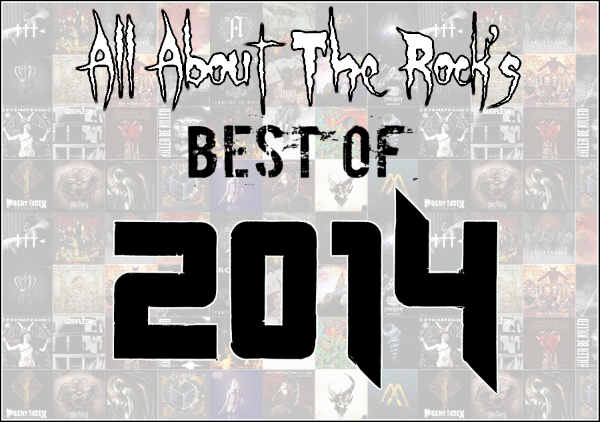 George Nisbet's Best of 2014
15th January 2015
GEORGE NISBET'S BEST OF 2014
1. Overkill – White Devil Armory
Ever since the band dropped the armour plated bombshell that was "Ironbound", Overkill have been enjoying something of a creative renaissance and their latest offering "White Devil Armory" manages to up the ante even more. Brimming with real venom, it's possibly the most aggressive album the band have ever recorded. As I said in my original review, it's a real white knuckle ride from beginning to end and it's great to hear a band not merely content to rehash past glories, but to throw down the gauntlet  to any band who reckon they could go toe to toe with the Wrecking Crew.
Putting many bands half their age to shame, it's a masterclass in thrash that stands head and shoulders above the rest of the pack.
2. Exodus – Blood In, Blood Out
When I heard that my favourite Exodus frontman Steve "Zetro" Souza was returning  to the mic, I had really high expectations for this album and I wasn't  disappointed. Put simply, this album is incendiary… chock full of the kind of riffs that only Gary Holt can write and led by the inimitable Zetro, who has arguably delivered a career best on this album. His caustic delivery still has the ability to strip the paint from the walls at ten paces!
Featuring cameos from thrash royalty such as Kirk Hammet and Chuck Billy to name but two, it's another lesson in violence from the veteran thrashers.
3. Accept – Blind Rage
"Blind Rage"  sees the band on their third album with Mark Tornillo at the helm and it's safe to say the band's legacy is in good hands. In my opinion, Tornillo is a perfect fit for the band, with just the right amount of grit to step in to the shoes of a certain Mr Dirkschneider, but who also possesses the power and range to take them further. The band as a whole sound refreshed and invigorated, the songs are well crafted and anthemic and the production by Andy Sneap is absolutely perfect. It's testament to their tenacity that a band who released their first album in 1979 can still produce something so vital in 2014.
At the time of writing, guitarist Hermann Frank and drummer Stefan Schwarzmann have both left the band to concentrate on their "Panzer" project, also featuring Destruction frontman Schmier. Here's hoping that 2015 finds Accept back on their feet again as the Teutonic Terrors are on a career high right now.
4. Judas Priest – Redeemer of Souls
The first release not to feature long time axe man KK Downing, "Redeemer of Souls" sees the band joined by new guitarist Richie Faulkner.
I must admit, this album didn't grab me immediately, but I found myself coming back to it again and again as it managed to get under my skin. There are some fantastic songs on here and it has to be said that Rob Halford in particular puts in a great performance throughout this album, especially on my favourite cut, "Halls of Valhalla" where we get everything from the classic Halford screams to some almost death metal vocals!
Musically, it's reminiscent of early 80's Priest, but it also reminds me a lot of their "Angel of Retribution" album, which I loved. The band have hinted that there may be a new album in the pipeline which is great news.
5. Iced Earth – Plagues of Babylon
In my opinion a lot of people wrote off Iced Earth with the departure of vocalist Matt Barlow, however I reckon the recruitment of Canadian powerhouse Stu Block has proved to be a resounding success. His vocals are, in my opinion, as powerful as Barlow and he certainly knows how to write a catchy chorus.
The band haven't strayed too far from their classic formula, indeed the songs on this album are slightly more stripped down from the previous "Dystopia" album, letting the music back up a very confident performance from Block. A crystal clear mix ensures that everything is delivered with the utmost clarity. Hopefully the Block/Schaffer partnership will continue as I think their best is yet to come.