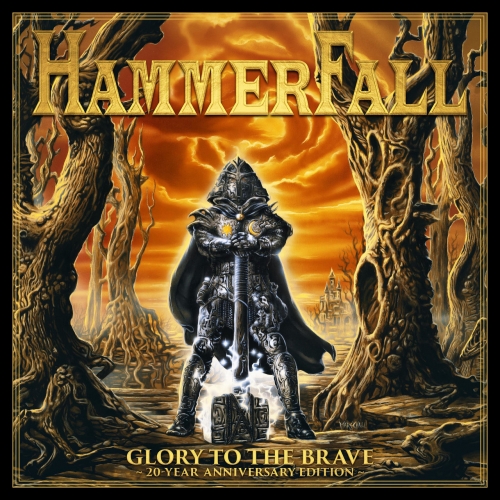 Hammerfall Glory to the Brave 20 Year Anniversary Remaster
18th December 2017
0
By
Blair K. Rose
​I am a sucker for power metal. I am a sucker for songs about battles, and kings, and dragons. I am a sucker for falsettos. So if you guessed I have a soft-spot for Hammerfall, you're correct. I was ten twenty years ago and was only a tiny metal-tot at the time, spinning the cogs of my parents' Killers casette. There isn't much about power metal, especially from twenty years, that doesn't automatically completely absorb me. And now, in my grubby little paws, I have the 20 year anniversary remaster package of veteran power metaller Swedes Hammerfall's Glory to the Brave. Glory to the Brave was an automatic classic when it was released in 1997.
Glory to the Brave is a strong, stout, and sturdy collection of absolute metallic fury. Now doubt when it was unleashed on the world, Hammerfall became a household name within the metal universe. When one thinks of power metal, surely they think of the typical soaring post-medieval melodic grandeur and fixedly speedy instrumentation. Nowadays it's hard to think of metal at all and not think of Hammerfall as a genre-defining band. Glory to the Brave also contains the truly epic ballad song I Believe. Really the whole album is…Mood... as the kids say these days.
The remaster follows in the footsteps of its original release, but this time adding a Stormwitch cover(Ravenlord) and several live recordings. The remaster is easily listenable on modern streaming technology, but at a dynamic range of 7, the album may still be better suited to the flavouring of static on a vinyl. Either way, Glory to the Brave is a definitive moment and being resurrected in an age of both streaming and internet and the resurgence of older technology like vinyl, the album is perfectly suited to being remastered and re-released. Indeed, it may be that metal itself is perfectly suited to this era; powerful, epic, assured, vastly grand, and well, timeless. The Power and the Glory…
You're Welcome to the Metal Age.

And here's to twenty more years of metal.
Score 7.5/10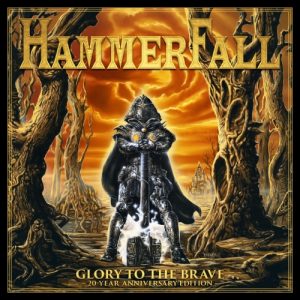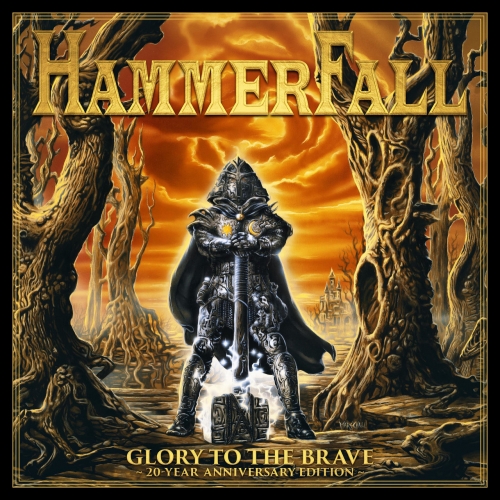 Tracklist:
1

– The Dragon Lies Bleeding

4:22

 

2

– The Metal Age

4:28

 

3

– HammerFall

4:47

 

4

– I Believe

4:53

 

5

– Child Of The Damned

3:42

 

6

– Steel Meets Steel

4:02

 

7

– Stone Cold

5:43

 

8

– Unchained

5:38

 

9

– Glory To The Brave

7:20

 

10

– Ravenlord

 
Get your copies and listen at Nuclear Blast
How useful was this post?
Click on a thumb to rate it!
Average rating 0 / 5. Vote count: 0
No votes so far! Be the first to rate this post.
Related
About the author
Blair hails from Canada and has been a lifelong, extremely passionate fan of metal, a born headbanger. She resides somewhere between 8-11 on the Mohs Scale of Heaviness and has a propensity for ominous latin and guitar gallops.