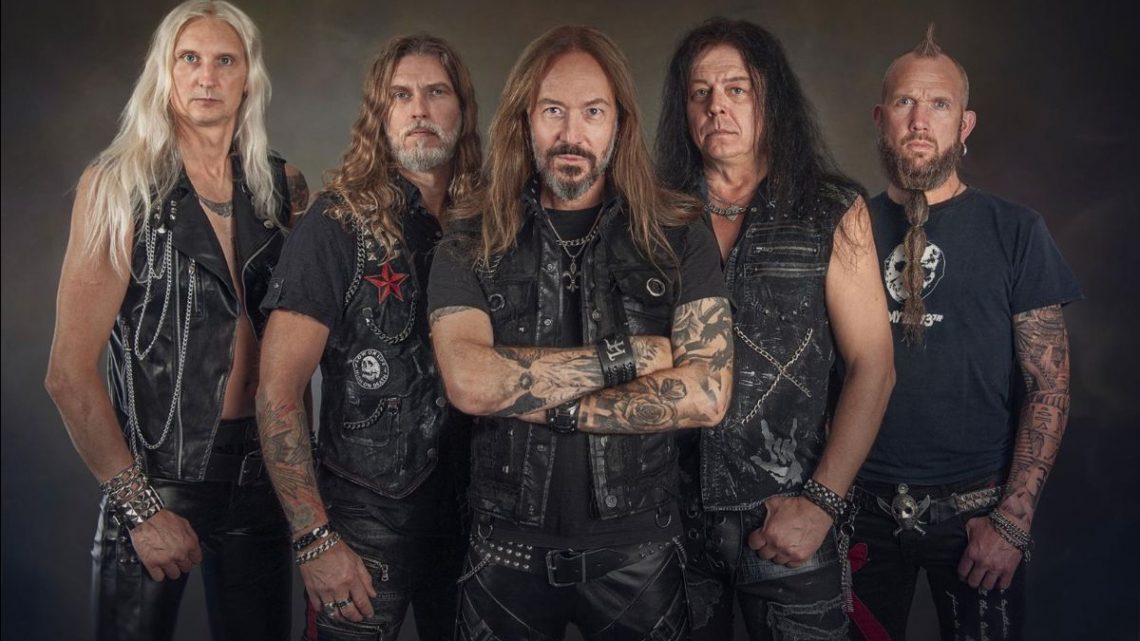 HAMMERFALL joined by King Diamond on Powerful New Track "Venerate Me"
21st January 2022
0
By
John Deaux
Today, Swedish Saviours of Heavy Metal HAMMERFALL have released a second single, "Venerate Me", featuring a special guest appearance by none other than the legendary King Diamond, alongside a new visualizer! The track is cut from their twelfth studio album, Hammer of Dawn, set for release on February 25, 2022 via Napalm Records. 
 
"Venerate Me" continues to clearly show that HAMMERFALL is in top shape by delivering what Rock It! Magazine calls, "their strongest songs in years". Expectedly, singer Joacim Cans doesn't fail to leave a mark with his gripping vibrato and ever-powerful vocal projection that – in combination with strong guitar work and on-point drumming – make "Venerate Me" an outstanding yet trademark HAMMERFALL hymn!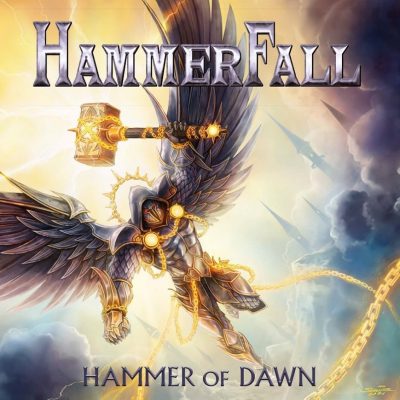 Founding member and guitarist Oscar Dronjak on "Venerate Me":
"The second single is here, and I'm very, very proud of it! The music was written during the darkest, most uninspiring days of the pandemic and still came out as one of the strongest on the whole album. Joacim's fantastic lyric idea makes this track really stand out, and the special guest appearance towards the end really pushes it over the edge!"
 
Singer Joacim Cans adds:
"The song is over loaded with enchanting melodies and a very catchy chorus. Lyrically one of my greatest efforts dealing with the fact that we die twice! 
First when we take our last breath and second when someone says your name for the last time. Say my name and I will never die!"
"Venerate Me" marks a special anniversary – Oscar Dronjak's 50th birthday! HAMMERFALL's guitarist has dedicated most of his 50 years to the metal scene, starting as a teenage guitarist in death metal bands and emerging as one of the most known guitarists in the world of heavy metal today with his trademark sound and legendary hammer guitar. After the title track, "Hammer of Dawn", "Venerate Me" is the second single taken from the new album. 
 
As one of the main forces in heavy metal, HAMMERFALL have dominated not only the Swedish album charts, but album charts across Europe throughout their extensive career, while earning gold status thrice. HAMMERFALL's previous album, Dominion, charted at #4 in Germany, #2 in Switzerland as well as #2 in Sweden. Faced with the daunting task of following up to Dominion, an album that fans and critics hailed as one of the bands strongest releases, HAMMERFALL collectively met the challenge head-on and have delivered what many early listeners are predicting as the best metal album of 2022 and a high point of the band's catalogue.
Get your copy of Hammer of Dawn NOW!
[Artwork by: Samwise Didier]
HAMMERFALL live
Fans can already look forward to seeing Hammer of Dawn live, as in 2022, HAMMERFALL will go on an extensive co-headlining tour through Europe, together with German metal stars Helloween.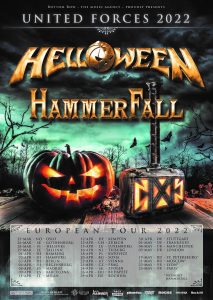 UNITED FORCES TOUR 2022
25.03.22 NO – Oslo / Sentrum Scene
26.03.22 SE – Gothenburg / Partille Arena  
28.03.22 FI – Helsinki / Black Box
29.03.22 EE – Talinn / Noblessneri Valukoda 
01.04.22 DE – Bamberg / Brose Arena
02.04.22 DE – Hamburg / Sporthalle
03.04.22 DE – Berlin / Verti Music Hall
04.04.22 DE – Regensburg / Donau Arena  
08.04.22 ES – Madrid / Wizink Center
09.04.22 ES – Barcelona / St. Jordi Club
11.04.22 IT – Milan / Lorenzini District
12.04.22 DE – Kempten / Black Box
13.04.22 CH – Zürich / Samsung Hall
15.04.22 LU – Luxemburg / Rockhal
16.04.22 NL – Tilburg / 013
18.04.22 PL – Katovice / MCK
20.04.22 BG – Sofia / Arena Armeec
22.04.22 AT – Vienna / Gasometer
23.04.22 CZ – Prague  / O2
24.04.22 SK – Zvolen / Ice Stadium
26.04.22 HU – Budapest / Papp Laszlo Sportarena
29.04.22 DE – Bochum / Ruhrcongress
30.04.22 DE – Stuttgart / Schleyerhalle
01.05.22 DE – Frankfurt / Jahrhunderthalle
04.05.22 UK – Manchester / Manchester Academy
05.05.22 UK – London / Brixton Academy
HAMMERFALL are:
Joacim Cans – Vocals
Oscar Dronjak – Guitar
Pontus Norgren – Guitar
Fredrik Larsson – Bass
David Wallin – Drums
 
HAMMERFALL online:
Website
Facebook
Instagram
Napalm Records
How useful was this post?
Click on a thumb to rate it!
Average rating 0 / 5. Vote count: 0
No votes so far! Be the first to rate this post.
Related