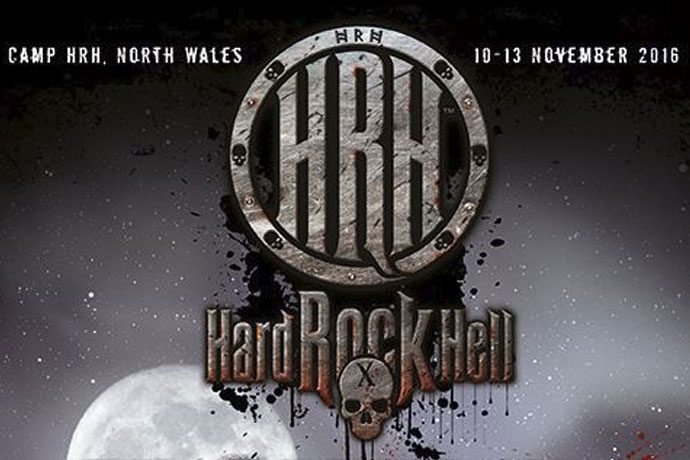 Hard Rock Hell 10th Anniversary Round Up
15th November 2016
Hard Rock Hell will always be my personal favorite UK festival. Not just because of the creature comforts of having a proper bed, hot & cold running water & a proper plumbed in toilet,  but it's down to the atmosphere.
This was always going to be an emotionally charged weekend. Hard Rock Hells 10th anniversary also coincided with the anniversary of the Bataclan massacre in Paris, so there was a mixture of celebration & remembrance to the whole proceedings.
The big news of the weekend was also the election of Donald Trump into the White-house. As you can imagine there was a "little" bit of anti Trump on stage from the American bands. The highlight of which was Ugly Kid Joe & the track God Damn Devil.  They brought out a dance troupe by the name of Area 51 who had performed on the same stage with them 4 years ago. Area 51 then went on to perform a great burlesque dance routine wearing Donald Trump masks. It was so wrong on so many levels, but hilarious.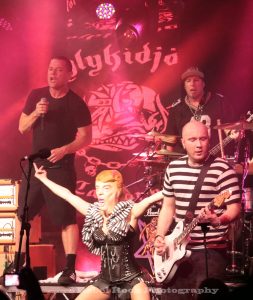 Photo courtesy of Paul Nash
Another highlight of UKJs set was the inclusion of their current touring buddies Dallas Fresca for the track & AC/DC classic, Dirty Deeds. Dallas has a tremendous gravelly vocal which worked so well with Whitfield as they traded verses.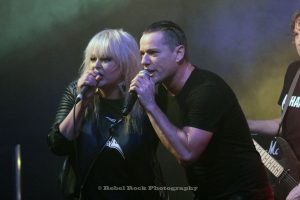 Photo courtesy of Paul Nash
Warrior Soul was like watching The Ramones live. Heads down, no bullshit & track after track of relentless punk/metal. No on stage banter, just there to crush the audience & crush they did.
You wouldn't think that this line-up had only been together for a short time as they were tighter than a mouse's ear. Kory Clarke was in fine voice too. Marred by a few technical difficulties with the on-stage monitors but that only added to fuel the fire in the belly of the band & the full on 'fuck you' attitude of Kory. The Losers & Downtown where favorites for myself as I personally hadn't seen those track since they supported Metallica at Wembley Arena 20+ years before.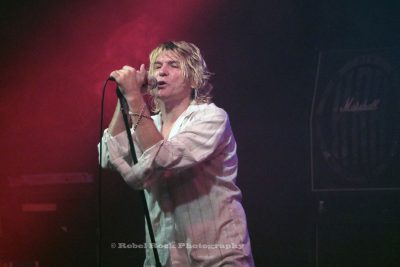 Photo courtesy of Paul Nash
SOiL were, as ever, mind-blowing. It was amazing to see how many people had over come their Saturday morning hangovers to watch this amazing band. As ever, Ryans on stage banter is all comedy & was in fine form. The Angry Hobbit can still put on one hell of a show & his vocals are just mind melting. He even disappeared into the audience for Halo. The only thing those of us at the back could see was (very occasionally) the mic stand which acted as a flag to notify where he was.  A brilliant set that was coated in tracks from Re-Define, Whole & of course the classic, Scars.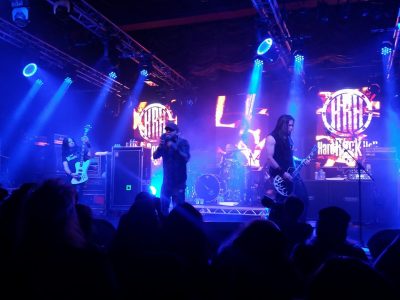 Photo courtesy of  Dave Powell
4Bitten were a total surprise for me.  Recommended by their label Rocksector & my colleague Lindsey to watch. I was blown away. In fact I got home & ordered their albums. So much power & energy. I don't think it'll be long before they're playing the main stage. No More Sins from their debut album was tremendous.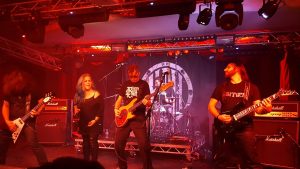 Photo courtesy of Craig Dugdale
Another total surprise was Chase The Ace. Once again they were a band I had heard of but never heard. Again, a brilliant band live & luckily they will be releasing a live album that was recorded at London's Electric Ballroom in the VERY NEAR FUTURE.  They're currently demoing material for a new studio album & they will hopefully start recording that in a few months also. Their version of the CCRs Fortunate Son (Which just so happens to be one of my favorite tracks of all time) was simply awesome. Totally making that song their own & breathing new life into it. A master stroke.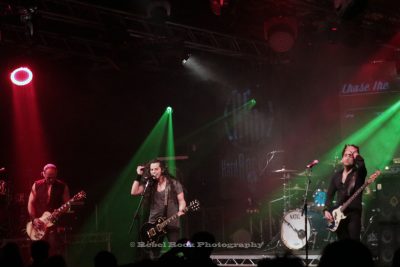 Photo courtesy of Paul Nash
Living Colour were a bucket list band for myself to see & they didn't disappoint. Ending their set with Cult Of Personality & the incredible Should I Stay or Should I Go was a pant wetting moment. Had HRH ended there & then I would've been a very happy bunny. Doug Wimbish is still a formidable bass player, Vernon Reid can still shred & Korey Glover can still hit those insane high notes. Their version of the Biggie Smalls hit Who Shot Ya? was massive & had the crowd bouncing.


Photo courtesy of Paul Nash
Ricky Warwick & The Fighting Hearts played a blinder & his choice of set was inspired. Covering pretty much all aspects of his career. The highlight had to have been the Almighty track Crank.  I was in 7th heaven when that kicked in. Probably my favorite track from that particular Almighty era.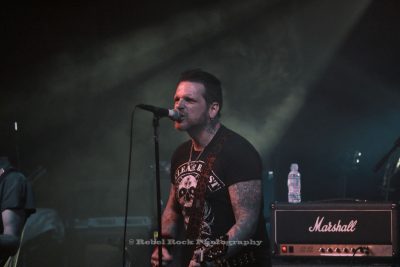 Photo courtesy of Paul Nash
Ginger Wildheart played a good set which was only marred by muddy sound (admittedly I was at the back of the main stage room) but there was plenty of high energy & the members of Hey Hello (who had played earlier in the day) were an added bonus. Can't Drink You Pretty was the highlight track for myself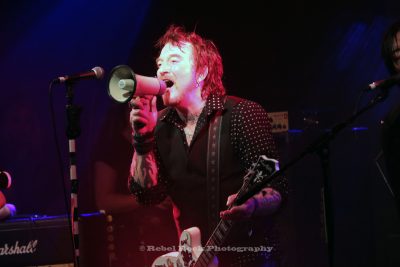 Photo courtesy of Paul Nash
Vodun were another surprise. Playing stage 2 & laying waste to their album Possession. Make up, voodoo laden lyrics no bass player. What more could you want from a band of their caliber. A tremendous 3 piece. I wondered how they would pull off the album live without a bass player., yet pull it off they did.  They sounded HUGE. A live act well worth catching.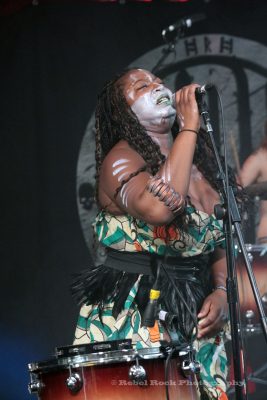 Photo courtesy of Paul Nash
The Graham Bonnet Band were also really good. Great to hear Bonnett still hitting all the high notes & effortlessly. Of Course All Night Long & Night Games were in the set. It wouldn't be a Graham Bonnet gig without them. The highlight was Nuclear Assault. Such a great track. To hear it live with Graham was a dream come true for myself (the only thing missing was Michael Schenker but then you can't have it all can you?)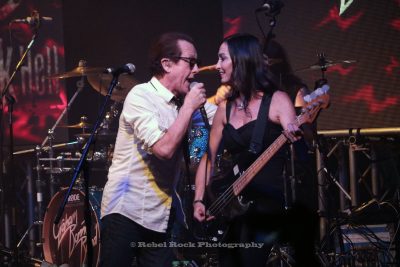 Photo courtesy of Paul Nash
Phil Campbell & The Bastard Sons were the biggest disappointment for me. Although it was a solid performance, only 3 original songs where in the set & the rest made up of Motorhead, ZZTop & Black Sabbath.  It was nice to hear Nothing Up My Sleeve get a live outing, but it's hard to hear Motorhead tracks without the power & sheer balls of Lemmy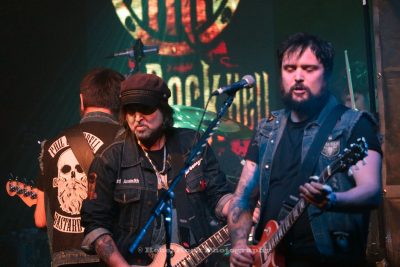 Photo courtesy of Paul Nash
The true heroes of the weekend must be the numerous volunteers. Without whom the festival couldn't have gone as smoothly or kept as clean.
The security team where not only incredibly friendly but once again were bang on point in their policing.
The bar staff were great at the Mash & Barrel. Plenty of banter & totally helpful (especially if you'd forgotten to get milk on the drive down & the shop was closed. Thanks for that fellas).
Once again Chic Festivals (Fleur & Jonni) & Central Press (Claire) were amazing. They made it a joy & pleasurable (as always) experience.
What a weekend, what an anniversary & what a way to end my festival season by being completely voiceless & my ears ringing.
Thank you Hard Rock Hell. Here's to another 10 years.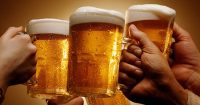 If you haven't been to a Hard Rock Hell event as yet. AATR highly recommend it. Once you've been you'll never want to leave. It's much more than just a festival for rock & metal heads, it's a proper community that looks after one another.
Photo courtesy of Paul Nash of Rebel Rock Photography unless otherwise stated.