Hawkwind Light Orchestra announce brand new album Carnivorous out 16 October
10th July 2020
Cherry Red are delighted to announce a brand-new studio album by Hawkwind Light Orchestra. Carnivorous (an anagram of Coronavirus), which follows their critically acclaimed 2019 album All Aboard The Skylark and effortlessly resumes the space rock voyage embarked upon by the full band.
 
The album was recorded entirely in lockdown during the coronavirus pandemic, having started life as a solo project by Dave Brock during the winter of 2019, with contributions added by the band in January and February, before the lockdown began. Musically the stalwart trio of Dave Brock (vocals, lead guitar, keyboards and synths), Richard Chadwick (drums) and Magnus Martin (guitar, vocal and keyboards) have created a tight, futuristic but classic sounding record that emphasises Dave's exemplary song writing.
 
Carnivorous is an album that by design had to be recorded without a full complement of Hawkwind members in their usual style. However, it is a testament to the contributing members' proficiency to end up with an album that bears all the hallmarks of classic Hawkwind while recorded under such testing circumstances.
 
Dyna-mite is a cruising and catchy opener, complete with memorable guitar solos, electronic flourishes and laced with Dave's trademark commentary on human behaviour. There is plenty of timeless rock for fans to enjoy; from the pulsating rhythms of Void Of Wasteland to the free-spirited groove of Repel Attract. On side 2, Model Farm Blues fuses the band's psychedelic blueprint with classic blues and there is even a tongue in cheek nod to the recent pandemic in Lockdown (Keep Calm) and a more serious note on The Virus, while the heartfelt Forgotten Memories, about the devastating effects of Alzheimer's, is one of the album's most powerful songs. At every stage of Carnivorous you can hear the fifty years of experience at Hawkwind's fingertips, boundaries they're still pushing today. 
 
Hawkwind's 50th anniversary celebrations were due to continue throughout 2020 with headline slots at festivals throughout the summer, Dave Brock solo shows at HRH Prog in London and Sheffield, and their annual Hawkfest event taking place in Devon on 28th-30th August. The band are monitoring the situation and will proceed with live shows as soon as possible.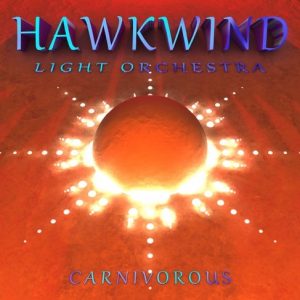 1) Expedition to Planet X
2) Dyna-mite
3) Void of Wasteland
4) Repel Attract
5) Attraction
6) Human Behaviour (No Sex Allowed)
7) Temple of Love
8) Square Peg Into A Round Hole
9) Windy Day
10) Model Farm Blues
11) Whose Call Is It Anyway?
12) Lockdown (Keep Calm)
13) The Virus
14) Forgotten Memories
15) Higher Ground