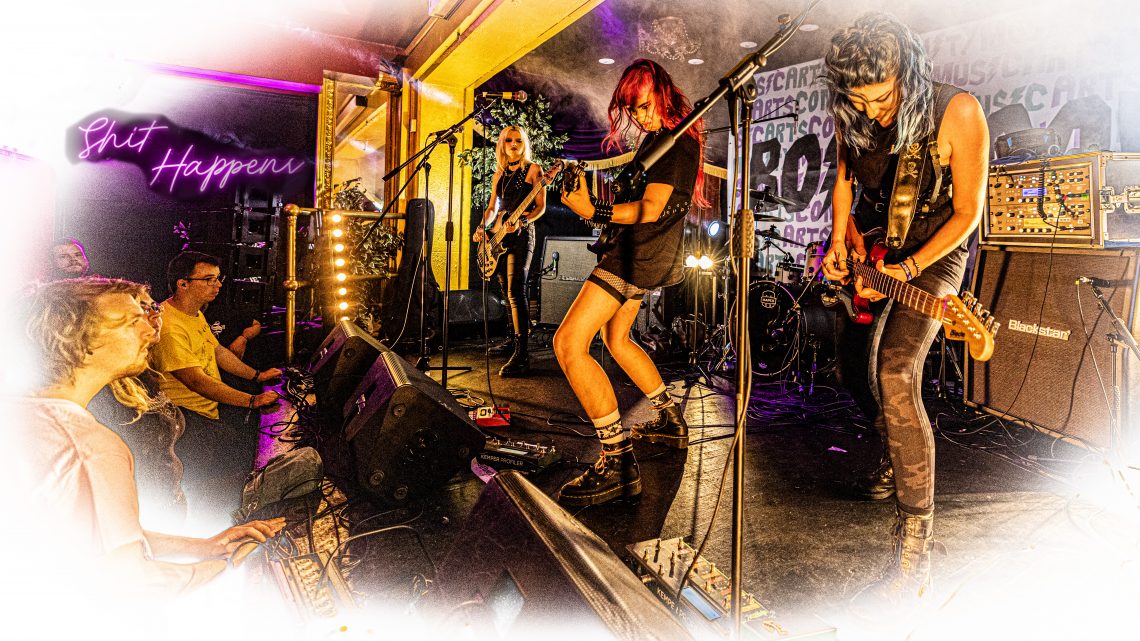 HAWXX – A Radar Festival Interview and Set review
19th August 2022
0
By
Owen Edmonds
I was lucky enough to spend some time talking to Hawxx on the Sunday of the Radar festival before they performed, here are some highlights.
Just before I start, I just want to apologise that all the photos were taken from one side of the stage, sadly from a photographers perspective the place was completely packed and it was virtually impossible to move.
In case you don't know, Hawxx are:
Anna – Guitar, Vocals
Hannah – Guitar, Backing Vocals
Julia – Bass, Backing Vocals
Jessica – Drums, Backing Vocals
They are currently crowd funding their debut album, so if you like really great music and you are able to, you can donate some of your hard earned money by clicking here
The Interview
So how did you meet?
Anna. "Well there's lots of separate stories, we all have our own journey. Me and Hannah met first at Alaska studios where she was working and I used to rehearse there, hoping she would hear me."
Hannah. "I used to put you in studio 2 so I could hear through the wall."
Anna. "That is so cute. I used to see Hannah playing the keys, playing the guitar the drums and I was like what is this witchcraft and then I just said 'Do you want to have a jam?' and Hannah was like 'yeah' and we had a jam and it was perfect, we just jelled."
Jessica. "You then met me in some not at all dodgy bar in Soho. Even just jamming before we started playing properly I was like, aww this girl is good, 'So you in a band? oh okay, you've got someone else'."
Anna. "We had a different drummer temporarily, but Jess soon took over. We always say Jess offered me a cheese string and that's when we knew it was love."
Jessica. "I was wondering How do I get this person to like me? Cheese."
 Hey it works.
Anna. "And Julia we found on the web."
Julia. "The dark web."
Anna. "Gothweb.com quite recently, earlier this year and it's been awesome. We've just been on tour together and that's the real test."
Hannah. "She's well and truly indoctrinated now."
You have a GoFundMe on at the moment, was there a reason why you went for GoFundMe as opposed to kickstarter or IndieGoGo?
Anna. "It just worked last time."
(internally screaming at myself for such a stupid question) What are the plans for the songs on the album?
Hannah. "It is all new stuff, we are planning to drip feed it out into the world, fairly soonish."
Jessica. "We have a few songs that we've played live to test them that will be going on the album."
Hannah. "We then just need to write a few more and then we're done."
Anna. "Just smash them out. That's our motto."
Jessica. "It's fun to be writing again, it's been a while."
Anna. "Yeah it's always fun to write, it's a bit of a sacred time."
Do you write individually? Do you pair up, write as a group?
Anna. "It's pretty groupie I'd say, we all have different elements we bring. The magic happens when we all bring ideas to the room."
Julia. "It's really cool that we all have different influences as well, so when we come together and bring our own individual contribution it turns into something new, special and different."

Do you all have different tastes in music?
Hannah. "Yeah, it's fairly eclectic".Jessica. "We all have different experiences and backgrounds but we all love Metal. Before this band, I was always Jazz, Blues and Funk as I hadn't listened to metal really for many years and then suddenly I re-discovered all this music and I was like 'Wow, I forgot all this existed' and I try to fuse everything together into this new music. We're all very compatible."
Anna. "Somehow it all works."
Hannah. "Some sort of concoction."
Do you have much control over your videos? (For context, I am obsessed with the video's for Heart Play Dead, Detonate and Hologram)
Hannah. "Yeah we have worked with a couple of different people now, but it all starts with the same way, you know what is the colour set, give the director the lyrics, what the story is behind the song and explain what we want to get across. We've done 3 videos now so we're still finding new ways to represent ourselves as well. I'm looking forward to the next lot to see what we can do with them."
Is there a 'gamer' element to your videos? 
Hannah. "With hologram yeah, it's a cool aesthetic. Especially with Hologram it makes sense, with it being about social media it was nice to have that gamer aspect that was intentional. Detonate we just like that colour scheme wise with the neon."
Anna. "Colour has actually become a very big part of our whole vibe and aesthetic to bring something that's pumping and bright into the metal world is something we love."
If there was a word or a phrase that you would want people to know about Hawxx, what would it be?
Hannah. "Bumbag?"
Jessica. "We do love a bumbag."
Hannah. "It has to be tastefully snazzy."
Anna. "That's it. Tastefully snazzy and full of rage."
The Set
Their set on Sunday was excellent, despite the sound issues. Hawxx are a band full of energy with great hooks, loud riffs and the sort of lyrical content that is needed today. There is an edge to the band that the likes of Korn wish they still had.
The twin guitars of Anna and Hannah sound so good together, throughout the set my mind was flashing up images of Lzzy Hale and Nita Strauss bashing out the opening to a WWE event back in 2018. There is so much potential to this band that it's scary. And don't even get me started on Jessica. That lady is immense. Her drum sound is so good, like she is the anti-Lars. The ability she has to provide a drum fill an accent here and there just so good. Julia is able to provide that footing that really good bassists can, the ability to ground the song is so important. And ending the set with Dogma, well, I don't think I could've been happier.
There were sound issues on the day, Hannah told me afterwards that they couldn't hear themselves at all which is never good. Thankfully, they are good enough to be able to put on a fantastic show regardless.
Their set was one of the best things I witnessed over the entire weekend. And I for one will never miss a Hawxx gig that I can attend again. No excuses.
Conclusion
My conclusion. Uhh I'm not sure what I'm concluding here. The interview was awesome, I was really nervous and I didn't half ask some stupid questions. However, Hawxx are professionals so they gave me what I was looking for. The set was absolutely what I expected, full of energy and excellence.
I'll give the set a 10/10.
Hawxx are not only Tastefully Snazzy and Full of Rage but they are superb musicians and lovely people and you need to check them out.
Don't forget to donate to their GoFundMe by clicking anywhere on this sentence. Go on, you know you want too.
All photographs used in this article were taken by me,  myself and I. Yes, I am available to photograph your gigs, just ask (I'm very cheap).
About the author
I love music. My favourite 3 bands are Iron Maiden, The Doors and Jethro Tull. However, I love early Metallica, early RHCP, RATM, QOTSA, The Lounge Kittens, Rammstein, Clutch, Slayer, Faith No More, Pearl Jam, Rush, Black Sabbath, Led Zeppelin and so many more.