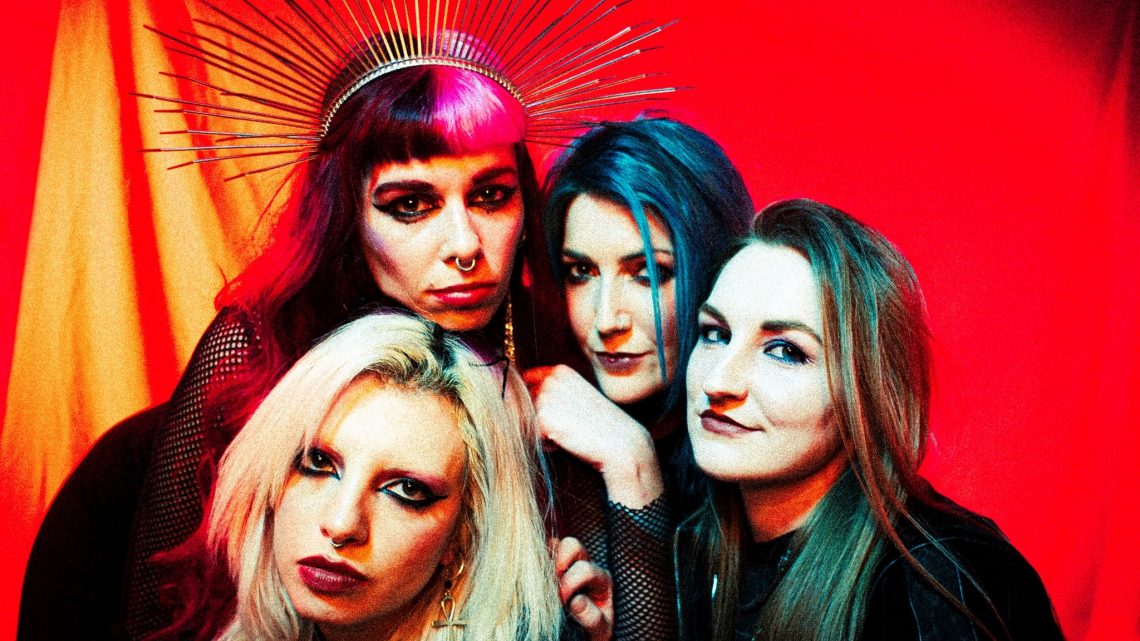 HAWXX – SHEPHERDS BUSH EMPIRE 29th JUNE 2022 LIVE REVIEW
14th July 2022
0
By
Lee Farmery
June has been busy with many awesome bands hitting the U.K especially post Lockdown . This has been due to heavy rescheduling and being festival season .
Hawxx is a 4 piece all female London band featuring Anna, Julia, Hannah Jessica originally hailing from Wales, England, Greece, Bahrain  and as they say on their media they aim to bring inclusivity and diversity in a very male orientated genre .
It Is the first time I have heard about this band so I am looking forward to the unknown. Hawxx are first on and from the get go the venue is pretty rammed.
Their sound with the use of 7 and 6 string guitars is very powerful and I would liken their rhythmic guitar and bass to Korn etc but overall they certainly have their own sound .
The vocals are mainly a good melodic style and the band reinforce this with some well crafted close harmonies .
Being a drummer myself I was particularly impressed with theirs . Some great trippy grooves and cool timings .
Sometimes the band went a touch prog .
The lead singer did a great job at warming the crowd up and certainly didn't hold back  .
Hawxx have a far more original sound than The Raven Age etc. so I can see them doing greater things.
A few minor points , I think they could use the stage more as they were all planted to their spots a bit too much .
I also think they just need a few more bangers in the set . I'm sure this will come as they are relatively a new band.
Would I see them again? Yes definitely a band to watch !
They were a very good band and could kick most blokes arses off the stage ! I look forward to seeing where they go! 
Were they a good girl band? NO….
Set List
Blunt
Hologram
Trust Your Rage
Low
Filth
Death of Silence
The Worst Thing
Detonate
Dogma
For all things HAWXX, click HERE

How useful was this post?
Click on a thumb to rate it!
Average rating 4.5 / 5. Vote count: 2
No votes so far! Be the first to rate this post.
Related
About the author
I am the drummer of signed band Furyon but am a regular Session and Dep musician throughout the U.K and abroad with years of experience from Funk,Blues,Rock,Metal and even a touch of Jazz and Latin. Experienced in Single and double pedal techniques and recording and have variations from 4 to 9 piece kits and electric kits. I play the cahon and a variation of percussion and can do main and backing vocals with harmonies. I also have been teaching for 14 yrs from Little people to older and even experienced seeking guidance . I am Very experienced on Click with a good work ethic . My equipment is my tools and insist on the best !!!!! Will travel anywhere! BRIEF HISTORY ........Noteable performances.etc 2006-2007 M.I (Musicians institute London) 1999-2001 Joined Eugene Speed ......Band (Touring ,Festivals ,Recording,etc) 2003-2004 Toured "Hedwig and the Angry Inch" Musical @Brighton Festival,Edinburgh Fringe and season in Milano. 2006 Joined FURYON ...............Till present day . 2007 Performing PRK for Manumission Ibiza 2008 + 2009 Winnipeg Fringe Festival performing "Pink Floyd " Dark side of the Moon . General touring and festivals including . Download,Bloodstock,High Voltage,Hard Rock Hell,Hammerfest,Baroeg Festival (Ne) And many other U.K and European Shows!