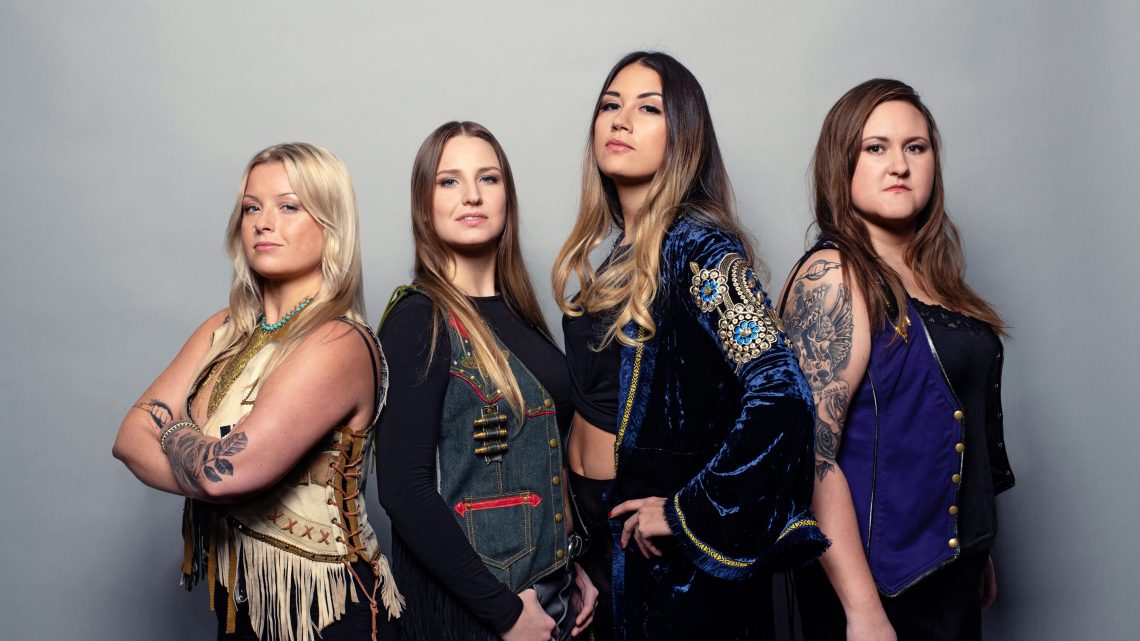 Häxan, Beth Blade and the Beautiful Disasters and Thundermother – Bannermans, Edinburgh, Scotland 6th April 2022 Review
7th April 2022
0
By
John Deaux
After a succession of cancelled shows already this year, it was great to finally be able to get back out to a gig and back to my favourite live music venue in Edinburgh (and my home away from home).
The first band of the evening were a remarkable trio by the name of Häxan(Sam Bolderson (vocals/guitar), Harriet Wadeson (bass) and Jess Hartley (drums)). Although they had been to Scotland previously (and received a parking ticket in Glasgow) this was their 1st time in the capital (where they got a parking ticket AGAIN after just 5 minutes. Christening their brand new van with a freshly printed love note).  These young ladies played a blinder of a 30 minute set that was over in a flash. They were fast, furious and had hooks a plenty.  They looked and sounded like they were having a wail of a time and the audience fed off that and were willing participants with many a call and response request. 
Fingers crossed it won't be long before Häxan make an appearance back at Bannermans (maybe with Beth Blade & co again. Now THAT would be something)
Beth Blade and the Beautiful Disasters never fail to put on a great perfomance. Tonight they were celebrating 7 years of their formation (although thanks to the pandemic, we're not counting the last 2 years of lockdown). We were treated to 3 brand new tracks from the up and coming Mythos, Confession, Tragedies and Love album as well as a great tribute to the late Taylor Hawkins (drummer of the Foo Fighters) who had recently passed away. 
The new tracks are outstanding and I'm ravenous for the new album already. Of course Show Me Your Teeth and Bad Habit were well represented in the brief 45 minute set.
Now onto the headliner Thundermother. This wasn't my 1st time seeing the band although it was my 1st time seeing them in an intimate setting. Tonight was the best I had seen these girls perform live. Guitar goddess Filippa Nässil loves nothing more than to show off her skills and she took every opportunity she could. Even walking off the stage and into the crowd to say hi and drink beer with the crowd whilst soloing. 
Vocalist Guernica Mancini was in fine voice and bass player Demona along with drummer Emlee Johansson we locked in so tightly with each other that you couldn't put a Rizla paper between them.  Thundermother were on fire this evening and still riding high off there most recent album Heatwave. All 3 bands played their absolute hearts out and not just pleased their loyal fanbase, but I'm sure they gained a few  new supporters as well. The New Wave Of Classic Rock is alive, well and in great hands. 
Outstanding show. A special mention to James Macdonald for nailing the front of house sound for all 3 bands and Mr Kimmet for booking a fab show as always. Cheers fellas
How useful was this post?
Click on a thumb to rate it!
Average rating 5 / 5. Vote count: 3
No votes so far! Be the first to rate this post.
Related