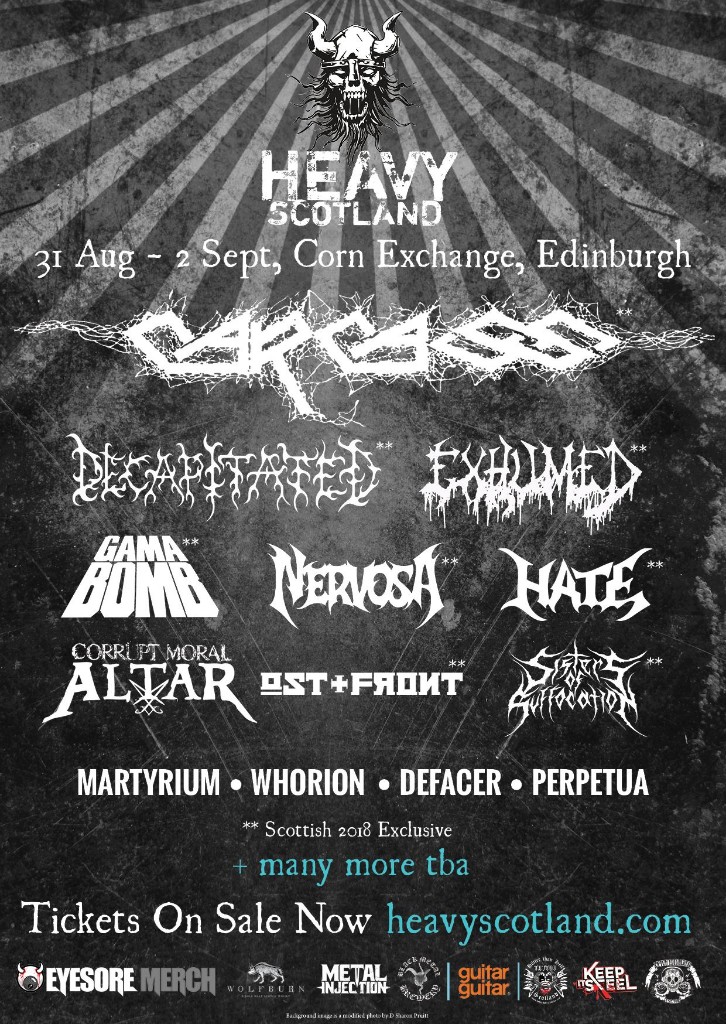 HEAVY SCOTLAND returns for 2018: Decapitated, Exhumed and more announced
27th April 2018
HEAVY SCOTLAND is returning with a bang in 2018 to Edinburgh's Corn Exchange. Running from Friday 31 August to Sunday 02 September, the festival has announced four new bands: DECAPITATED, EXHUMED, CORRUPT MORAL ALTAR, and DEFACER (this year's Battle of the Bands winner).
These names add to an already thrilling lineup including CARCASS, GAMA BOMB and more. 
Full line-up (*Scottish 2018 exclusive):
CARCASS*
DECAPITATED*
EXHUMED*
GAMA BOMB* 
NERVOSA*
HATE*
CORRUPT MORAL ALTAR
OST+FRONT*
SISTERS OF SUFFOCATION* 
MARTRYIUM*
WHORION*
DEFACER
PERPETUA
Purchase tickets from: http://www.heavyscotland.com/
Under-18 tickets are available now at just £35 and student Weekend tickets at just £50.
The news follows a highly impressive first year from Heavy Scotland, placing Edinburgh on the international metal map. Headliners Behemoth and Arch Enemy topped a stellar bill, which also included the likes of Fleshgod Apocalypse, Destruction, Finntroll, Havok and more. Garnering local and international acclaim, Heavy Scotland is fast becoming Scotland's national heavy metal festival, and is the largest of its kind in the country's capital of Edinburgh. Borne from a love of all things loud and with a passion for the local scene, Heavy Scotland is an event deserving of the attention so far received. Stay tuned for more information as it comes.
For more information: