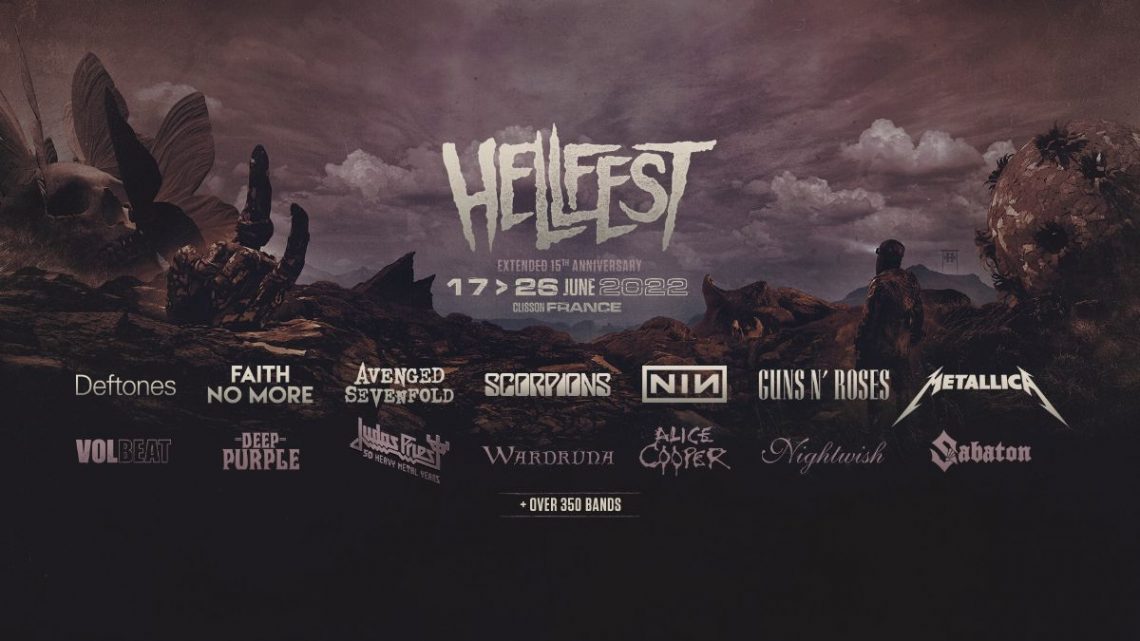 Hellfest 2022 Full Line Up Announced
18th June 2021
What can we say but it's not our pride (and our impatience) to finally reveal the poster of our anniversary edition, which is so awaiting! Keeping a secret of a poster of this caliber for several weeks hasn't been all resting, especially these last few days…
It's been over 16 months now since our pace of work was turned upside down by the arrival of this virus, since the live show went extinct. Despite this our confidence was never altered and we continued to work with a positive mind.
This 2 year frustration without festival leads us today to dream bigger about our reunion! By offering you a unique and unique format spread over 10 days in 2022! Never done before, this formula will definitely remain in the world's books of so-called extreme music history! Doubly historical, because this formula is bound to exist only in 2022 and will not happen again in future years.
After a first weekend from June 17 to 19, 2022 we double the bet with an additional weekend from June 23 to 26! A real marathon that will see no fewer than 350 artists on 6 stages!
As usual, the festival does not derogate from its principles: artists who are able to fill stadiums but also artists usually confined to smallest venues, or even for some in the pubs cellars. Punk, Heavy, Black, Hardcore, Death, Stoner, Pagan, Power, we did our best to determine what we think is ′′ the edition of the century ′′
No need to list the program in detail because for the 2th year in a row you are not headbanguering at the festival currently. So you have the pleasure to discover all this for yourself, quietly settled at home or with friends, enjoying our virtual edition ′′ Hellfest From Home (FYI this is where it goes:
https://fromhome.hellfest.fr/
)
This outstanding edition is also an opportunity for us to thank all the pass holders who have been waiting for more than 2 years now. Your loyalty and trust has kept us on and we don't have enough words to thank you. So it seemed normal that you could have beneficial access to the ticket office by allowing you to secure your ticket 24 hours before the general sale.
We are aware that some of you, for business, family or more simply financial reasons, will not be able to live this XXL festival. Passing through (and only through! ) Our partner TICKETSWAP (please stop Viagogo and others…), you can sell your pass without much difficulty for the weekend you are least interested in, and so make one more happy!
For all the others who will have the chance to live with us these 10 days of anthology, we promise you will remember our reunion! And as a bonus we may make you a beautiful ′′ FINISH ′′ t-shirt so that this future will remain forever etched in your memories. Once in a lifetime celebration!
In conclusion, we couldn't end without thanking everyone who has supported, encouraged and supported us over the past few months. Volunteers, intermittents, patrons, service providers, media partners, clissonnais and clissonnais, we are all in a hurry to see you again and live with you this future historic adventure!
Ticketing detail
– Hellfest leaves 1 June 17 to 19, 2022 /// PASS 3 DAYS: FULL (go to
www.ticketswap.fr
to find a resale pass)
– Hellfest leaves 1 from June 17 to 19, 2022 /// PASS 1 DAY: FULL (go to
www.ticketswap.fr
to find a resale pass)
– Hellfest leaves 2 June 23 to 26, 2022 /// PASS 4 DAYS (€ 289 excluding rental expenses): PRE SALE PASS 2020 *-July 6 to 13 pm on
www.hellfest.fr
Hellfest leaves 2 from June 23 to 26, 2022 /// PASS 1 DAY (€ 85-€ 105 excluding rental costs): PUBLIC SALE – July 8 at 13 pm on
www.hellfest.fr
* A 'special' presale will be held on July 6 at 13 pm for postponed edition pass holders and purchased only via the official online sale in October 2019.
Any ticket that has been resold via Ticketswap official resale, or claimed (in 2020 or 2021) will not be affected by this presale.