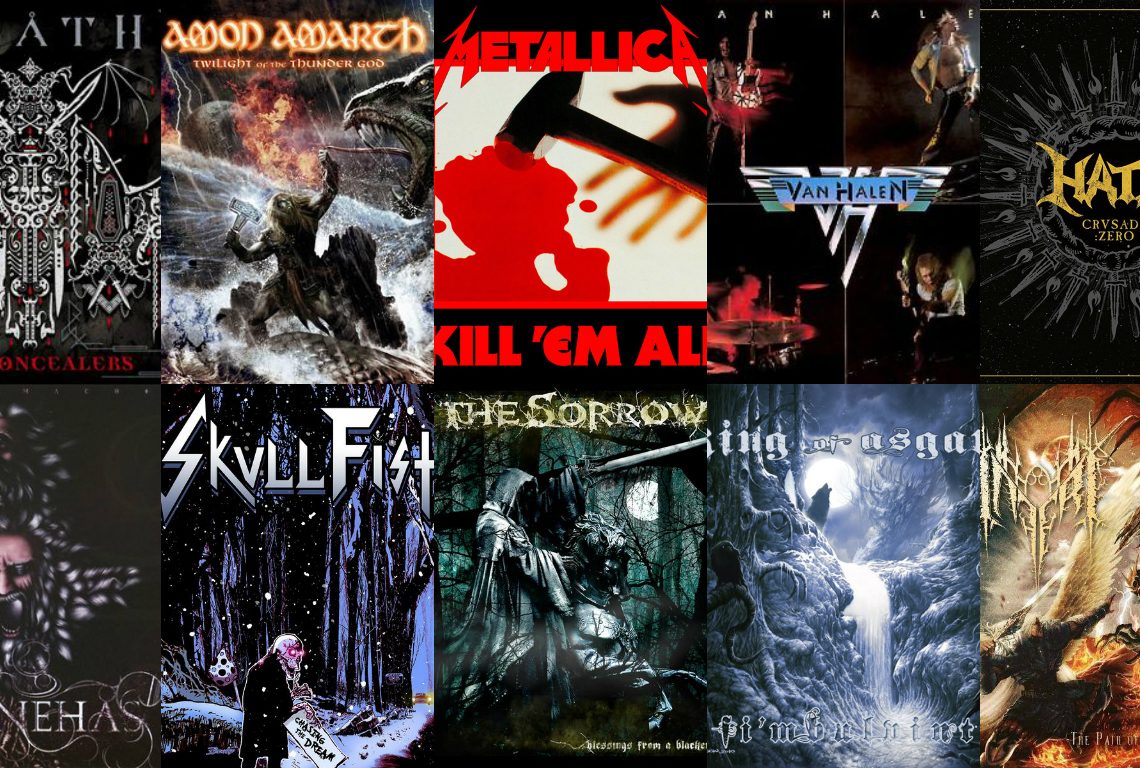 Hooks & Riffs: The Catchiest Metal Songs You'll Hear Today
4th December 2015
0
By
Fraser
There is nothing better in life than a good riff. A collection of notes played in the right order to get stuck in your head for days, weeks, months even – I don't know about you, but there are few things more satisfying to me than when you hear a riff so catchy, you're humming it for the rest of the day. I don't even know I'm doing it, I suddenly find myself humming along to Metallica in the chocolate isle of Tesco. So, in the interest of catchy as fuck riffs, I have compiled a wee list of some songs that will get stuck in your head for days – I've tried to include both bands you will know and some possible hidden gems as well! This list is in absolutely no order whatsoever, but ladies and gentlemen – enjoy!
1. Dååth – Day of Endless Light

Formed in 2003 in Atlanta, Georgia, Dååth were not your average death metal band. Filled with groove and including a lot of jazzy influences (just check out that little guitar section around the 3 minute mark in Day of Endless Light, above!), they very quickly made a name for themselves. They self-released their debut album, Futility, in 2004 before getting the attention of Roadrunner Records, who went on to release Dååth's next two albums, The Hinderers in 2007 and The Concealers (from which Day of Endless Light is taken) in 2009. They released their final, self-titled album in 2010 via Century Media Records. Dååth sadly just fizzled out, with half the band going on to join Chimeria before they disbanded last year. However, though the band may be dead, the riffs live on, and if Day of Endless Light isn't stuck in your head until next week then you have a greater willpower than I.
2. Amon Amarth – Guardians of Asgaard
Everyone's favourite sword swinging, beer drinking, Viking loving Swedes, Amon Amarth are a band that should need no introduction. Obsessed with the Norse, Amon Amarth have 9 albums worth of Viking inspired melodic death metal, each one packed to the brim with epic lyrics and Yggdrasil sized riffs. However, 2008's incredible breakthrough album Twilight of the Thunder God, released on Metal Blade, has more hooks, more catchy riffs, and more melody than anything they had released before, while still maintaining their signature heavy sound. One of the lead singles, Guardians of Asgaard, will be stuck in your head for a long, long time. This is a song to drink beer to (but only if said beer is held in a drinking horn)!
3. Metallica – Seek 'n Destroy

Next up is a tiny little underground band, you probably wouldn't have heard of them – Metallica. Very underground, very low key… Ha! Metalhead or not, there can't be many people left in the world who haven't heard of Metallica! The eternal debate for their best album rages on, are you a Master of Puppets fanatic, or does Ride the Lightening hold your heart? Seek 'n Destroy can be found neither – taken from their debut album Kill 'Em All, Seek 'n Destroy comes from the days of partying, before all the darkness took hold. An absolute riff fest, and catchy as all hell, there is a reason Metallica close their gigs with this anthem. Seeeeaarchiiiiiiing… SEEK AND DESTROY!
4. Van Halen – Ain't Talking 'Bout Love
No list of catchy, killer riffs can ever be complete without one addition to the guitar hero himself, Eddie Van Halen. Taken from the world class, self titled debut, Ain't Talking 'Bout Love is a hook filled classic – I could listen to that opening riff all day, just absolutely incredible! Brilliantly fun and guaranteed to be stuck in your head, Ain't Talking 'Bout Love is exactly what you need to start the party – well, that and the obvious bottle of Jack Daniel's.
5. Hate – Valley of Darkness
Catchy is not a word often thrown around when it comes to blackened death metal. Taking a place in the "Big Four" of Polish death metal, Hate join genre veterans Behemoth, Vader and Decapitated in taking over the world with their unique brand of death metal. Formed in Warsaw in 1990, Hate have been peddling their brand of death metal to the underground for some time now – but having released two successful albums since signing to Napalm Records in 2012, the time could be nigh for them to break out of the underground and get the recognition they deserve. While still being completely brutal and packed with ferocity, Valley of Darkness, from Hate's newest offering Crusade:Zero, has some really hooky riffs and catchy vocal lines. A brilliant song that walks the line of savage and catchy excellently.
6. Phinehas – I Am The Lion
Phinehas have been on my radar for a while now. A metalcore (fear not, elitests, they are more punishing grooves than autotuned vocals, shredding solos than synths) band from California, they are currently signed to Artery Recordings and released their third album, Till the End, in July this year. In 2011, they signed to Red Chord Records who released their debut full length, from which I Am The Lion was the lead single, theGodmachine that same year. They went on to release an EP of B-Sides and acoustic versions of songs from their debut entitled Bridge Between in 2013, and they released their sophmore album The Last Word Is Yours To Speak that same year. I Am The Lion is an absolute riff machine packed to breaking point with groove, shreddy leads and melodies and catchy vocal lines. A band of Christians who stand against the Church, they have an interesting and positive message – guaranteed to be your new favourite feel-good band! *Side note, check out their video for My Horses Are Many, and thank me later*
7. Skull Fist – You're Gonna Pay
I tragically missed the '80s, but if I imagine the '80s having one signature sound, it's Skull Fist. They are catchy. They are shreddy. They are filled with piss and vinegar. They are simply metal as fuck, one listen and this song will be stuck in your head – you'll be air-shredding along and trying desperately to hit those notes [spoiler: you won't hit those notes, not until your jeans are about four sizes tighter]. They began their career in 2006 in Toronto, and after signing to NoiseArt Records they released their debut album Head of the Pack in 2011, which recieved stellar reviews the world over. Skull Fist had planned to release their sophmore album, Chasing The Dream, from which You're Gonna Pay was the lead single, in early 2013, however due to problems with funding and frontman Zach Slaughter breaking his neck in a skateboarding accident, the release was pushed back to January 2014. A new album is slated for release early 2016, and the wait will have this review writer on the edge of his seat!
8. The Sorrow – Knights of Doom
The Sorrow are another "metalcore" band, but again, they are much more As I Lay Dying or Killswitch Engage than Pierce the Veil or Asking Alexandria – what we have here is a riff machine with a hefty melodeath influence. Hailing from Austria and formed in 2005, they signed a record deal with Drakkar Records in 2006 who released their first three albums: the stunning debut Blessings From A Blackened Sky, and the excellent follow ups Origin of the Storm and a self titled effort. In 2011, they signed a new deal with Napalm Records, and released their newest album Misery Escape in 2012. The last three years have been spent touring and having some well earned down-time, but according to their Facebook page work on the new album has begun! Taken from Blessings From A Blackened Sky, Knights of Doom a thrashy, heavy, and yet hooky melodeath/metalcore song – while the riffs may seem a bit simplistic at times, along with the brilliant melodies you will not be able to shift them from your head!
9. King of Asgard – Einharjar
King of Asgard are a Swedish (Odin forgive me for using this term) Viking metal band formed in 2008. In 2009 they signed a deal with Metal Blade Records and released their debut album Fi'mbulvintr the following year, from which Einharjar is taken. Their follow up, …To North was released in 2012, and their most recent offering, the stunning Karg, dropped in July last year. Stylistically, they have a very black metal feel, but with a lot of death metal elements and an actual studio budget. The opening riff in Einharjar is just stunning, an incredible hook that you will not forget easily and the chorus itself is fantasticly catchy.
10. Inferi – Destroyer
Inferi is the brainchild of an incredible guitarist from Nashville, Tennessee – Malcom Pugh. Formed in 2006, the technical melodic death metal outfit released two albums, Divinity In War in 2007 and End of an Era in 2009, before taking an extended hiatus. In 2014, however, Inferi came back with a vengeance and released the best album of their career, and one of the best albums of the year – The Path of Apotheosis, from which Destroyer was the lead single. Unlike many tech death bands, Inferi is not all about fretboard wankery and showing off how they are fantastic musicians. Inferi write songs, catchy, groovey songs that are heaps of fun to listen to – yes, there is a fair amount of fretboard wankery but it is done in style, and it is hooky as all Hell.
So, there we have it! Ten songs packed with super-catchy riffs from some bands you definitely know (who hasn't heard Seek 'n Destroy for fuck sakes!) and hopefully I've managed to introduce you to a few bands you didn't! What better way to start the weekend? What are some of your favourite riffs, songs that you just cannot get out of your head no matter how hard you try? Let us know in the comments!
How useful was this post?
Click on a thumb to rate it!
Average rating 1.8 / 5. Vote count: 4
No votes so far! Be the first to rate this post.
Related
About the author
This bearded wildman from North of the wall survives the harsh ever-present winter of Scotland on a healthy diet of thrash, death metal and beer.