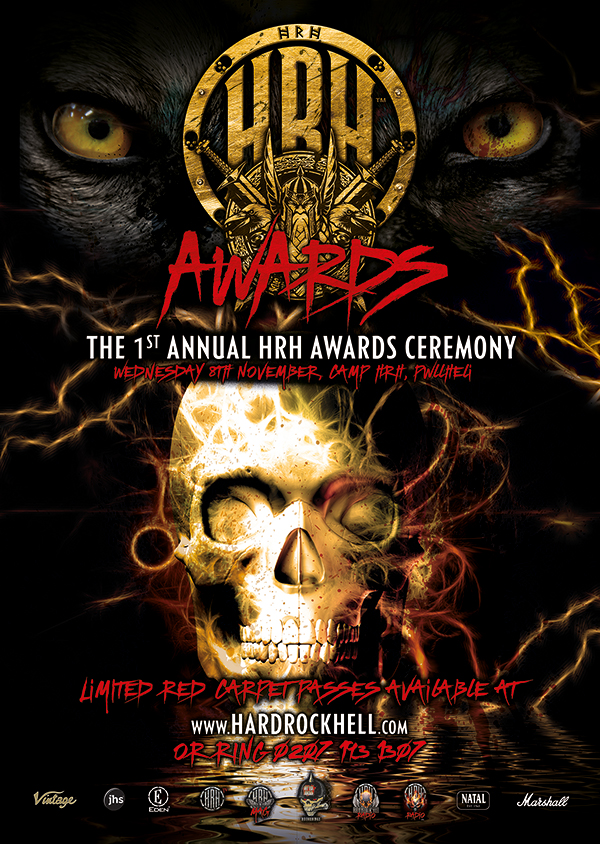 HRH ANNOUNCES THE NOMINEES FOR ITS VERY FIRST HRH AWARDS
26th September 2017
HRH are proud to announce the nominees for the very first HRH Awards. The Awards have been shaped by classic HRH values: community-led and custom-built by the fans, reflecting the tastes of the HRH Loyal, and the wider community of HRH as a whole. The Awards will honour the artists, industry figures, and people who matter in this vibrant business. The event is sponsored by Marshall, Eden, Natal, JHS, Vintage, HRH Mag, and Hard Rock Hell Radio and will be held at Camp HRH, Pwllheli, on Wednesday 8th November 2017.
Award categories will now be voted down by HRH's Dark Circle, HRH Mag, Hard Rock Hell Radio as well as some key industry players.
HRH Axeman
Nominees: Michael Schenker,  Zakk Wylde,  Bernie Marsden,   Tracii Guns
HRH "Angels of Rock"
Nominees: Girlschool,  Tequila Mockingbyrd,  Rock Goddess,  JOANovARC
HRH Rising Stars 
Nominees: Evil Scarecrow, Massive Wagons, The Vintage Caravan, The Amorettes
HRH Young Blood
Nominees: Stone Broken,  Ryders Creed,  Bad Touch,  Dead Man's Whiskey
HRH Metal Maniacs
Nominees: Anthrax,  Skindred,  Saxon,  Black Label Society 
HRH Global Heroes
Nominees: Airbourne, Twisted Sister,  Helloween,  Nightranger
HRH Summer Solstice (Best Summer Festival)
Nominees: Sweden Rock Festival,  Download Festival,  Hellfest,  Wacken Open Air
HRH Brothers in Arms (Best Label)
Nominees: Nuclear Blast, Frontiers, Spinefarm, Napalm Records.
Other key HRH Awards which will be presented by HRH, include
HRH Legend
HRH Live ( Best Live venue)
HRH Mjolnir ( Industry Special Achievement Award)
The award ceremony will be a glitz-rich red carpet affair, at which there will also be a select few live performances. Booked to perform are Black Aces, Massive Wagons, IDLEWAR, and Killcode.
N.B. Tickets are very, very limited in numbers: only 500 will be able to attend, so please book early. Red Carpet Passes can be booked on www.hardrockhell.com or by ringing Sam on 0207 193 1307. Priced at 40 GBP, which includes 1 night's accommodation.