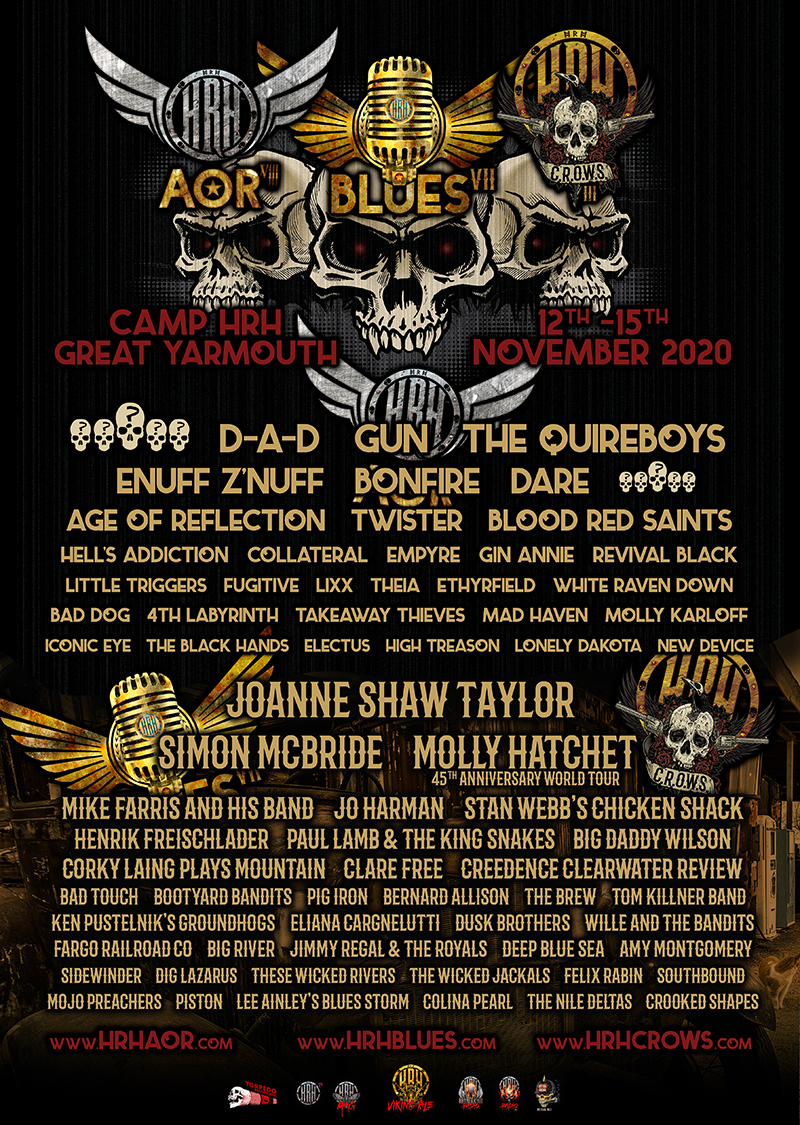 HRH AOR, HRH Blues & HRH CROWS Combine Forces in a 3 Day, 3 Arena, 70 Band Monster Edition Aptly Named HRH ABC
8th April 2020
0
By
John Deaux
It's monstrous and it will only ever happen once, a couple of acts are still sorting out their European dates around about it (we all know who they are!) but rather than leave everyone waiting we thought it best to get this incredible news out to give everyone some good news during these testing times.
The dates of this new super HRH ABC proposition will be 12th – 15th November 2020 @ Camp HRH, Great Yarmouth.  We have moved Heaven n Earth to get more accommodation, more production and more bands together to make this possible at a time of the year where we can hopefully all feel more comfortable in going out and having some fun after this awful crisis has passed.
The line-up is simply off the scale, and includes:
Legendary German metallers Bonfire have been in the music scene in one form or another since 1972 – but are now enjoying one of the most successful periods in their career surpassing even the heady days of the '80s.  Ever-present band leader Hans Ziller is still pushing the band on, and Bonfire continue to release new material, well-received cover albums, and live albums to this day, with their latest release "Fistful of Fire" hitting the streets earlier this year.  Bonfire will be appearing in a late-night slot on the main stage on Friday.
Danes D-A-D make their HRH debut to issue a "Call of the Wild" to the HRH faithful for the first time. Forced to change their name from Disneyland After Dark after being threatened with legal action – this will be no "Mickey Mouse" performance when the glam legends take the stage.   Their latest studio album, "A Prayer for the Loud" was released last year, and packs as big a punch as their debut back in 1986.Glaswegian hard-hitters Gun return to an HRH stage for the first time since 2017. Despite various line-up changes in their 30+ year career, Gun have released 7 studio albums, and just last year put out "R3L0ADED : The Best of Gun" which features many of the bands best known tracks, and of course the song that catapulted them to rock stardom. The word (up) is we are in for a real treat in Great Yarmouth this November because these guys are on fire right now…as we look forward to better days…
The legendary Enuff Z'Nuff ooze quality from start to finish – from early hits such as "New Thing" and the incredible recent hit "Metalheart".  Hailing from Chicago, Chip Z'Nuff will showcase his effervescent personality and the bands pedigree on the main stage at HRH ABC this November after their stunning performance in 2018.
We are absolutely stoked to be able to announce that award-winning Joanne Shaw Taylor is one of our co-headliners for HRH ABC in Great Yarmouth.  The blues-rock singer-songwriter rose quickly to the top of the blues scene when both of the first two albums hit the top ten in the US Billboard Blues Album chart.  In 2018 Joanne signed for Sony Music, and this year released her sixth album "Reckless Heart" to critical acclaim.
We are delighted to announce that Molly Hatchet, with new frontman Jimmy Elkins, join us at Great Yarmouth as Thursday night headliners as part of their 45th Anniversary World Tour. The 6-piece from Jacksonville Florida, known best for their hit 1979 hit "Flirtin' With Disaster", bring their unique and heavy southern hard rock to HRH ABC.
Evergreen The Quireboys will be playing their hit album A Bit Of What You Fancy in its entirety to mark the seminal recording's 30th anniversary.  The lads are as busy as they've every been, if not more so – with the newly re-recorded version of their debut album hot on the heels of the highly rated 35&Live Anniversary DVD and CD Box Set.
Thursday's line-up is brimful of talent – which will be highlighted when award-winning singer-songwriter Jo Harman hits the stage.   The rising star of British blues has played with the likes of Patti Smith and Joan Baez, and is a true international artist with a growing reputation. Take a listen to Jo's collaboration with Mike Harris.
In addition, we are able to confirm Darren Wharton's incredible band Dare, blues legend Simon McBride, Corky Laing playing Mountain, HRH favourites Collateral, the awesome Wille and The Bandits plus Off Yer Rocka bands Gin Annie and Twister.
 Also confirmed are Bootyard Bandits, Bad Touch, Little Triggers, Blood Red Saints, Age of Reflection, Ken Pustelnik's Groundhogs, The Brew, Bernard Allison, Creedence Clearwater Review, Stan Webb's Chicken Shack, Eliana Cargnelutti, Big Daddy Wilson,  Paul Lamb & The King Snakes, Hell's Addiction, Henrik Freischlader, Mike Farris and his Band, Tom Kilner Band, Pig Iron, Revival Black, Dusk Brothers, Fargo Railroad Co, Clare Free, Fugitive, Ethyrfield, Empyre, White Raven Down, Bad Dog, 4th Labyrinth, Mad Haven, The Black Hands, Iconic Eye, Molly Karloff, Electus, High Treason, Lonely Dakota, Theia, Lixx, New Device, Big River, Mojo Preachers, Jimmy Regal & the Royals, Piston, Deep Blue Sea, Lee Ainley's Blues Storm, Colina Pearl, Sidewinder, Southbound, Dig Lazarus, The Nile Deltas, These Wicked Rivers, Crooked Shapes, The Wicked Jackals, Felix Rabin, and Amy Montgomery.
If there isn't something for everyone at HRH ABC then when will there ever be!
 
Head over to www.hrhblues.com or www.hrhaor.com or www.hrhcrows.com for more info – tickets are available from  www.hrhcrows.com or you can call 0207 193 1164 for all the latest packages and deals.
How useful was this post?
Click on a thumb to rate it!
Average rating 0 / 5. Vote count: 0
No votes so far! Be the first to rate this post.
Related
About the author
Some say Yank My Doodle, It's A Dandy! is a biographical movie based on John. Some have even said that his favorite artist is Chesney Hawke! All we really know is he sleeps inside out and his hair tastes like candy floss.