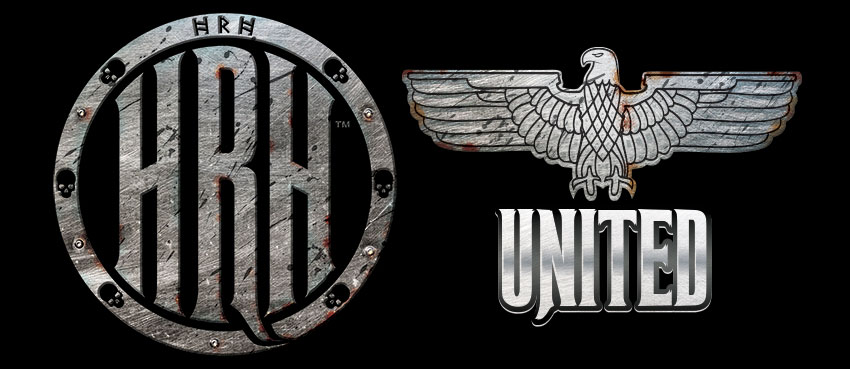 HRH United III
27th July 2016
0
By
John Deaux
Destruction, Metal Church, Criminal, Cancer and Onslaught lead a cast of other great acts, who will join Alestorm, Hammerfall and Napalm Death at next year's HRH United III
HRH united III which has been sold out on accommodation since May this year, are pleased to announce another string of bands to an already impressive Metal Weekender.
German Trash Lords Destruction are first up with San Fran Metalheads, Metal Church making a rare UK appearance. Joining them are UK Trash legends Onslaught and Cancer, plus Chileans Thrash Masters, Criminal
Other bands joining the bill include Power Quest, Skyclad, Waylander, NightMare World, Re-Animator, Ten Foot Wizard ,Slabdragger, Solitary, Warlord, Sodomised Cadaver, King Creature and Torous
HRH United III takes place @ Camp HRH, Pwllheli, Gwynedd, North Wales on 23rd-26th march 2017. There are now less than 58 weekend passes left for the entire event which can be secured online www.hrhunited.com or by ringing Rebecca on 0207 193 9564
Current line up stands as follows
Alestorm , Hammerfall , Destruction
Napalm Death , Armored Saint , Venom Inc,
Onslaught, Metal Church, Cancer,
Grand Magus, Evil Scarecrow, Criminal
Skyclad , Power Quest , Kampfar
Cirith Gorgor , Nightmare World , RSJ,
Trepalium , Old Corpse Road , Finsterforst,
Ereb Altor , Hecate Enthroned , Fury,
Virus , Re-Animator , Solitary , Warlord,
Ten Foot Wizard , Slabdragger
The Bastard Sons , Forever Never ,
The Raven Age , Hell Horse , PIST,
Dusteroid , Desert Storm , Collibus,
Sodomised Cadaver , King Creature ,
Derange , Boss Keloid , The Ever Living,
Torous , Bast , Gevaudan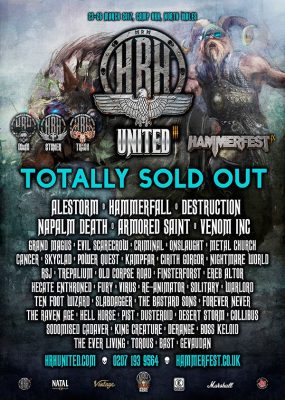 How useful was this post?
Click on a thumb to rate it!
Average rating 0 / 5. Vote count: 0
No votes so far! Be the first to rate this post.
Related
About the author
Some say Yank My Doodle, It's A Dandy! is a biographical movie based on John. Some have even said that his favorite artist is Chesney Hawke! All we really know is he sleeps inside out and his hair tastes like candy floss.