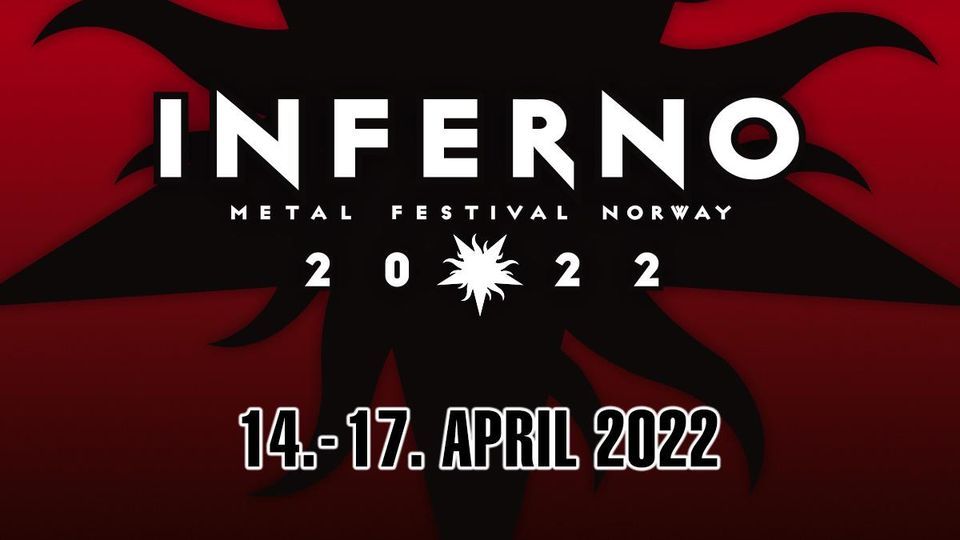 Inferno Metal Festival 2022- Day One Review
20th April 2022
0
By
Queen Nikki
All Hail Inferno! Finally after two years of this madness we're inside a metal tube flying over fjords and mountains arriving to attend the long awaited Inferno Metal festival 2022 in Oslo, Norway. Attending my 6th Inferno, I had been missing my Heavy Metal Easter and so were the masses of metalhead's inundating the streets of Oslo.
Held at the Rockefeller Music Hall, John Dee and many other club venues throughout the Easter long weekend from 14th- 17th of April, life was sure to get a bit busier then it has been in the last two years. This year boasts a mega metal lineup which the organisers managed to keep most of on the bill since the festivals first covid reschedule in 2020. This year we will see Venom, Triumph of Death, Kampfar, Gorgoroth, Mayhem and Taake to name a few. 
After a very busy Thursday, of checking in to Clarion 'the hub' hotel and a trip to the Vaterland venue for a Satanic Pizza, complete with béarnaise Pentagram on top of course. Our metal reunion had begun and we made our way to the Rockefeller Music Hall. 
In time to catch the Oldschool Death metal chaos that is Cadaver, perform on the Rockefeller stage and this three piece sure filled the three tiered hall with the energy we needed. Cadaver is known as one of the first death metal acts from Norway who started around 1988 and after a jaunt apart they are back! With their recent release in 2020 with Dirk Verbeuren (Megadeth) on drums with the album Edder & Bile.
Founding member on guitar and vocals Anders 'Neddo' Odden (Satyricon, Order) has barbed wire wrapped jeans and a fierce stage persona. His terrifying guitar riffs are joined on stage by Bjorn Rønnow (Trollfest, Borknager) on drums for this live set and Eilert Solstad wearing the infamous plague mask and hat combo on double bass. Behind them at back of the stage, a screen of revolving imagery shocks our eyes. They have kept their extreme sound alive which is why they have the arena packed with eager Death Metal fans, some seeing Cadaver for the first time. An insane crowd response turned up from their 2020 single D.G.A.F ensuing in a death metal singalong, "Don't….give a fuck!" 
Down to the dungeon of John Dee for Dutch Danish Death Doomers (now that's a tongue-twister) Konvent, we are hit with the harmonious notes of Ethereal choir vocals, before an onslaught of funeral doom riffs for their opening track In the Soot from their 2022 album 'Call Down the Sun'. Rikke Emilie List's deep guttural vocals start the moshpit swaying back and forth in a synchronised hairy mess. She takes a leap into the congregation, crowdsurfing on her back as her high screeches sting through the microphone shifting through vocal styles like a Banshee. Crushing through the set, they finish with Squares from their 2017 demo and leave a fresh Inferno crowd bereft of all their senses. Incredible performance.
Golden lights adorn the main stage as pan flutes play in the background for Noway's Kampfar. Frontman Dolk is his magnetic self, flames flicker as his bullet belt reflects in the torches embellishing the stage. "My Children!!" He screams at us as we all reach out for him. Dolk rips off his Leather jacket to reveal elbow length PVC gloves as he fly's his flag across the length of the Rockefeller stage. Although I felt the new songs were well received, he states "I can tell by the pit down here, they are tired of the new stuff", as they blister into a crowd favourite Tornekratt. 
Knocking back a few £10 beers, this venue isn't kind on the wallet but we make the most of it. When in Norway! Next downstairs for the unmatchable vocal range of Sylvaine, Norways one woman multi-instrumentalist and composer. Seriously though, is there anything Sylvaine can't do? This performance was jaw-dropping, raw-talented artistry.
Kathrine Shepard is straight up other worldly with nothing but her voice and a microphone for Eg Er Framand, she mesmerises and absolutely devastates us at the same time. Her music tells a story I think we can all relate to and I can't wait to see her perform again. If you haven't checked out the musical masterpiece that is her 2022 album 'Nova', I can't recommend it highly enough.
A walk around the venue this year we have many artist stalls with exhibitions and of course the Inferno tattoo fair where you can get some ink from some of the biggest names in the industry while one of your favourite bands plays in the next room. The band signing booth has its permanent space at Inferno Metal festival where fans can meet and greet their favourite acts at no extra cost and even get all of their merch signed too! 
In the basement, Swiss band Bölzer play their Inferno festival debut. However, I have seen them perform before but the wall of sound forged by this prodigious two piece always shocks me and has me gawking at the stage like its my first time seeing them. Okoi 'KzR' Thierry Jones dominates, his hand slides down his ten string, effortlessly as
he headbangs back and forth from the mic during Roman Acupuncture. KzR is crouched, head down on the stage, sweat dripping down the hair that covers his face. "Mother…" his howls echo over our bodies as they treat us with the brief yet disturbing Atropos from 2016's 'Hero' album. Fabien 'HzR' Wyrsch Perched at the drum kit hidden in the darkness, sporting an eyepatch due to illness, he is relentless and plays tenacious throughout. His hits lead us into The Archer and I'm officially lost in the Bölzer trance. 
The final act of the night arrived and to the Main stage and it was the much anticipated, Thomas Gabriel 'Warrior' Fischer's Triumph of Death, as his Hellhammer tribute. The Hellhammer logo is hung proudly as the backdrop and for many fans this is the first and only time they will see these songs performed live as well as with one of the bands original members.
Tom has his signature thick black paint smeared around his eyes as he shouts at his audience, "Thank you for coming here to listen to some music I wrote some forty odd years ago… and here we are!" Inferno are loving them, the crowd response is clear that most were definitely over the moon to be in the Rockefeller Music Hall that night. They play through time-honoured Hellhammer covers from Blood Insanity to Messiah and say goodbye with, you guessed it, Triumph of Death while giving us that filthy Hellhammer power show that we were gagging for.
Entourage in tow, we finished the night over the bar at Kniven, enjoying some yummy IPA's, fantastic Dj's with long lost pals and some very 'un'needed tequila shots!
See The Inferno Day One Recap Video HERE
For All Things Inferno Metal Festival Click HERE
How useful was this post?
Click on a thumb to rate it!
Average rating 5 / 5. Vote count: 3
No votes so far! Be the first to rate this post.
Related
About the author
"It does not require a majority, but an irate, tireless minority, keen to set bushfires in people's minds." Hail Satan!