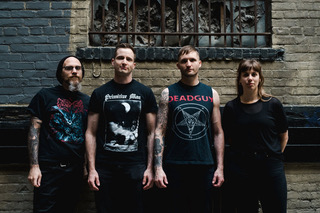 KEN MODE UNVEIL A NEW SINGLE 'HE WAS A GOOD MAN, HE WAS A TAXPAYER' FROM UPCOMING ALBUM, 'VOID'
14th July 2023
0
By
John Deaux
With their anticipated new album, VOID, just a few months away, KEN mode has given us another look into what to expect from the full-length, out Sept. 22nd via Artoffact Records. Today, the band shares a new single, true to their unforgettable and unique sound – 'He Was A Good Man, He Was A Taxpayer'!
On the new track, Jesse Matthewson comments candidly that it is, "perhaps a little more post-punk than people are used to hearing us – but we had fun playing with synth and pushing the boundaries of the emotionality of this track. Is this noise goth? I don't know. Does that sound stupid? Did I just invent a new genre? There are equal parts Bauhaus and Unsane on this, so maybe?"
'He Was A Good Man, He Was A Taxpayer', follows the band's absolutely bone-shattering single, 'The Shrike', which last month gave us 4 minutes and 10 seconds of sheer energy, fueled by the frustration of the 'lost years' of the pandemic, pelting fans' eardrums with blissfully crass instrumentals and a vocal approach like no other.
LISTEN TO 'HE WAS A GOOD MAN, HE WAS A TAXPAYER' HERE!
LISTEN TO 'I CANNOT' HERE!
PRE-ORDER 'VOID' HERE!
On the forthcoming album, Jesse Matthewson shares that it "is the companion piece to 2022's NULL album – both written and produced at the same time throughout the pandemic and recorded by Andrew Schneider in the fall of 2021. It conveys the overwhelming sadness and disappointment of the rollout of 2021, after the initial crazed shock of 2020. The material demanded a slightly more melancholy feel, and we wanted to explore more melody on the exit from this project."
Having played the prestigious Roadburn Festival this year, announced a fall tour with Fange, and actively rolled out singles towards a new album, KEN mode came out of the suffering of the pandemic with fire and fury, ready to unleash it on the world wherever they see fit. Lucky for fans, that's mostly their eardrums. Prior to today, 'I Cant' marked the newest single since their well-revered album, 'Null'. Kicking off and closing out akin to a live show with heavy, well-placed feedback the track is masterfully abrasive and came out of the studio road ready. Seamlessly blending together deep metal riffs, noise-rock vocals, and punk rock chaos, the track is yet another showcase of this band's astounding ability to blend genres effortlessly.
LISTEN TO 'NULL' HERE!
Their aural abrasion on 2021's critically acclaimed 'Null' may be a quintessential statement of mental collapse and despair made sonic – a direct psychological reaction to the collective experience of the last two and a half years. Drawing from not only the noise and industrial sonics of the 80s and 90s ala Swans, Einsturzende Neubauten, or even Nine Inch Nails, the band mixed in a decidedly more desperate tone to the already pointed metallic hardcore influenced "extreme noise rock" that has become their signature sound.
Jesse Matthewson explains, "the album exposes the emotional core of combating mental illness when one's fine-tuned coping and management mechanisms have been involuntarily stripped away, and they're forced to navigate this intensely divided and miserable political climate through a global pandemic. The fury, fear, and confusion, followed by profound sadness and mourning, drags them down while it cuts and pummels like they're experiencing every one of their lowest moments over and over again." 
Together, Null's singles racked up over 150K streams and were added to 20 editorial playlists across Spotify, Amazon Music, Apple Music, and YouTube Music. KEN mode also made the cover of Decibel Magazine and has seen coverage from premier media outlets such as Exclaim! Magazine, Flood Magazine, Idioteq, Distorted Sound Magazine, Brooklyn Vegan, Metal Injection, Metal Sucks, Montreal Rocks, Range Magazine, Revolver Magazine, and more!
MORE ABOUT KEN MODE:
Ever wonder what KEN mode stands for? Look no further and wonder no more, because it's a name that's hard to forget the meaning behind once you get it. KEN mode = Kill Everyone Now mode: an ethos legendary Black Flag frontman Henry Rollins would use to describe the band's state of mind while taking the stage for the endless touring cycle of their genre-defying classic album 'My War'. This proved to be the psychological foundation and attitude for the project Royal Conservatory of Music trained brothers Jesse Matthewson, B.Comm (Hons) and Shane Matthewson CA/CPA, B. Comm (Hons), would dedicate their entire adult lives to, seeing them spread a manic form of metal and hardcore infused noise-rock across the globe.
With two decades under their belts, the group has a list of impressive achievements including winning the inaugural Juno Award for Best Metal / Hard Rock Album of the Year for "Venerable" in 2012. Cutting their teeth in the early aughts, when chaotic hardcore was at its peak, KEN mode would find breakout underground notoriety with a quintet of critically acclaimed records in the 2010s, working with a who's who of metal and hardcore producers in Kurt Ballou (Converge) for their Venerable LP (2011), Matt Bayles (Botch, Isis) for Entrench (2013), Steve Albini (Nirvana, The Jesus Lizard) for Success (2015), and Andrew Schneider (Unsane, Cave In) for Loved (2018), all while maintaining an unrelenting tour schedule.
TOUR DATES:
09.24.23 Porto, PT @ Amplifest*
09.26.23 Rouen, FR @ Le 106
09.27.23 Lille, FR @ Aeronef
09.28.23 Paris, FR @ Point Ephemere
09.29.23 Angouleme, FR @ La Nef
09.30.23 Clermont-Ferrand @ La Cooperative De Mai
10.01.23 Yverdon, CH @ L'Amalgame*
10.02.23 Karlsruhe, DE @ Jubez
10.03.23 Dresden, DE @ Ostpol
10.04.23 Wroclaw, PL @ Klub Lacznik
10.05.23 Berlin, DE @ Urban Spree
10.07.23 Aalborg, DK @ 1000 Fryd
10.08.23 Aarhus, DK @ Headquarters
10.10.23 Liege, BE @ La Zone
10.11.23 Haarlem, NL @ Patronaat
10.12.23 Bruxelles, BE @ La Botanique
10.13.23 Brighton, UK @ The Hope & Ruin*
10.14.23 London, UK @ Perpetual Flame Ministries w/Lingua Ignota*
KEN MODE ONLINE:
Website // Facebook // Instagram // Twitter
ARTOFFACT RECORDS ONLINE: