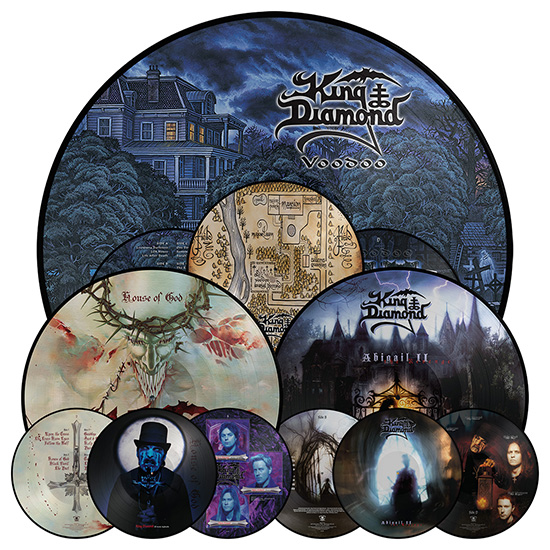 KING DIAMOND: 'Abigail II: The Revenge', 'House of God', 'Voodoo' LP re-issues now available via Metal Blade Records!
13th July 2018
0
By
John Deaux
On August 17th, KING DIAMOND will release LP re-issues of the classic albums 'Abigail II: The Revenge', 'House of God', and 'Voodoo' via Metal Blade Records. Available as 180g picture discs, these exclusive editions can be purchased now at: metalblade.com/kingdiamond
"You can spiral yourself into darkness with these classic King Diamond albums, or you can exhibit them on your wall like I will. Either way, enjoy." – King
See below for the albums' track-listings, and stay tuned for more KING DIAMOND news coming soon!
Abigail II: The Revenge track-listing:
Side A
1. Spare This Life
2. The Storm
3. Mansion in Sorrow
Side B
4. Miriam
5. Little One
6. Slippery Stairs
Side C
7. The Crypt
8. Broken Glass
9. More Than Pain
Side D
10. The Wheelchair
11. Spirits
12. Mommy
13. Sorry Dear
House of God track-listing
Side A
1. Upon the Cross
2. The Trees Have Eyes
3. Follow the Wolf
Side B
4. House of God
5. Black Devil
6. The Pact
Side C
7. Goodbye
8. Just a Shadow
9. Help!!!
10. Passage to Hell
Side D
11. Catacomb
12. This Place Is Terrible
13. Peace of Mind
Voodoo track-listing
Side A
1. Louisiana Darkness
2. LOA House
3. Life After Death
Side B
4. Voodoo
5. A Secret
6. Salem
Side C
7. One Down Two to Go
8. Sending of Dead
9. Sarah's Night
Side D
10. The Exorcist
11. Unclean Spirits
12. Cross of Baron Samedi
13. If They Only Knew
14. Aftermath
How useful was this post?
Click on a thumb to rate it!
Average rating 0 / 5. Vote count: 0
No votes so far! Be the first to rate this post.
Related