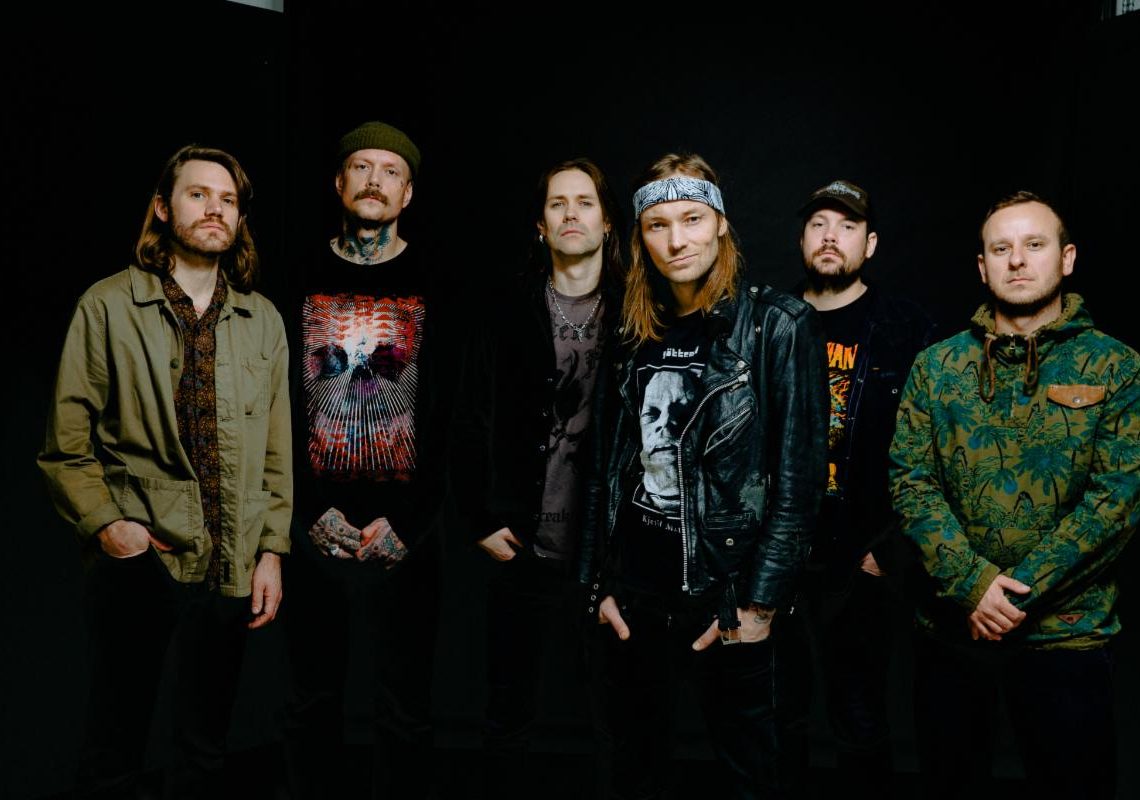 KVELERTAK reveal special plans for new live stream show on June 20
10th June 2020
Following the success of their initial live stream show in April, acclaimed Norwegian band KVELERTAK have revealed fresh plans for new date, "Live From Amper Tone Studio", on Saturday, June 20th!
The set will once again be broadcast via
Vierlive
at 9pm CET (8pm BST / 2pm CST).
KVELERTAK elaborate further, commenting, "Hello friends!
First of all, we hope that all of you are safe and in good health! We REALLY miss playing shows and interacting with our fans…but we are fortunate to be able to rehearse and continue to make new music. 
We were supposed to be out playing festivals right now and continuing to promote our newest album SPLID. Since that's not possible we have planned a new live stream event to try and make up for it. We've booked Amper Tone Studio in Oslo (the studio we recorded Nattesferd) and turned it into a Kvelertak "Game Show" set. We'll be spinning the Kvelertak "Setlist of Fortune" – we've dug up some old classics and rehearsed songs we've never, or seldom, played live before. There will be a proper Q&A and we'll take a couple requests. Everyone who buys a ticket will be entitled to join a competition to win some pretty rad prizes. We'll be giving out a GUITAR, Kvelertak limited numbered skate deck, rare demos, custom picks, signed vinyls, our onstage prop owls, etc.
We had more fun than we expected on the last stream (check that out) and we hope you did as well! Come join us again!
Thank you all for the support!"
Saturday, June 20th
8PM (BST) | 9PM (CET) | 2PM (CST)
Long awaited, fourth studio album 'Splid' is out now via Rise Records. It is the first from KVELERTAK since 2016's 'Nattesferd' and is also the recorded debut of their new singer, Ivar Nikolaisen, who joined the group in 2018. The album was recorded with Kurt Ballou (Converge, Code Orange, Zeal & Ardor, Every Time I Die, Dillinger Escape Plan, High On Fire) at Godcity Studio in Salem, Massachusetts.
The band kicked off 2020 by unveiling new song and video 'Crack Of Doom', featuring Troy Sanders of Mastodon. Watch the official video
here
. The video is directed by the award winning, renowned Norwegian stills photographer and music video director Stian Andersen. Stian has been a part of the KVELERTAK circle for many years, having also directed their previous videos for "
Kvelertak
" and "
Bronsegud
". Earlier, the group shared first new song 'Bråtebrann', also taken from 'Splid', which was highlighted as a Track Of The Week on
The Guardian
's website. Listen to it on YouTube
here
.
KVELERTAK state, "'Splid' ('discord' in English) is a deep dive into western gluttony, our own stupidity, and the abyss of the earth. Working with Kurt again has been amazing and we're extremely happy with the production. We've pushed ourselves to the edge this last year – musically, physically, and mentally. The result is one hour of catchy riffs, punk rock, and heavy metal influenced by a world in discord to accompany our way towards Ragnarok."
<
"Startlingly good Norwegian fun. Kvelertak flirt with metal extremity, but they're too keen on huge melodies and big choruses to drown them in blast beats and growls: it's glorious." – The Guardian
 "Relentlessly upbeat and stacked full of sparkling solos, Kvelertak's mission seems to be about making metal fun again. They nail it from the start." – Q
"Their taste for breakneck riffs and soaring choruses has not been dulled. A thrilling return." – Planet Rock
"Often commercial and sometimes devoutly, intentionally un-commercial, Splid is a delightfully edgy album from a combustible unit that, here, sound as if they might blow at any second. Volatile, tuneful, raucous and unstable, it is the perfect rock n roll record from a genuinely unique band." – Kerrang!  
"A fine addition to their already solid body of work." – Vive Le Rock
"Splid is a fantastically rich record that rewards those willing to give it the time and attention it deserves." – Distorted Sound
"Daring and encouraging…. a band that continue to carve their own niche within their own niche." – Metal Hammer
 "Kvelertak have delivered another batch of forward-thinking rock n roll for you to lose your inhibitions to." – Rock Sound
"Splid sees Kvelertak sounding better than ever and it cements their status as a thoroughly cool band for good measure." – Powerplay