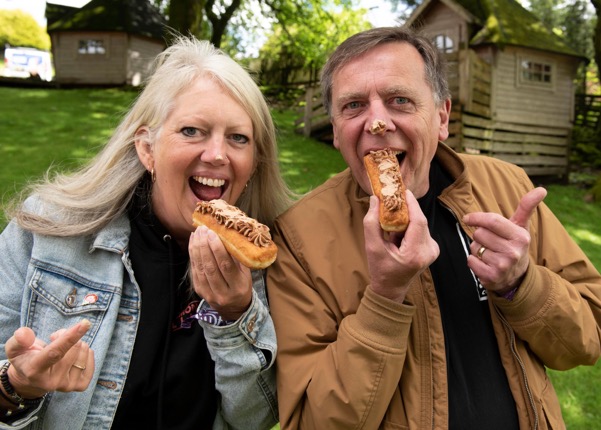 LET THEM EAT CAKE DELICIOUS 10th ANNIVERSARY DESSERTS FOR SCOTLAND'S WILDFIRE FESTIVAL
13th July 2022
At the start of July, music fans travelled from all over Scotland, the UK and Europe to enjoy the landmark 10th anniversary of Wildfire Festival, which takes over the historic mountain-top, lead-mining village of Wanlockhead every year to showcase a new generation of grassroots music.
10 years is no mean feat for any music event. After Covid – and the threat to music grassroots venues across the UK – Wildfire Festival has proven to stand the test of time and has earned an international reputation is one of the trend-setting rock events of the year. This year's event was headlined by New York blues force-of-nature Sari Schorr, southern rockers Bad Touch and Scarlet Rebels, who scored the highest charting album for a new British rock band a few months ago.
So it was free cakes for everyone at the festival this July as the travelling van from The Delicious Dessert Company completed the 240-mile overnight drive from Newark to Wanlockhead. Festival goers, bands, Wanlockhead Inn staff, promoters and Wildfire organisers all got a big surprise as free cream cakes were handed out to celebrate the event's 10th birthday.  A change from the festival usuals – such as beer, chips or burgers – The Delicious Dessert Company gave everyone a surprise moment of joy, a little something to mark Wildfire's birthday and a thank you to everyone for making the journey to Wanlockhead.
And even the cakes were a bit special. Ahead of their UK launch across 433 Tesco stores nationwide, festival goers were the first people in the UK to taste the new Long Johns range from The Delicious Dessert Company – including The Millionaire's Long John and The Sticky Toffee Long John. A Long John is US-style bar-shaped pastry, like a doughnut although The Delicious Dessert Company has injected a modern twist on a classic with intense, exciting new flavour combinations.
Dave Ritchie, Managing Director of Wildfire Festival said: "We have always had a proud tradition of doing things differently at Wildfire and we are often the first to break new rock bands. This year we had giant panda bears and also the surprise visit from the Delicious Dessert Company. Festival-goers couldn't believe their eyes when the van doors opened and hundreds of fresh cream cakes were given out. They tasted great and were a little something extra to make everyone's day a little bit more special."
Claire Smith, Head of Insight at The Delicious Dessert Company added: "When we heard Wildfire was hitting the big 10, we asked if they were doing a giant cake. Because of Covid safety they weren't so we thought we'd send a van and give every festival goer a private moment of indulgence they could enjoy in their own space. Our business is about thinking outside-the-box and doing things with a modern twist. Cream cakes at a rock festival is something different but the smiles on faces said it all. We were delighted to be part of the weekend and at such a beautiful Scottish village. Our thanks to the staff at the Wanlockhead Inn for making us so welcome."

About The Delicious Dessert Company
The Delicious Dessert Company, part of Bakkavor Group, is the new name in luscious desserts, injecting an exciting twist into traditional favourites for a new generation. The first three eclair products are available in Sainsbury's and Tesco stores. With summer approaching, The Delicious Dessert Co chefs have been toiling away over their mixing bowls and melting pots to conjure up some delectable delights for people's taste buds – and the Long Johns is the latest addition to the popular range of new products.
Instagram: @deliciousdessertco
About Wildfire Festival
Billed as a music event for rockers will altitude, Wildfire Festival is the highest music festival in the UK. Run every summer from Wanlockhead the event attracts some of the most exciting rising bands from Scotland, the UK and abroad. Next year's event will be held on 23-5 June 2023.