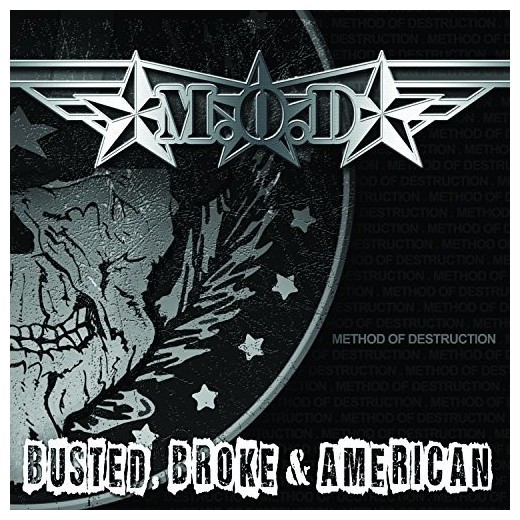 M.O.D. – Busted, Broke & American
8th August 2017
American Crossover legends M.O.D. (Methods of Destruction) are back with their 8th studio album 'Busted, Broke & American' and it comes 10 years after their last album 'Red, White & Screwed' and sees the band return back to Megaforce Records. M.O.D. front man, and crossover legend, Billy Milano has stated that 'Busted, Broke & American' will be the bands last album. The album has been three years in the making and Billy Milano is 53 years old and might want to 'hang up his boots'…

If you are new to M.O.D. then a quick history is that they are a hardcore crossover metal band from New York City and were formed after S.O.D. (Stormtroopers of Death) disbanded. They carried on in the same angry, vulgar crossover style and didn't care who they offended. On their earlier records the lyrics were racist, ageist, sexist, homophobic and no subject matter or group was sacred. All felt the wrath of Billy and M.O.D., however the wrath of Billy has now shifted to society in general, the government and the economy.
This is 27 minutes of boisterous, riotous, nasty hardcore crossover. The majority of the songs are under 3 minutes, which is what you expect from hardcore crossover. However each song packs a brutal beat down and assault to the senses and Billy's voice is still as harsh and barking as the older material. While bands like Municipal Waste lean more towards the thrashier elements of crossover , M.O.D. wear its NYC hardcore heritage proudly on their sleeves. They haven't changed the formula and play to their strength, so if you want a 27 minute senses beat down, with punky overtones, hardcore breakdowns, thrashy riffs fighting for attention and the drums pounding and kicking (your head in) relentlessly then you could do worse than picking up 'Busted, Broken & American'. If this really is the end to M.O.D. then although it isn't a crowning glory album it's still a very fitting and brutal album to draw a close on one of metals most controversial and outspoken vocalists.
My one main problem with the album is the two ex USA presidents speech tracks (tracks 1 & 2) They are just speeches from Eisenhower and Kennedy that you could YouTube if you wanted to hear them (The Kennedy speech is 5 mins long!!!) If they were the intro/outro to a song then okay, however as they are on the album they are a little pointless and needless!
SCORE – 7/10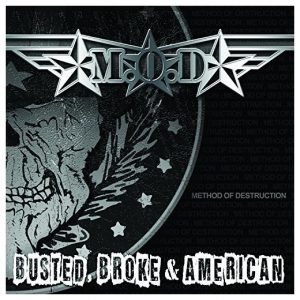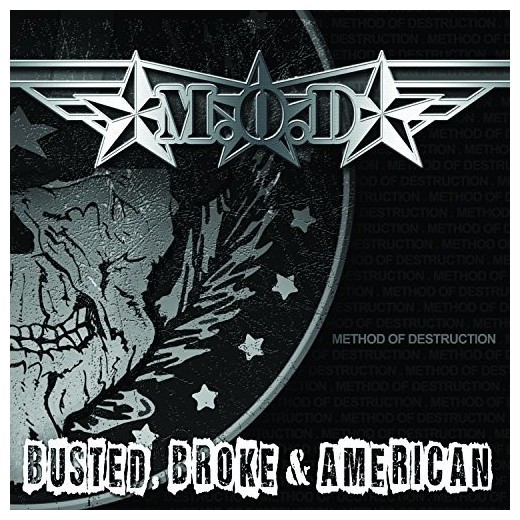 Track Listing
1 Eisenhower Was Right
2 The Final Declaration
3 You're a Fucking Dick
4 Busted, Broke & American
5 Fight
6 Hooligan
7 Billy Be Damned
8 Shattered Dreams & Broken Glass
9 They
10 All Out of Bubblegum
11 Go Go Revolution
12 Kennedy Speaks
Release Date
7th July 2017
Label
Megaforce
Check out M.O.D. HERE & Purchase the album HERE