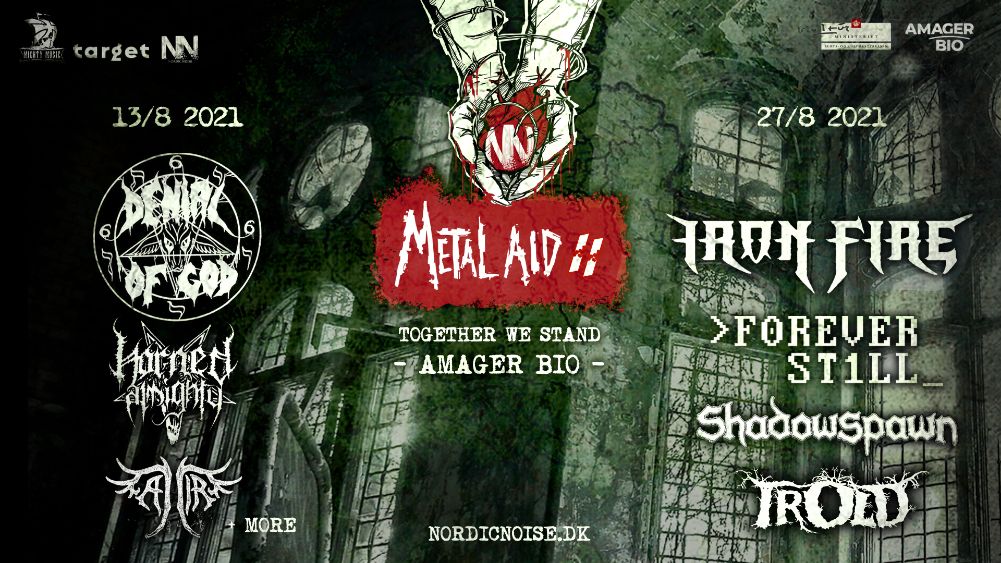 METAL AID 2 – LIVE IN AMAGER BIO (DK) 13th & 27th AUGUST
9th July 2021
0
By
John Deaux
Following the success of the first edition of Metal Aid, Nordic Noise can now present Metal Aid 2 – this time with a standing audience!
Nordic Noise can now announce METAL AID 2 – there will be two days with 8 concerts in Amager Bio, Copenhagen (DK) on 13th and 27th August.
This time DENIAL OF GOD, IRON FIRE, FOREVER STILL, HORNED ALMIGHTY, SHADOWSPAWN, ÆTTIR, TROLD, etc. are on the line-up.
All Danish bands, and within such different metal subgenres as black metal, power metal, doom metal, folk metal, death metal and alternative metal.
The first edition of Metal Aid ran off the stack June 16 and 17, 2021, as a 2-day mini-festival in Amager Bio with 8 bands, as a kind of relief package for both bands and audiences within the metal scene, now that most of this summer's festivals were canceled , including Copenhell. Therefore, the first Metal Aid event was quickly put together, so that the concert thirst within the metal scene could be quenched just a little.
One of the country's legendary rock writers – Steffen Jungersen – wrote, among other things: "a wonderful evening in Denmark's best venue, where the evening's bands delivered the ultimate cure after an excessively long concert drought for your broadcaster".
The performers, such as ARTILLERY, SVARTSOT, WITHERING SURFACE, SLÆGT, etc, and the two almost sold-out evenings offered a massive redemption for both bands, audiences and organizers, who had the opportunity to be together around the hard-hitting live music that has been so sorely missed – although there were still various restrictions. For Metal Aid, the audience still had to sit down, but the requirement for a bandage was dropped.
METAL AID 2 will be two evenings where the audience can finally get up, and avoid being forced to sit down, as it has been so far! There are still limitations on the audience capacity, but the mere fact that we are now gradually returning to concert experiences as before the corona is something both bands and organizers look forward to. And not least the audience!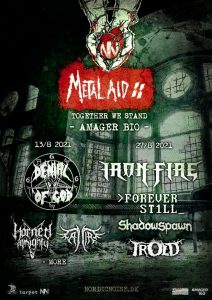 The program for METAL AID 2 is as follows:
Friday 13th August 2021
DENIAL OF GOD
HORNED ALMIGHTY
ÆTTIR
+ TBA
Friday, 27th August 2021
IRON FIRE
FOREVER STILL
SHADOWSPAWN
TROLD
 
Buy tickets here
Between:
1-day ticket: 199 kr.(+ fee)
2-days/partout ticket: 299 kr:(+ fee)
Everyone who has bought and buys a ticket for Nordic Noise 2022 (A Decade Of Noise) gets free access to "Metal Aid 2" (as long as stock lasts). Write an email to weiss@targetgroup.dk with attached receipt for your purchase of the Nordic Noise 2022 (A Decade Of Noise) ticket, as proof, and a special code for the Metal Aid Part 2 ticket will be sent.
Metal Aid 2 is supported by the Palaces and Culture Agency and takes place at Amager Bio.
How useful was this post?
Click on a thumb to rate it!
Average rating 0 / 5. Vote count: 0
No votes so far! Be the first to rate this post.
Related