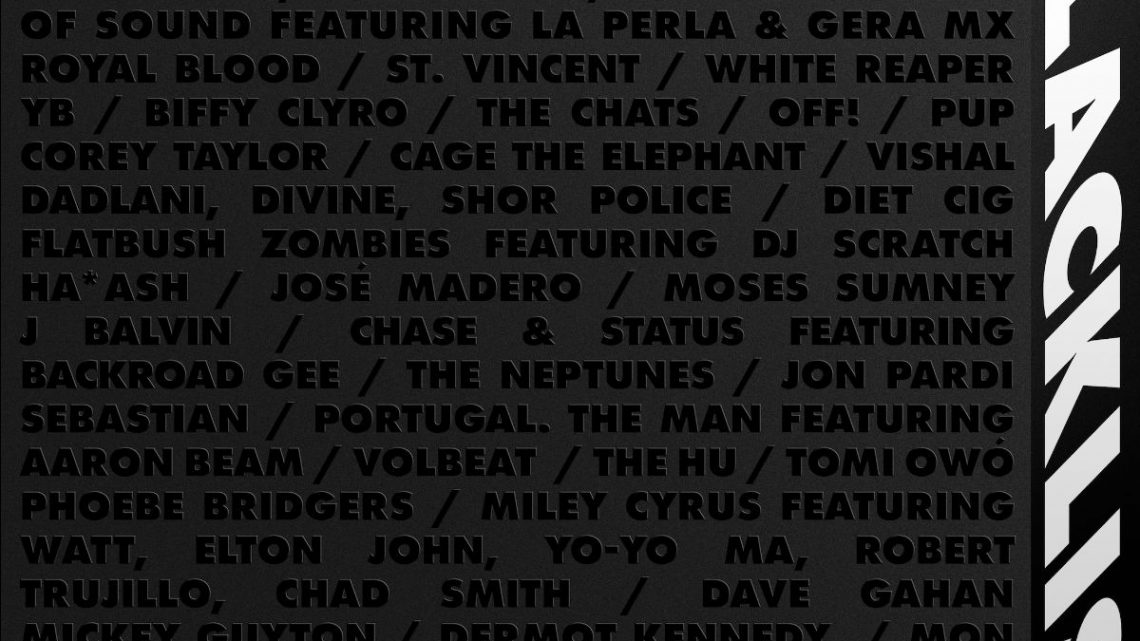 Metallica – The Metallica Blacklist – CD Review
14th September 2021
0
By
George Simpson
Love it, or loathe it there can be no argument that 30 years ago this year, a monster was unleashed upon the world. Metallica's Black Album not only propelled the band into the mainstream, but also undoubtedly dragged the whole genre with them. People who previously wouldn't have listened to metal in a million years were now definitely interested.
To celebrate this anniversary, not one, but two box sets are being released. Not only a 25 disc(!) deluxe box set, but also this four disc set, with all proceeds going to charity. Whereas the deluxe set is full of unreleased Metallica recordings, here we have the albums' tracks covered by all manner of artists. The results are, in places, rather good. And like most covers albums, there are less good moments too. 
 With it being the album that broke them into the mainstream consciousness, it's perhaps fitting that the range of artists, and genres, on offer here stretch far beyond the confines of the metal scene. Rap, punk, classical, pop, country, blues, or jazz you name it, it's here. Metal contributions are very thin on the ground though. Obviously the 'hits' for want of a better word, get the most versions, Nothing Else Matters gets a mind boggling THIRTEEN renditions for example. But each track on the album is featured, and while I won't comment on each version, below is some of the highlights, and lowlights to be found. 
Enter Sandman
This is unquestionably one of the most iconic tracks in the metal cannon, and one of its' most instantly recognisible riffs. You're on a hiding to nothing by tackling it, but here we have six versions. A couple here are pretty good. Canadian singer Alessia Cara gives the song a decent pop rock reworking that works surprisingly well. As does Ghost's gothic treatment of it with a mournful piano first verse and chorus, before picking up the pace. It fits them like a glove. Most others just deliver their own version of the original format, Weezer, in particular, merely copy the original and could be any covers band in the world doing it.
Sad But True
Another of the albums classic moments, it gets a variety of treatments. While the likes of Royal Blood and White Reaper basically just cover it, others definitely try to put their stamp on it. With varying results. Jason Isbell turns it into a slide guitar driven rockabilly track that is really rather good. St Vincent delivers a spacey, out there version that again is a pleasant deviation from the original. So too is YB's supercharged fast paced punky interpretation. On the flip side, Sam Fender's piano ballad version, and Mexican Institute Of Sound's dance sampling atrocity are both frankly awful.   
Holier Than Thou
Luckily one of the album's heavier moments comes out of it largely unscathed. The best is undoubtedly Corey Taylor's rampage through it, which earns added bonus points for it's additional snippet of Whiplash at the end. Biffy Clyro produce a decent version of it, that strays from the original by slowing the pace, and clever use of keyboards to break the song up. There's no bad versions of this track here, with the others staying faithful to the original.
The Unforgiven
There are seven versions on offer here, most of which are either dull or just plain terrible. The best is Diet Cig's indie rock reinterpretation, which raises the tempo and works quite well. Ha*Ash deliver a country pop run through it that is pleasant enough also. The rest are either mournful ballads or worse still a couple of appalling raps by Flatbush Zombies and Vishal Dadlani. 
Wherever I May Roam
Rap and dance also makes a couple of unwelcome appearances here too. J Balvin,  Chase & Status and The Neptunes all use it as a sample in truly appalling versions that I find hard to believe Metallica themselves have ever even listened to them. The day is saved by Jon Pardi's superb country reinvention of it, that works far better than it ever should. He almost makes it his own, great stuff. 
Don't Tread On Me
To my ears, this was the weakest track on the original album. A real plodder. Both Portugal, The Man and Volbeat breathe new like into it with a faster pace. Volbeat especially make it their own and easily surpasses the original to me. After years of Metallica comparisons they deliver a pacey version that must have Metallica scratching their heads about why they didn't think of it first. The less said about SebastiAn's bizarre mash up Don't Tread On Else Matters the better though.
Through The Never
Another of the tracks that is definitely one of the best on it for me. It gets just two takers, and we get 2 different results. Whereas The Hu deliver a fantastic metallic folk blast through it, Tomi Owo produces a dull as dishwater version that seems to last forever.  
Nothing Else Matters
Are you sitting comfortably? Well get yourself ready for an onslaught of takes on the albums big ballad. It literally is an albums worth of material on its own! The headlines have been grabbed recently by the Miley Cyrus led version, her raspy  vocals suit it surprisingly well. But away from that, there are a couple of other good takes on it. Depeche Mode frontman Dave Gahan provides a wonderfully bleak, hypnotic version of it. The biggest surprise for me is My Morning Jacket's almost happy interpretation of it. It's retro sixties sound suits the track perfectly.  Most versions still to the balladic formula of the original and don't add much to it. From instrumental piano to country blues via eighties synth-pop and all stops in between, you'll be sick of it by the time you hit version thirteen! 
Of Wolf And Man
Unbelievably this only gets one cover. A great song both on record and live. It gets a rather disappointing folk rock treatment by Goodnight, Texas. I can't believe no one else took it on, an opportunity missed by all concerned. 
The God That Failed
A similar story to Through The Never. Only two takers again here, and one good, one not so good result again. Irish singer Imelda May comes up with a great B Movie theme style rock arrangement that suits her down to the ground. British rockers Idles, on the other hand, deliver a too cool for school murdering of it that does nothing for me whatsover.  
My Friend Of Misery
Despite being one of the more under the radar tracks on the album, it gets three versions here. Cherry Glazer and Izia both provide differing takes on it, not awful, but don't do a great deal for me either. A jazz Saxophonist covering Metallica? Listening to Kamsai Washington's version does make you realise that there are similarities between jazz and metal in terms of musicianship if nothing else. It oddly works. 
The Struggle Within
Finally is the albums thrashiest moment, and only gets one willing participant. Mexican acoustic guitar duo Rodrigo Y Gabriella have made no secret of the Metallica influence in their playing. And here they deliver a stunning version, managing to make two acoustic guitars sound powerful and heavy.  
As i'm sure you have gathered by now, most of the artists featured here, have little or nothing to do with the world of rock and metal. It's a testament to the impact that the album had that it has attracted such a diverse range of participants from all sorts of genres. It's an album that will frustrate as much as it pleases. If you're expecting a metal album, you're going to be sadly disappointed. 
Score: 5/10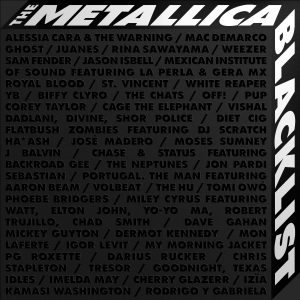 Tracklisting:
CD 1 
1 – Enter Sandman – Alessia Cara
2 – Enter Sandman – Mac DeMarco
3 – Enter Sandman – Ghost
4 – Enter Sandman – Juanes
5 – Enter Sandman – Rina Sawayama 
6 – Enter Sandman – Weezer
7 – Sad But True – Sam Fender
8 – Sad But True – Jason Isbell
9 – Sad But True – Mexican Institute Of Sound
10 – Sad But True – Royal Blood 
11 – Sad But True – St. Vincent 
12 – Sad But True – White Reaper
13 – Sad But True – YB
CD 2 
1 – Holier Than Thou – Biffy Clyro
2 – Holier Than Thou – The Chats
3 – Holier Than Thou – OFF!
4 – Holier Than Thou – PUP
5 – Holier Than Thou – Corey Taylor
6 – The Unforgiven – Cage The Elephant
7 – The Unforgiven – Vishal Dadlani 
8 – The Unforgiven – Diet Cig
9 – The Unforgiven – Flatbush Zombies
10 – The Unforgiven – Ha*Ash
11 – The Unforgiven – Jose Madero
12 – The Unforgiven – Moses Sumney 
CD 3 
1- Wherever I May Roam – J Balvin
2 – Wherever I May Roam – Chase & Status 
3 – Wherever I May Roam – The Neptunes 
4 – Wherever I May Roam – Jon Pardi 
5 – Don't Tread On Else Matters – SebastiAn
6 – Don't Tread On Me – Portugal. The Man
7 – Don't Tread On Me – Volbeat
8 – Through The Never – The Hu
9 – Through The Never – Tomi Owo
10 – Nothing Else Matters – Phoebe Bridgers 
11 – Nothing Else Matters – Miley Cyrus 
12 – Nothing Else Matters – Dave Gahan
13 – Nothing Else Matters – Mickey Guyton 
14 – Nothing Else Matters – Dermot Kennedy 
15 – Nothing Else Matters – Mon Laferte
CD 4
1 – Nothing Else Matters – Igor Levit 
2 – Nothing Else Matters – My Morning Jacket
3 – Nothing Else Matters – PG Roxette
4 – Nothing Else Matters – Darius Rucker 
5 – Nothing Else Matters – Chris Stapleton 
6 – Nothing Else Matters – Tresor
7 – Of Wolf And Man – Goodnight, Texas
8 – The God That Failed – Idles
9 – The God That Failed – Imelda May 
10 – My Friend Of Misery – Cherry Glazer
11 – My Friend Of Misery – Izia 
12 – My Friend Of Misery – Kamasi Washington
13 – The Struggle Within – Rodrigo y Gabriela 
Label:  Blackened
Release Date: 10th September 
For all things Metallica, click HERE and to purchase this album, click HERE
How useful was this post?
Click on a thumb to rate it!
Average rating 0 / 5. Vote count: 0
No votes so far! Be the first to rate this post.
Related