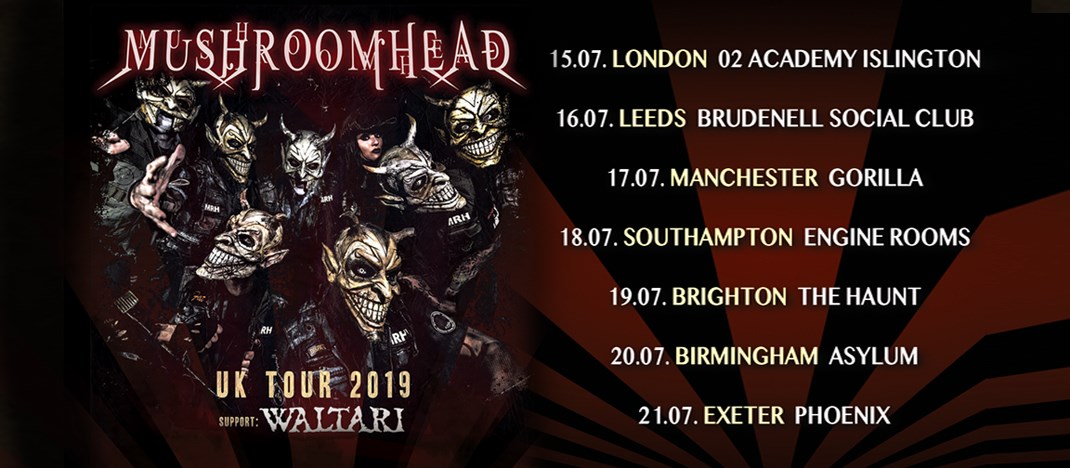 Mushroomhead – Leeds Brundell Social 16/7/2019 – Live Review
22nd July 2019
0
By
Donk
I didn't think the turnout for this gig was going to be that great to be honest. It was a Tuesday evening and while the support bands were good in their own rights the room never felt any more than half full. But when Mushroomheads intro music began to play it seemed as though people began emerging from all the cracks in the woodwork and a storm of energy began filling the room to the brim.
This was the second date of a short UK tour that was built around Amplified Festival, which the band were headlining, unfortunately the festival was sadly cancelled. The tour started in London the night before, then was moving on to Manchester, Southampton, Brighton, Birmingham and Exeter. They also had the opportunity to record some parts for their new album at Abbey Roads Studio, which is due out next year.
                The guys opened with '43' that got the crowd super hyper and followed with track after track including BWOMP, Qwerty (which has one of the best music videos around!), Nowhere to Go and loads of others.
Even though there wasn't much room on stage for all 8 members it didn't hinder their stage presence, with Tommy Tankx (guitar) and Dr F (bass) climbing on the illuminated water drums at the front of the stage and when Jackie LaPonza joined them on vocals for a few songs, she spent most of her time, literally, on top of the crowd! The water drums played by Stitch and Roberto Diablo, whose synchronized playing and amazing stick tricks were a really cool part of the set. The lights would change under each drum and with the water going everywhere it was a really epic looking effect!
                One thing we both noticed was how much heavier they sounded live compared to on record. It was possibly due to the energy of their stage show mixed with the energy the crowd was giving back all shaken together in this tiny club. It could have been just the difference in live tone and the PA in the club. Or that the sound man was on point. 
Set List
43
Kill Tomorrow
Bwomp
Qwerty
Sun Doesn't Rise
We Are The Truth
Among the Crows
Nowhere to Go
Solitaire/Unraveling
One More Day
Destroy The World Around Me
Before I Die
Out of My Mind
The Dream Is Over
Empty Spaces (Pink Floyd cover)
Born of Desire
How useful was this post?
Click on a thumb to rate it!
Average rating 0 / 5. Vote count: 0
No votes so far! Be the first to rate this post.
Related