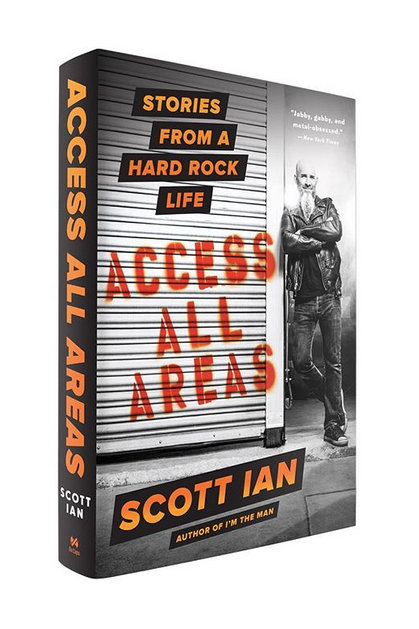 NEW BOOK BY ANTHRAX'S SCOTT IAN ACCESS ALL AREAS: STORIES FROM A HARD ROCK LIFE
18th December 2017
NEW BOOK BY ANTHRAX'S SCOTT IAN
ACCESS ALL AREAS: STORIES FROM A HARD ROCK LIFE
"I've done a lot of interviews over the last thirty-three years. A LOT. It's safe to say that the number is somewhere in the thousands, and of those thousands of interviews and tens of thousands of questions I've been asked there's one question I've been asked more than any other: 'What is the craziest thing you've seen on tour?'" – from Chapter 3
ANTHRAX stalwart Scott Ian has seen his share of dive hotels, dirty tour buses and decrepit green rooms. In Access All Areas: Stories from a Hard Rock Life, he collects his craziest stories to give an honest account of life on the road for a touring musician. Along the way, he recounts his encounters with celebrities like Kirk Hammett, Dimebag Darrell, Trent Reznor, Steven Spielberg, David Lee Roth and many more.
 
Throughout the book, Scott steps up to the line and purposely crosses it, chronicling everything from witnessing an enema contest involving Fruit Loops backstage at Madison Square Garden after a Nine Inch Nails concert; to accompanying Madonna to a strip club to see an exotic dancer with 42GGG breasts; to blacking out after dinner with Mario Batali and Top Chef judge Tom Colicchio at the Palazzo in Vegas (only to wake up and discover he'd somehow managed to play online poker in the middle of the night – and won!); to having his sexy storyline with Christina Applegate edited out during a guest appearance on Married with Children; to seeing his hero, Lemmy Kilmister, in a pair of Daisy Dukes; to punching Michael Stipe at a loft party "because everybody hurts".
 
With chapters like What If We Were the Dicks? and Sorry Never Felt So Good, Access All Areas is told with an artist's eye for detail, a performer's knack for storytelling…and an utterly inexplicable lack of embarrassment.
 
"Off-the-wall stories from the road and beyond…[Ian's] humorous anecdotes capture the esprit de corps of his many touring musician friends…With this outing, Ian has proven his writing chops."- Publishers Weekly
Those of you who have read Scott's memoir I'm the Man may know the history of the band, but Access All Areas divulges all the zany, bizarre, funny and captivating tales of what went on when the band wasn't busy crafting chart-topping albums.
In his more than thirty years immersed in the hard rock scene, Scott has witnessed haunting acts of depravity backstage, punched a legendary musician, been a bouncer at an exclusive night club, guest-starred with Anthrax on Married with Children, invaded a fellow rock star's home, played poker professionally, gone on a non-date with a certain material girl, appeared on The Walking Dead, and much more.
Access All Areas allows its readers to do just that. With humour, candour, hindsight and writing chops that would make Stephen King jealous (nope, not even on Bizarro world), Scott Ian takes his fans along for the ride at all the parties, hot spots and behind-the-scenes shenanigans they will never hear about from anyone else. And none of it would have happened without a bit of divine inspiration from KISS (no, seriously! Read chapter two). Best of all, Scott seemingly lacks the ability to be embarrassed, making Access All Areas howlingly funny, self-deprecating, and every bit as brash and brazen as one would expect from one of the original architects of speed metal.
Order Anthrax's last studio album For All Kings: http://nblast.de/AnthraxFAKAMZ
'Kings Among Scotland' the band's long-awaited live-in-concert DVD, will be in stores on April 27th 2018. Captured last February at the band's sold-out concert at Glasgow's historic venue The Barrowland Ballroom, the two-hour 'Kings Among Scotland' release incorporates the band's entire live show along with interviews, behind-the-scenes footage and other B-roll shot on the band's tour bus, backstage, in hotels and elsewhere. The DVD will also include a "gear rundown" from each of the band members. Pre-order from the band's website: anthrax.com.