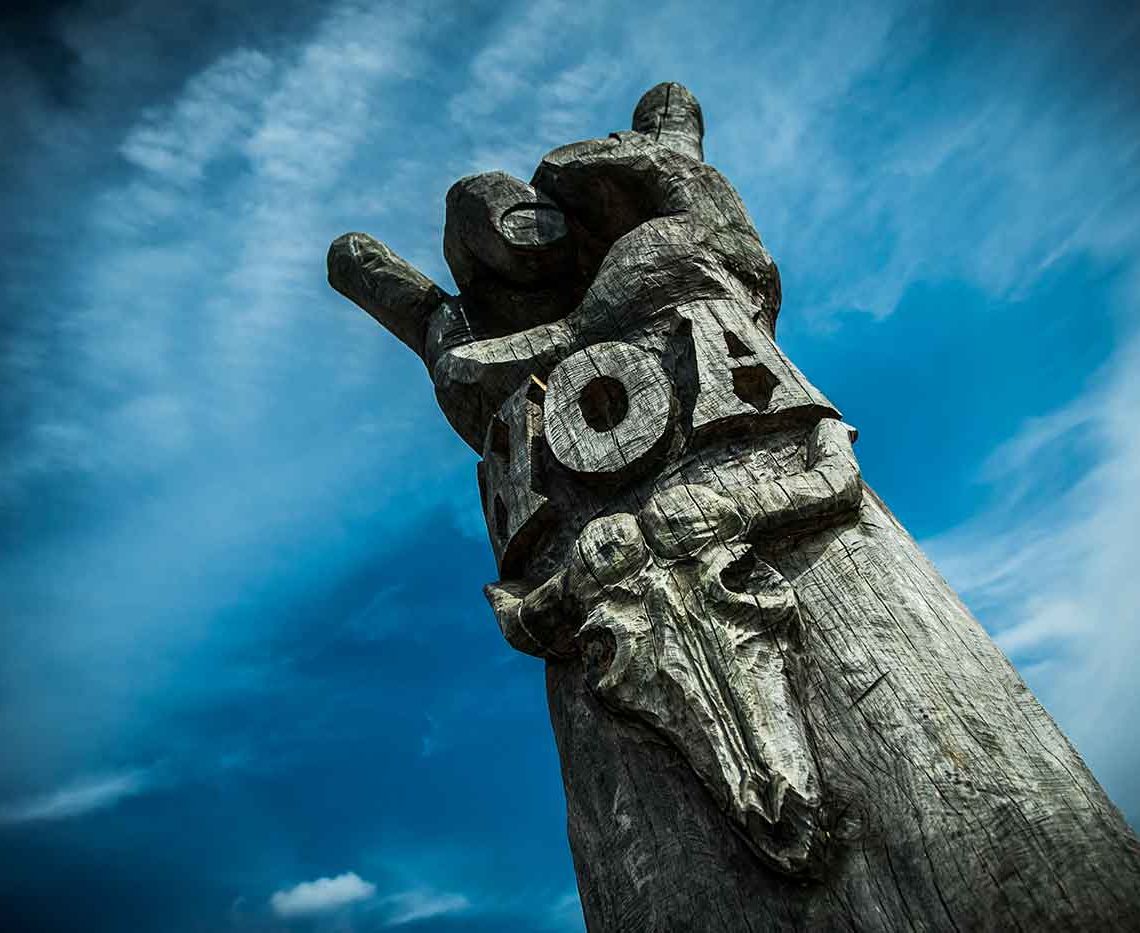 Nikki Goes To Wacken 2018 part 1 (Monday to Thursday)
17th August 2018
The word pilgrimage is defined as a long journey or quest made to a sacred place as an act of religious devotion or for votive purpose. This is exactly what this expedition means to the 75,000 metalheads who travel from all corners of the globe to attend Germany's Wacken Open Air festival. They arrive to get dirty, drink mead out of horns, play German drinking games and to be reunited with their Wacken families for an annual party. Wacken to many who return, is far more than an open air music festival. It's about the hair that stands up on the back of your neck when you see the flames on the giant bullhorn become lit. It's the goosebumps you get when you are watching your favourite band with your best friends, who you only see once a year. You realise where you are and how happy it makes you. It's about the people you miss when you're not there. It's about the people you meet in camp Y when you're drunk and lost and your camp is somewhere in C, they don't know you or speak your language, but they give you a beer and a sausage anyway and scream "Wacken" in your face. It's about the Wacken Community spirit and although I've been to many festivals around the world, it is something that just isn't the same anywhere else and for most of us, it's about 'coming home.'
This year, the 29th instalment of Wacken, made 2018 my fifth journey in a row to the aptly dubbed Holy Land and this year our camp group is more international than ever before. Travelling from Canada, the USA, Mexico, Australia, Germany and Norway, it's a reunion full of love, sweat and tears as we start our early camp set-up in 30 degree heat at 7am on the Monday morning. Having those first two days together before the festival opens, is of high importance to our Wacken crue. We need to put our flags and fairy lights up, kill numerous bottles of Steve (Jack Daniels) and of course catch up on how everyone's year has been. Tuesday brings us joy with our neighbours The Rendsburger Wacken fans, who are total Wacken veterans, inviting us for a party covering everyone in colour powder and pouring us cold pints from their bar. These guys are serious, they have Wacken tattoos, a star tattoo for every year they've been and we are very lucky to camp with them. They are Wacken Royalty and their trailer is a landmark of the festival.
The tiny town of Wacken is upturned into a mini metal city, old ladies greet us with handmade Wacken cupcakes while they hammer in 'Welcome Metalheads' signs into their front lawn. Homes are turned into metal bars offering shots of Jager for practically nothing while Maiden blasts from the speakers. The local kids are earning their keep delivering your slabs of beer by go-cart to the camp grounds for a pretty penny. The heart and hospitality in this town in the first week of August every year is something a metalheads dreams are made of.
By the time Wednesday rolled around, I declared to everyone, that unlike every year prior, this will not become 'Fuck-eyed Wednesday', it will just be regular Wednesday, but boy was I wrong. While the festival got warmed up for the first lot of bands to hit the stages, I got warmed up with some absinthe from a gentleman who was dressed as the king of Wacken. He offered me an aperitif, which said 'Kings Elixer 10%' on the bottle, after I downed one, he cocked his head back in laughter, announced it was 10% water and 90% proof Absinthe. He wished me luck and went on his merry way to fuck with more of his loyal subjects.
Highlights of Wednesday were the Wacken Metal Battle, showcasing the best the world has to offer in up and coming talent. Canadian battlers Centuries of Decay from Toronto, shook the Head bangers stage with their progressive style of Atmospheric death, we hit the barrier for their show and the crowd response was incredible. Later on, Belgium's Evil Invaders caused absolute chaos as Joe's screeching vocals howled over the crowd at the Wasteland stage. Walking through the Wackinger village for a late night drunk shop, the stalls this year were so craft savvy. You want a drinking horn with a personalised, hand carved engraving? Perhaps some Viking runes, forged in metal while you wait, or how about a nice fluffy rabbit pelt to keep your tent cosy on those cold Wacken nights, you got it. Bringing wasted Wednesday to a close, Heilung sent us to bed bringing their Neo-medievel lullabies to the Wackinger village. I'd never seen so many antlers on one stage. Bewildered by their enchanting stage attire, the intense percussion and vocal techniques used, it's no wonder people were spilling out from everywhere to catch a glimpse. With a German fire-fighter attached to my arm, it was time for one more cup of mead beer and to hit the hay, so to speak.
Thursday was off to an interesting start, waking up to the squeals of a woman dressed as a pink raccoon, being raced through the camp grounds in a wheelchair by a giant Viking man. There is already a mix of German techno and metal being blasted from the various camp groups. The voice over the speakers in the camp grounds mumbles in German and greets everyone with a "Moin, moin Wacken!" The voice informs us of the weather and reminds us to drink plenty of water and slap on sunscreen. The daily Wacken festival newspaper has already been delivered to our camp and the smell of bratwurst on the grill allures us out of our scorching tents. We all get ready, have coffee together and recollect ourselves from the night before. This is a typical morning at Wacken open air.
Our new recruits lined up on their knees for their official Wacken Crue baptism. They must eat a peanut, take a shot from a mini mystery bottle and be showered in beer as we all cheer on.
Thursday is a massive day, as the infield opens, the hoards run to be the first at the barrier. People are rejoicing and some even hailing the holy land by kissing the ground. We stop at the Benson and Hedges smoking balcony to play games and get a free lighter engraved. A trip to the beer garden to see our friend Connel sing in his Heavy Metal choir as we beat the heat with some Hefeweizen. We pay tribute to Lemmy at the Lemmy bar and drink, well way too many Jack Daniels.
Highlights of the day included Dirkshneider putting Their balls to the wall with all our favourite Accept Classics. Behemoth played on the Harder stage, opening with appropriate stage fire for Ov Fire and the Void. The back of stage camera man had a stunning viewpoint of their symbolic iron stands, the sunset gleaming through the dust and the Wacken crowd as the skyline was simply beautiful. Hatebreed definitely destroyed everything on the Louder stage. The circle pit was ludicrous, I think we were in the eye of it, but we couldn't see a thing through the dust. Bandanas covered everyone's faces as they crowd surfed a guy who was wheelchair bound all the way to the front barrier. The smile on his face made everyone so happy, even Jamie Jasta. Headliners of the day, Judas Priest were inducted into the Hall of Metal History before they performed an hour and a half set helping us to live after midnight. Rob Halford is always a man of Heavy metal class, flailing around the stage in his incredibly shiny outfits, he can be my Turbo Lover anytime. The best surprise was when original guitarist, Glen Tipton arrived to the stage despite retiring due to his battle with Parkinsons disease. It was an incredible moment for Judas Priest fans to see Glen back on the stage, especially along side the bullhorn. Buy a Tipton shirt! No Surrender! With a pit stop at the metal Disco on the way back to camp to boogie our dirty socks off, we bought meat on a stick and retired for the evening. There is nothing quite like going to bed at Wacken, there is always that fear of missing out. You can hear the flamethrowers from the Wasteland stage, the roar of the motorbikes flying around sideways in the Motordome. The many parties still going on, with fireworks shooting off from camps in the distance. But alas, Wacken is such a feat that one must pick their battles.
For all things Wacken related, click HERE