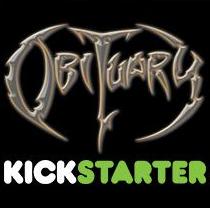 Obituary launches Kickstarter campaign for new album
4th August 2013
Florida death metal giants Obituary have announced a Kickstarter campaign for the next, as yet untitled, album.
There are a large number of amazing rewards available, including mp3 copies of the new album, signed physical copies of the new album, and the Zildjian cymbals used to Record Cause of Death autographed by the band.
The band says:
This is about putting our trust, our music, our career, and our new album in your hands!  We don't want to make music for a label, we want to make music for the fans that still come out to shows, that still rock our gear, that still have a Slowly We Rot CD in your car.  You…you are the reason that we are doing this.  As you're reading these stupid words right now, we are extending our hand, and we are asking for your support…so that we can make another heavy f***ing death metal album for your little angry ears.
Visit the Obituary Kickstarter page now if you'd like to support these guys and play a part in their next release:
http://www.kickstarter.com/projects/unation/help-fund-a-new-obituary-album?ref=category