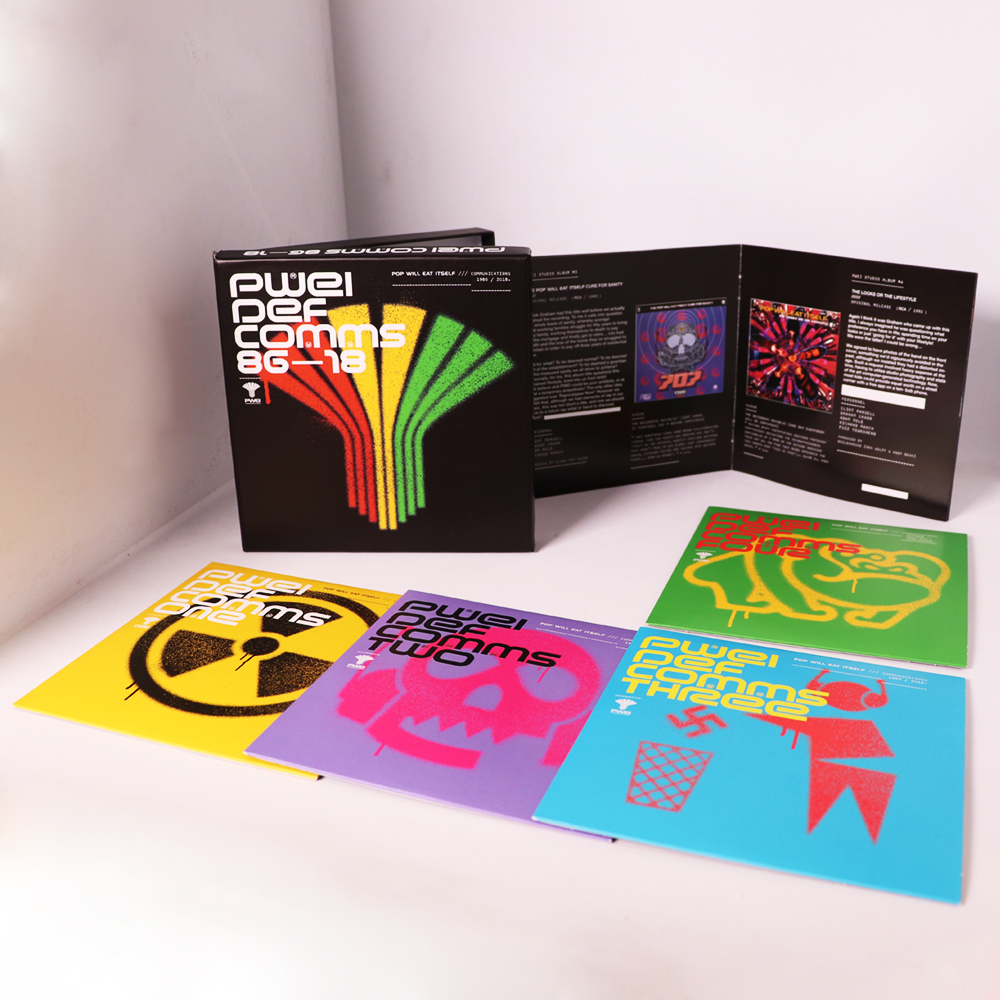 POP WILL EAT ITSELF – PWEI: DEF COMMS 86 – 18, /// COMMUNICATIONS 1986 / 2018, 4CD DELUXE BOXSET
10th September 2018
As a MASSIVE Pop Will Eat Itself fan, I was incredibly excited to get my greasy mitts on this box set.
Firstly I was struck by the sheer quality of this set. A well put together clamshell box, a brilliant booklet and colorful cardboard sleeves that house the CDs.
However, I'm just a little disappointed by the contents. Although there's 75 tracks in this set and covers their entire career (including the 1995 "LOST" album) there are only 4 tracks that have been previously unreleased (Fatman, Oldskool Cool, Cape Connection, Eyes Wide Open). 
The 1st disc pretty much sums up their early Greebo years with the classics of Beaver Patrol, Ugly and a fantastic version of the Sigue Sigue Sputnik classic, Love Missile F1-11. It would've been nice to have Hit The High Tech-Groove added as this sums up what happens next with the poppies
It's around half way through this disc that their breakthrough album
This Is The Day…This Is The Hour…This Is This!
is represented which spawned the hit single
Def Con One
.
Disc 2 takes on the more pop era of PWEI with tracks such as Cicciolinaan, X Y and Zee before disc 3 comes crashing in with a heavier sound with the massive industrial sounding, Ich Bin Ein Auslander and bringing us up to 2018.
The final disc in this set has a plethora of rarities including the hard to find Doomsday Power Mix of Def Con One and Eat Me, Drink Me, Dub Me, Kill Me.
Overall this box did please me and is a fantastic overview of one of the most underrated Indie/Alternative bands from the late 80's early 90's. PWEI was (and are) a band that were miles ahead of their time and music has really only just caught up with them. 
If 30 years ago you'd told me that PWEI were still going to be relevant and a band that is still breaking new ground, I would've laughed in your face.
Pop Will Eat Itself, will never get old, they will still sound fresh and these 4 cds prove it.
Score 8.5/10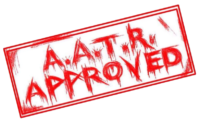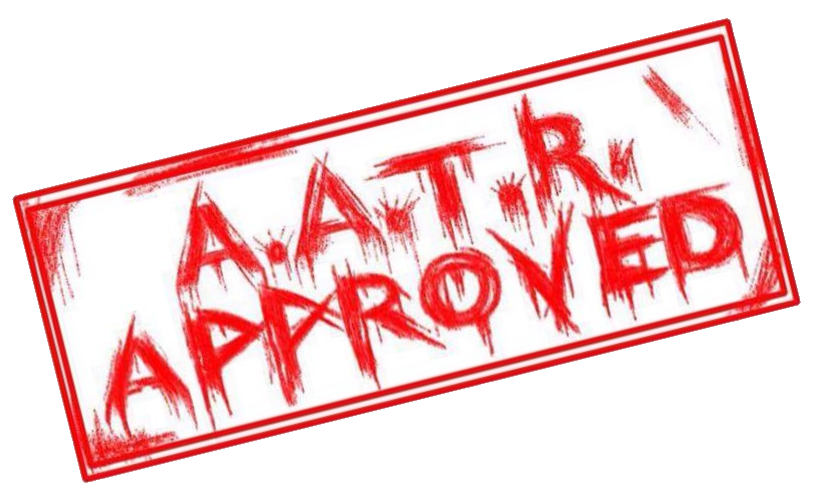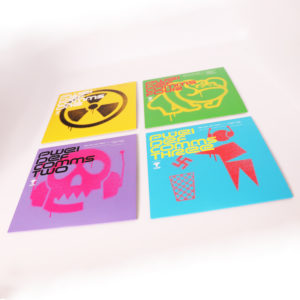 TRACK LIST
DISC ONE:
1986-1989
1. SWEET SWEET PIE
2. THERESAPSYCHOPATH IN MY SOUP (EARLY VERSION)
3. SICK LITTLE GIRL
4. THE DEVIL INSIDE
5. ORGONE ACCUMULATOR
6. EVERYTHING THAT RISES (NEW VERSION)
7. LOVE MISSILE F1-11
8. UGLY (BAND VERSION)
9. OH GREBO I THINK I LOVE YOU (NEW VERSION)
10. GREBO GURU
11. BEAVER PATROL
12. SHE'S SURREAL
13. THERE IS NO LOVE BETWEEN US ANYMORE (7" MIX)
14. KISS THAT GIRL
15. RADIO PWEI
16. DEF CON ONE 1989AD
17. NOT NOW JAMES, WE'RE BUSY
18. CAN U DIG IT? (7" MIX)
19. PREACHING TO THE PERVERTED (REMIX)
20. SATELITE ECSTATICA
21. PWEI-ZATION
22. WISE UP! SUCKER (7" VERSION)
23. ORGYONE STIMULATOR
24. INJECT ME
DISC TWO:
1990-1993
1. DANCE OF THE MAD (SEVEN)
2. 88 SECONDS… & STILL COUNTING
3. CICCIOLINA (7" MIX)
4. X, Y AND ZEE (ELECTRIC SUNSHINE STYLE)
5. ANOTHER MAN'S RHUBARB
6. 92°F (THE 3RD DEGREE: feat. SYLVIA TELLA)
7. NIGHTMARE AT 20,000 FEET
8. PSYCHOSEXUAL
9. VERY METAL NOISE POLLUTION
10. GET THE GIRL, KILL THE BADDIES (SHERWOOD 7" MIX)
11. GOOD FROM FAR, FAR FROM GOOD
12. KARMADROME (7" MIX)
13. MOTHER
14. BULLETPROOF! (ADRIAN SHERWOOD REMIX)
15. EAT ME DRINK ME LOVE ME KILL ME (7" VERSION)
16. PRETTY PRETTY
17. ROCKAHULA BABY
18. URBAN FUTURISTIC
DISC THREE:
1993-2018
1. ICH BIN EIN AUSLANDER (7" MIX)
2. RSVP (7" MIX)
3. CAPE CONNECTION (EXCLUSIVE VERSION) *
4. KICK TO KILL
5. FAMILUS HORRIBILUS (7" MIX)
6. EVERYTHING'S COOL?
7. GAMES WITHOUT FRONTIERS
8. NO CONTEST
9. TALENT+ATTITUDE=$
10. 100% IS **IT
11. THE DEMON
12. AXE OF MEN 2010 (CRABBI REMIX)
13. CHAOS AND MAYHEM
14. EQUAL ZERO
15. DISGUISE
16. WATCH THE BITCH BLOW
17. RECLAIM THE GAME (ORIGINAL VERSION: feat. B NEGÃO)
18. 21ST CENTURY ENGLISH CIVIL WAR
*PREVIOUSLY UNRELEASED
DISC FOUR:
REMIXES, RARITIES AND UNRELEASED
1. THERE IS NO LOVE BETWEEN US ANYMORE (SPECIALLY EXTENDED DANCE MIX)
2. DEF CON ONE (DOOMSDAY POWER MIX)
3. WISE UP SUCKER (12" YOUTH MIX)
4. VERY METAL (FEB '89 DEMO)
5. PWEI-ZATION (12" MIX)
6. DANCE OF THE MAD 'N BAD (12" MIX)
7. 92°F (BOILERHOUSE 'THE BIRTH' MIX)
8. ROCK OF AGES
9. EAT ME DRINK ME DUB ME KILL ME
10. GET THE GIRL (SHERWOOD 12" DUB)
11. ICH BIN EIN AUSLANDER (DIE KRUPPS MIX)
12. KICK2KILL (JIM FOETUS SEERSUCKER MIX)
13. FATMAN (SESSION VERSION) *
14. OLDSKOOL COOL (RAVEY MIX) *
15. EYES WIDE OPEN *
*PREVIOUSLY UNRELEASED
Label
Cherry Red
Release Date
21st September 2018
For all things Pop Will Eat Itself, click HERE and to purchase this stunning box, click HERE
How useful was this post?
Click on a thumb to rate it!
Average rating / 5. Vote count: