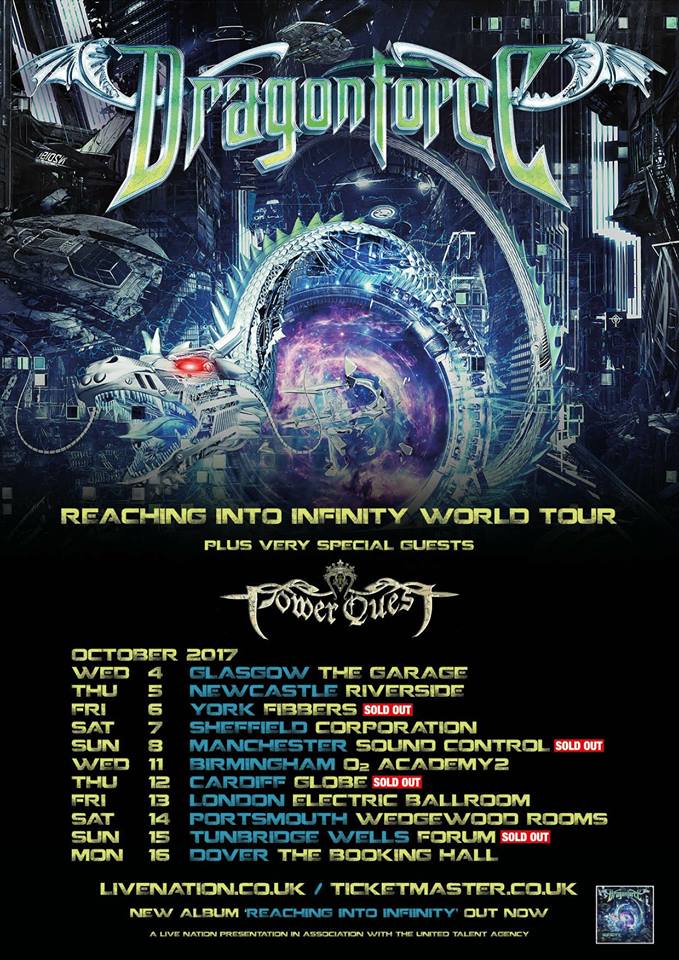 Power Quest & Dragonforce – Sound Control – Manchester 08/10/2017
11th October 2017
Arriving at the venue early I was able to catch both bands sound checks, both seem on high form even though they all look completely shattered, luckily after this show they have a couple of days off to catch up on some well deserved sleep!
I was greeted at the entrance by the ever lovely Power Quest guys who tell us that the tour so far has been nothing more than fabulous.
They tell us a little about their time touring in Japan, to which the fans over there are completely crazy donning them with so many gifts they didn't quite know how they would get them all home in their luggage.
Power Quest have now been going for 16 years, we were saddened by them calling it a day back in 2013 at Bloodstock which was ultimately going to be their farewell show, but we are glad to see they are back and feistier than ever, with more riffs and assertive melodies that really kick it into overdrive.
Well tonight here at Sound Control in Manchester the band kick it up a notch with mastermind Steve Williams on Keyboards, Andy Kopczyk and Glyn Williams on Guitars, Paul Finnie on Bass, Rich Smith on Drums and Ashley Edison on Vocals these guys really give their fans a superb show.
Performing some classics such as 'For Evermore' and 'Far Away' which get the crowds bouncing along, to some of their newer tracks 'Kings and Glory' which is full of breath-taking arrangements and effective symphonic elements.
These guys have a new lease of life with a fresh boost of passion which absolutely intoxicates your senses.
Watch this space these guys are taking the power metal scene by storm!
Dragonforce up next with a set-list which will blow your mind!
Being able to catch up with Herman Li before the show to talk about the tour, the album amongst other things, it was good to see they were raring to get on stage and perform for us here at Manchester!
Having not seen these guys for quite some time I was eager to see if their live performance had changed and wanted to see how Marc Hudson fit in with the band having not seen him live with the band yet.
After hearing him on the 'Maximum Overload' album I can say he did not disappoint live as he reached some of those high notes perfectly that you would only expect a man to reach if you kicked him in the nut sack and that's putting it politely!
His vocals soar, with an impressive range, he shows power and ability which fits perfectly with the band, id say he has definitely found his footing more since he first started.
Having listened to their new album which came out in May 'Reaching Into Infinity', which is full of long glorious guitar solos,  ridiculous lightning speed riffage with thunderous drumming to match this tasty treat of an album certainly tantalised the taste-buds, I just had to see the band perform this live!
The band started the night with 'Ashes of the Dawn' off their latest album, and what a song to start the night with!
They followed this with 'Operation Ground and Pound' off their 'Inhuman Rampage' album, this absolute Dragonforce classic got the whole venue singing along in unison, absolutely superb.
With Herman Li's shredding ability bouncing the guitar off his knee and catching it in mid-air, he has the audience eating out of the palm of his hand. With a lot of fast paced shredding majority of the songs are very riff driven still in keeping with that traditional Dragonforce sound which still gives dimension to their songs.
Later on in the set they had Frederic Leclercq swap his bass for a guitar to do some Street Fighter/Super Mario Bros. 2/Sonic the Hedgehog Green Hill  computer game theme tunes, then Marc Hudson joins him on stage to play Bass. Surreal is just an understatement watching these 2 fabulous musicians go head to head.
Then we watch the almighty Gee Anzalone the power behind the drums pour his all into the most magnificent drum solo, on one of the most magnificent drum kits we have ever seen. With double kicks and lightning beats Gee pours passion into his very impressive drumming techniques, this guy has No Limits!
The guys even threw in a death metal cover (which is a bonus track on their special limited edition package), as well as their take on 'Ring of Fire' which is just brilliant – you have to witness it live to be able to just see how truly driven these guys are.
Dragonforce finished the night on 'Cry Thunder' to which all their fans sang along, just incredible to watch.
After this the band stepped off stage and the fans started chanting '6 More Songs', the band stepped back out onto the stage giving us an extra 3 songs as the encore finishing the night on 'Through The Fire And The Flames'.
The set full of powerful lyrics, with a lot of meaning, with incredible music to boot, this band really does bring you music which makes you feel elated.
A superb set, thoroughly enjoyable!
Setlist
Ashes Of The Dawn
Operation Ground and Pound
Judgement Day
Seasons
Curse of Darkness
Fury Of The Storm
Fred Guitar Solo
Gee Drum Solo
Edge Of The World
Cry Thunder
Encore
Valley Of The Damned
Ring Of Fire
Through The Fire And The Flames